A former Senior Support class victor at Faugheen, 4th within the Irish Road Race Senior Support championship of 2015, Cork's Stephen Tobin who last year tackled for the first time the fabled Mountain Course, is the next rider to take part in Road Racing News, ten questions challenge.
Stephen's answers to the popular series of questions, are as follows:
Q1: Favourite National Roads Meeting?
"Tandragee for the flow of the place, Faugheen for the insanity of the run down to the church."
Q2: Favourite Racing Bike?
"Has to be my R6 Yamaha, because of our history together."
Q3: What's the best part of competing on the roads?
"The buzz of racing shoulder to shoulder with your friends between the hedges. Nothing like it, and meeting up with your buddy's in the paddock and having a laugh."
Q4: TT, North West 200 or Ulster Grand Prix?
"This is a hard one. I love the Ulster GP but I'd love to race the TT."
Q5: Most Respected Rival?
"Have to respect Ben Mullane for still being able to switch it on when he wants to. But I've huge respect for every one who gets out there and does their best on their machine."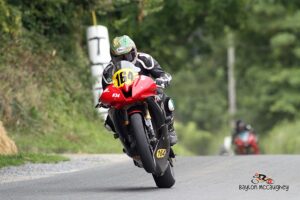 Photo by Baylon McCaughey
Q6: Best roads moment thus far?
"Best moment is probably the day I won the Senior Support race at Faugheen in 2015, with 2 friends on the podium. Darryl tweed 2nd and my good friend Stephen Casey finished 3rd after starting last."
Q7: Is their one place or country in the world, where you would like to see a roads meeting held?
"I'd love to see a road race back in Cork. But in particular Kinsale or Clonakilty where my dad took me to my first road race. Every one wants a road race in their home town I reckon."
Q8: Who's your road racing hero?
"There are loads. Mike Hailwood. The Dunlop's, and I have huge admiration for Peter Hickman. Derek Sheils is the man too infairness."
Q9: Supersport or Superbike?
"I've never raced a Superbike, so it has to be Supersport."
Q10: Pole position or fastest lap?
"Fastest lap, no question."
Words by Stevie Rial