Luttenbergring, Netherlands
Dubbed a mini Grand Prix due to how strong the fields where, consisting of many a Grand Prix star, the Raalte Races, held on the Luttenbergring roads circuit, located near Luttenberg Village, was one of the Netherlands, most popular pure road racing events.
Originally first held in 1967 at a short roads circuit near Raalte, it was in 1970 when event organisers RAM (Raalter Automobile and Motor Club), elected to switch the event to the Luttenbergring.
For the next 19 years, the 3.15 kilometres long roads of Luttenbergring hosted one of continental Europe's premier roads meetings.
Fast, flowing, it was a roads course, which if compared to a modern roads meet, would be similar in my opinion to the likes of Frohburg in Germany.
Regularly attracting huge crowds in excess of 30,000, even 40,000 on some occasions, it was an instant hit with fans, plus also with many a racing legend.
Photo by Benny Koerhuis
This included Will Hartog, fellow Dutchman Boet Van Dulmen and Jack Middelburg, Graziano Rossi, Barry Sheene and South African roads hero Jon Ekerold.
Plus Kork Ballington, Anton Mang, Angel Nieto, Pekka Nurmi, Christian Sarron and Sidecar greats Steve Webster and Rolf Biland.
Race action at the Luttenbergring, originally ended in 1989, before returning for another eight years, from 1997 to 2004.
Since then, revival meetings have taken place, celebrating the Raalte Races place, in the Netherlands vast pure road racing history.
Words by Stevie Rial
Montjuic, Spain
To many, you wouldn't regard Spain as having a rich pure road racing heritage, they in fact have one of the strongest in continental Europe.
This is illustrated in full by the famous Montjuïc circuit, located around the Montjuïc mountain in Barcelona, Catalonia.
Photo by Joan Segura
The roads venue, provided a variety of different challenges for two and four wheeled competitors. High speed in nature it was considered a circuit, with no room for error, making it one of the most challenging events across Europe.
Montjuïc's first major motorsport event, was held back in 1933, when it hosted the Penya Rhin Grand Prix.
From 1950 through to 1968, it held Spain's round of the Moto GP world championship, then regained it's Spanish Grand Prix status in 1970, and then again in 1972, 1974 and 1976.
In those 19 years, stars a plenty graced 3.79 kilometres long, roads circuit. This included the legendary 14 times TT winner Mike Hailwood and fellow Mountain Course legend Giacomo Agostini.
Added famous names to grace Spain's most famous roads event included Gary Hocking, Jim Redman MBE, Phil Read MBE, Hugh Anderson MBE, Luigi Taveri, Chas Mortimer and Bill Ivy.
At this present moment in time obviously Spain is widely regarded as the dominant force of Moto GP, they still hold pure road races though, including the popular La Baneza Road Races.
Taking place every August each year, La Baneza, although perhaps different in size, carries many of the characteristics that made Montjuïc so universally famous.
Words by Stevie Rial
Mettet, Belgium
Established as one of Belgium's all time great roads courses, is the original Mettet circuit, located near Charleroi.
First holding bike racing action in 1928, the venue since then, has seen roads legends a plenty grace the fast flowing, tight, twisty roads of Circuit Jules Tacheny Mettet.
This has included Joey Dunlop, Ian Lougher, Robert Dunlop, Steve Ward, six times TT winner John Surtees CBE, Giacomo Agostini, Fergus Anderson, Barry Sheene and Dave Simmonds.
The first rider to taste success, 89 years ago at the roads course, which was reduced to 9.5 kilometres long in 1975, was AJS powered Albert Breslau.
Photo by Hemeyla Archeif
Mettet's roads have showcased over the years, the talent's of many of Belgium's all time between the hedges, greats.
Ulster GP podium finisher Marc Fissette, Stephane Mertens and 2015 IRRC Superbike champion Sebastien Le Grelle, are just some of the nations leading pure road racers to wrap up victories, at a venue in my opinion reminiscent of the likes of Hengelo in the Netherlands, and Frohburg in Germany.
The original street circuit at Mettet, was last used in 2006. It's place within Belgium's rich pure road racing heritage, is more than assured.
As with all of the countries roads events, what made this roads venue so popular, was the layout of it, the scenery it took in, which made it aesthetically pleasing for photographers to cover it, plus the atmosphere, with thousands of fans, returning year in, year out.
Words by Stevie Rial
Rouen Les Essarts, France
For over four decades, Rouen Les Essarts was regarded amongst Europe's most popular and prestigious roads venues.
Located near Rouen, the 5.543 kilometres long circuit, is established as one of France's most famous pure road racing circuit's.
High level motorsport competition at Rouen Les Essarts, first began in the early 1950's.
Perhaps more known for four wheeled action, on two occasions it hosted the French round, of the Moto GP world championship.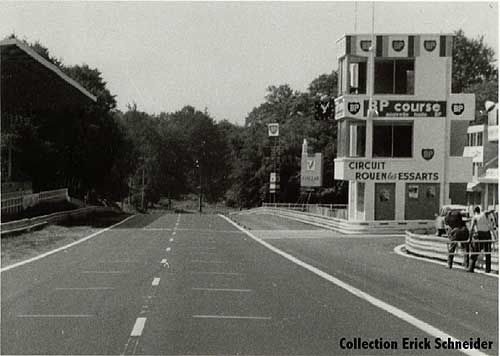 Photo by Erick Schneider
Bike racing legends, to be victorious on these separate occasions in 1953 and 1965, included Geoff Duke, Fergus Anderson, Ralph Bryans, Hugh Anderson MBE and eight times TT winner Phil Read MBE.
Sidecar heroes who graced the ultra fast roads of Rouen, included Eric Oliver, Switzerland's Florian Camathias and Bruno Holzer.
Despite the absence of Moto GP competition, world championship stars a plenty participated at Rouen Les Essarts, during the 1970's.
Just some of these stars, where Kork Ballington, eight times TT and former Macau Grand Prix winner Chas Mortimer, Takazuki Katayama, Tony Jefferies, Paul Smart and John Weeden,
Known for having a mixture of medium straights, testing hairpins, plus it's fast flowing nature, it could be considered as the French equivalent to the old Spa circuit in Belgium.
Titled by many as well, as the "Mini Spa", Rouen Les Essarts which closed down in 1994, is one of the truly great historic roads circuits, which has formed a significant place in France's great motorsport history.
Words by Stevie Rial
Hawkesbury, New Zealand
For in excess of 30 years, the Marlborough District on the South Island, of New Zealand, hosted one of the nations most prestigious meetings, titled the Hawkesbury Road Races.
The Hawkesbury circuit, 7.4 kilometres long, first hosted pure road racing competition in 1950. 350 BSA mounted Ted Baumfield was victorious at the first ever meeting, Ray Anderson and Les Gibbons completed the top three finishers.
For the next 33 years, many of New Zealand's most famous roads exponents, battled it out for race wins.
This included TT winner Robert Holden, Dale Wylie, Rodger Freeth, John Woodley, Syd Jensen and Vince Sharpe.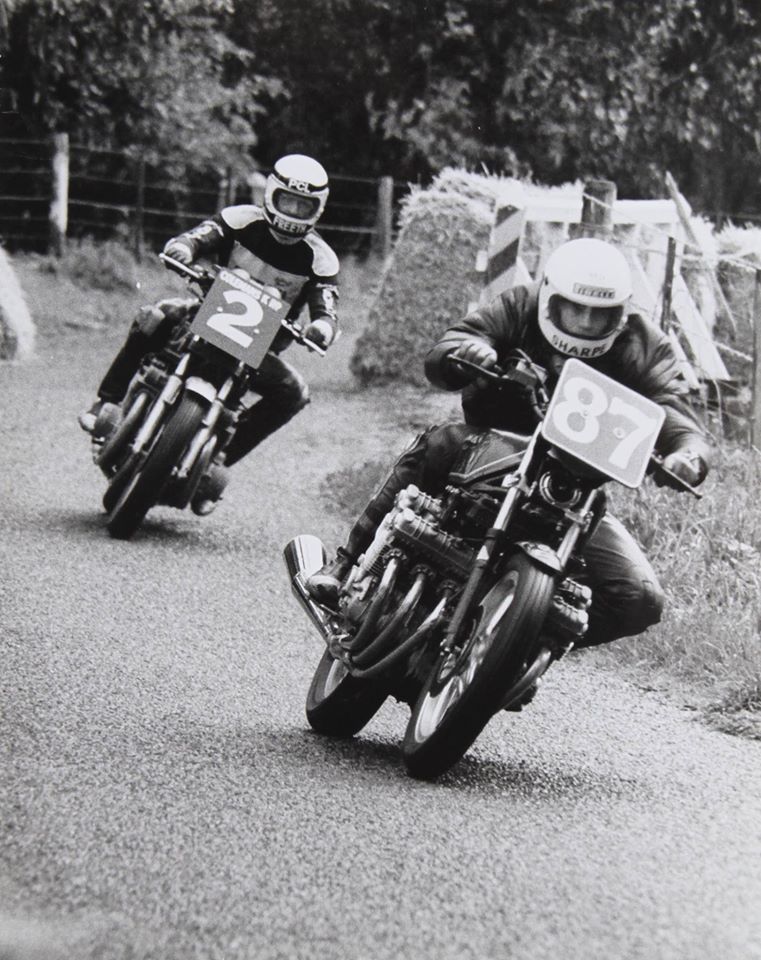 Photo by Terry Stevenson
Similar in comparison to events like the Cookstown 100 and Tandragee 100, the tight, twisty country roads of Hawkesbury, made it one of the most challenging circuit's in New Zealand.
Year on year, thousands of spectators ventured to the circuit, until racing ended at the event organised by the Marlborough Motorcycle Club in 1983.
In the modern era, the roads meetings down under at Wanganui, Greymouth, Paeroa and Invercargill, all carry similar aspects, which made the Hawkesbury Road Races so popular.
34 years since, racing concluded at the meet, it's legacy within pure road racing in New Zealand, is more than established.
Words by Stevie Rial
Mount Asama, Japan
In 1955, a new road race emerged in Japan, based around the Mount Asama volcano, the meeting is widely regarded as one of Japan's first major motorsport events.
Originally titled the Asama Highland Race, the event went onto become known as the All Japan Motorcycle Endurance Road Race.
19.2 kilometres long, the roads around Mount Asama, provided challenges a plenty for riders. In effect cause of the where the event was hold, it meant competitors had to master not just bumpy roads, but also off road terrain.
Major manufacturers to have firm presences at the roads venue located north of Tokyo, included Honda, Yamaha, Suzuki.
The original event in 1955, saw Honda victorious in the 350 and 500 races, the meet would also prove a fruitful one for Suzuki, who wrapped up series of excellent results courtesy of Hideo Suzuki and Toshio Kamiya.
Yamaha dominated the 125 race, with their riders taking the first three spots on the podium.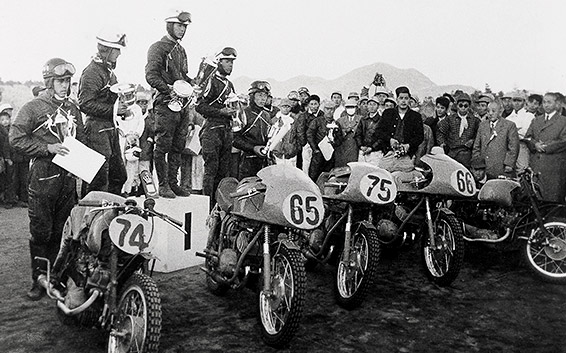 Photo via Yamaha Motor Global
Additional famous names from Japan to compete included Michio Ichino, TT winner Mitsuo Itoh and Tetsu Ikuzawa.
1955 was the only year to see pure road racing action at Mount Asama.
It's legacy though, 62 years later, is still extremely strong. Prior to reading this article, many may have not thought, that real roads competition, had ever took place in Japan.
This shows once again, the sheer worldwide nature of pure road racing and the historical part it has played in how motorcycle racing, looks at present in multiple countries.
Words by Stevie Rial
Solitude, Germany
The Solitude circuit, titled in full Solitudering located near Stuttgart in Germany, is one of the nation's oldest motorsport venues.
Since first holding competitive action in 1903, Solitude has gone onto become regarded as one of Germany's all time great roads circuits.
In 1952, 1954, 1956, 1960, 1962 and 1964 the venue, hosted the West German round, of the Moto GP world championship.
Photo by Hemeyla Archief
Stars to be victorious around the heavily wooded 11.4 kilometres long roads circuit, included legends such as Geoff Duke, John Surtees CBE, Phil Read MBE, Ralph Bryans, Jim Redman MBE, Ray Amm, Gary Hocking and Luigi Taveri.
The last time Moto GP competition graced Solitude was back in 1964, which saw a crowd of in excess of 250,000 see 14 times TT winner Mike Hailwood, regarded by many as the best motorcycle racer of all time, victorious in the 500cc race.
A circuit, that rewarded a mix of been a superb late breaker into corners, having a robust riding style, bravery and extreme courage, reminded me in parts of Dundrod, home of the Ulster Grand Prix, in particular the high speed sectors.
In July this year, a revival meeting is scheduled at Solitude, which celebrates it's unique place, in motorsport history in Germany.
Words by Stevie Rial
Temple 100, Northern Ireland
First held in 1921, the Temple 100 holds a prominent place in Irish road racing history, as it was the first ever pure road race situated in Northern Ireland.
Located between Saintfield, Temple Crossroads, plus the Belfast to Ballynahinch Road, the event provided competitors with a roads circuit, that had a mix of everything.
This included bumpy roads, jumps, fast straights, late braking into corners and requiring a smooth riding style coupled with the obvious determination needed to seal race wins.
In the 1960's, 1970's, 1980's and 1990's, a who's who of Irish road racing, competed at the Temple 100.
Amongst the legendary names to have been victorious at the prestigious meeting include, 26 times TT winner Joey Dunlop, 11 times TT winner Phillip McCallen, Ray McCullough, whilst the event also marked in 1979 the roads debut, for another great of the sport, Robert Dunlop.
Added roads legends to have been successful included Owen McNally, Ryan Farquhar, Adrian Archibald, Steve Cull, James Courtney, Derek Young, Bob Jackson, Alan Irwin, Gary Dynes, Richard Britton and Dennis McCullough.
Photo by Trevor Mills
Road racing action at the Temple 100, continued until 1999.
18 years since, it's huge legacy, fan base and it's prestige within pure road racing, is still extremely strong, largely helped by the Temple Motorcycle and Athletic Club Ltd.
Words by Stevie Rial
Reims-Gueux, France
Reims-Gueux is considered by many to be France's best ever roads circuit.
First established in 1926, the ultra fast roads course, was famous for producing many a thrilling slip stream battle, due to it's long straights.
Perhaps more known for four wheeled action, the circuit held the French round of the Moto GP world championship from 1954 to 1955.
In those two years, legendary names a plenty competed at the 8.301 kilometres long roads venue.
Amongst them includes six times TT winner and five times world champion, Geoff Duke. In 1955 Geoff won the 500cc race at Reims-Gueux, by in excess of over two minutes over nearest challenger Italy's Libero Liberati.
Also in competition on this day was former North West 200 winner Dickie Dale, 1952 Senior TT winner Reg Armstrong, Luigi Taveri and Carlo Ubbiali.
Photo's by Photo Classic Racing
Race action at Reims-Gueux concluded in 1972, after forty plus years of staging high level motorsport competition.
Since then their has been some revival weekends, which have seen a wide ranging variety of historic four and two wheeled machinery take to the iconic circuit, including ten times TT winner Giacomo Agostini aboard his customary MV Agusta mount.
Words by Stevie Rial

Tubbergen, Netherlands
For almost 40 years from 1946 through to 1984, the Tubbergen circuit in the Netherlands proved one of Europe's most popular roads venues.
Fast, scenic, rural and tight and twisty, it was a roads circuit, that from the outside looking in appeared easy to learn. To become a specialist at Tubbergen though, you had to have a mix of everything, sheer talent, a smooth riding style, grit and out and out determination.
The first British winner at the prestigious meeting was Len Parry, who in 1953 won the 350cc race.
Since then famous names a plenty from Britain have been victorious at Tubbergen, this includes two times Senior TT winner Tom Herron, Chas Mortimer, Derek Chatterton and Paul Smart.
Photo by Ton Kooyman
Additional well known riders to secure race wins over the years included Will Hartog, Pekka Nurmi, Boet Van Dulmen and Jack Middelburg.
Although racing at the original Tubbergen circuit has ended since 1984, an annual meeting since 2002 is held each year as near as possible to the historic venue, with series of classic races across various classes, taking place.
It's great to see that the popularity for Tubbergen, is still extremely strong.
In my opinion it has to be regarded amongst the Netherlands all time great roads circuits, right up there with the likes of the old Assen circuit, Hengelo and Oss.
Words by Stevie Rial
Jurby South, Isle of Man
Outside of the TT Races, Manx Grand Prix, Classic TT and Southern 100, one other major roads meeting was a fundamental part of the Manx roads scene for multiple years, the Jurby South Road Races.
4.25 miles long, the Jurby South circuit could only be described as a "proper" road race circuit. Bumpy in it's nature, many a future successful TT/Manx GP competitor made their pure road racing debut at Jurby.
This includes recent Penz 13.com BMW signing Dan Kneen, who proved in the meeting's final years the rider to beat. His brother Ryan Kneen also ventured onto the roads for the first time at Jurby, same applies to 2013 newcomers B Manx GP winner Callum Collister.
One of the most famous riders to grace the Jurby South meeting in the 2000's, was a certain Guy Martin.
In 2004, prior to his TT debut, his high profile appearance on the ultra fast, tight and twisty roads circuit, saw him contending throughout for race wins on the Uel Duncan Racing machines.
Additional well known road racers to compete over the years at Jurby include Stephen Oates, Paul Hunt, Mick Charnock, Gary Carswell, Roger Maher, Dan Sayle, Gary Radcliffe, Paul Duckett, Mark Parrett, Alan Jackson, Nigel Beattie and 2009 newcomers A Manx GP race winner Sean Murphy.
Photo by Mike Yiend
Sidecar stars to grace Jurby South have included Nick Crowe, Glyn Jones, Brian Kelly and 17 times TT winner Dave Molyneux.
Road racing action at Jurby South concluded in 2010. With the popularity of road racing growing year on year, who knows in the future the popular roads venue may return.
For now though it's biggest legacy in my opinion, has been providing Manx riders a plenty with their first taste of real roads competition.
Words by Stevie Rial
Original Spa, Belgium
When you think of motorsport in Belgium, inevitably one circuit is never far away from been talked about, Spa Francorchamps.
The original Spa circuit, located in the town of Francorchamps, is regarded by many, as one of the best ever roads circuits.
It was back in 1922 when competitive motorsport, took place for the first time around Spa. Since 1947 through to 1978 competition on the ultra fast roads surrounding the Ardennes forest altered to a 14.1 kilometres long roads venue.
A mainstay of the Moto GP world championship for multiple years, legendary names to taste success at Spa included 14 times TT winner Mike Hailwood, ten times TT winner Giacomo Agostini, Phil Read MBE and Gary Hocking.
Photo by Ton Kooyman
Plus Geoff Duke, John Surtees CBE, Angel Nieto, Bill Ivy, Jim Redman MBE, Luigi Taveri, Santiago Herrero, Dave Simmonds and Ralph Bryans.
When you watch an on board lap of the old Spa circuit on You Tube, you can tell just how skilled all riders where who competed around it.
By a long way in it's time the fastest road race circuit in the world, riders who raced at Spa, knew they where in for a huge challenge.
What a spectacle it must have been for spectators in the 1950's and 1960's seeing the world's best riders competing on the 8.762 miles roads circuit.
Almost forty years since competition ended at the old spa roads course, thousands of people year in year out, go on trips to Belgium, to take in what is regarded by some as the most challenging roads circuit in history across Continental Europe.
Words by Stevie Rial
Vila Real, Portugal
Arguably Portugal's most famous motorsport's venue, the Vila Real roads circuit, located in the Northern part of the country, will mostly be known to road race fans, for it's multiple years of been part of the Formula TT world championship.
The 4.6 kilometres hillside roads based venue saw over the years, many a roads giant secure race wins, on their way to world championship success.
This included the legendary 26 times TT winner Joey Dunlop, 1990 Senior TT winner Carl Fogarty, 11 times TT winner Steve Hislop, Steve Williams and Roger Marshall.
Photo by Foto Reporter
Vila Real proved amongst the most popular rounds of the Formula TT world championship. The Portuguese round of the series, regularly attracted thousands of spectators, who watched the world's best road racers battling it out for victories.
Alongside the star names competing, a whole host of elite teams competed, which included the mighty Honda Britain team and the JPS Norton squad, most famous for running Robert Dunlop.
First established in 1931, the Vila Real roads circuit, first gained world championship status in 1982, then again from 1984 through to 1986, and then for the third time from 1988 to 1990.
Having watched footage of Vila Real via You Tube, in my opinion it had a mix of a Irish national meeting mixed with the Macau Grand Prix, about it.
27 years on since the Formula TT world championship ended, there has been talk in recent years about a TT world series.
If a world series happens, surely Vila Real, which still hosts high level motorsport, in the form of a round of the World Touring Car Championship, would be a sure fire contender to hold a round.
Word by Stevie Rial
Circuit De Charade, France
Established in 1958, the Circuit De Charade, located in Clermont-Ferrand in the Auvergne Mountains in France, over a vast period of time, was one of the most challenging and technically demanding roads circuits of it's era.
Unique for many aspects, including that it was based around an extinct volcano, the 3.975 Kilometres long roads venue, first hosted the French round of the Moto GP world championship in 1959.
It went onto hold the French Grand Prix title for the next five years, then regained the title in 1966 to 1967, and then again in 1972 and for the final time in 1974.
Known for it's tight and twisty nature, ultra fast straights and it's high altitude, Circuit De Charade provided one of the biggest challenges to Grand Prix competitors in the 60's and early 70's.
Star names to have competed around the roads circuit, which had in total 18 turns included John Surtees CBE, Jim Redman MBE, Phil Read MBE, Mike Hailwood and Bill Ivy.
Photo by Bernard Voisin
Plus fellow legends Barry Sheene, ten times TT winner Giacomo Agostini and Jarno Saarinen.
Described as a twistier, faster version of the iconic Nurburgring circuit, Circuit De Charade is rightfully regarded amongst France's all time most famous motorsport venues.
Words by Stevie Rial
Opatija, Croatia
One of the most challenging roads circuits in the 1960's and 1970's, was the Opatija circuit, in Croatia.
The roads venue, closely located to the Adriatic Sea, was known to many as motorcycle racing's equivalent to the Monaco Grand Prix.
Race action around the streets of Opatija first began in 1939. In 1969 it gained the role of hosting the Yugoslavian Grand Prix.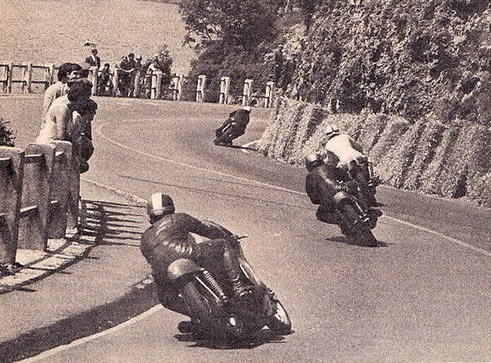 Photo by Velika Nagrada Jadrana
For the next nine years, Moto GP greats graced the 6 Kilometres long roads circuit. Stars to be victorious at Opatija included ten times TT winner and 15 times world champion Giacomo Agostini.
Additional famous riders to seal wins at Croatia's most famous roads event, included Angel Nieto, Chas Mortimer, Takazumi Katayama, Mario Lega, Dieter Braun, Kim Newcombe and Kel Carruthers.
Although since 1977, roads competition has ended at Opatija, Croatia's pure road racing heritage lives on, this is showcased in particular at Krizevci Road Races, which is arguably now the nation's premier roads meeting.
Holding a rightful strong place in pure road racing history, courtesy of the challenge it presented riders, plus it's unique seaside based location, the Opatjia roads circuit, is another reminder of road racing's worldwide reach.
Words by Stevie Rial
Thomson Road, Singapore
Back in 1961 Singapore held it's first major motorsport event, from the 16th to 17th of September, on Thomson Road.
The roads circuit 4.8 Kilometres long, proved an instant hit with competitors, from the two and four wheeled racing fraternities.
Titled the Malaysian Grand Prix from 1962 through to 1965, the event was re named back in 1966 to it's original name of the Singapore Grand Prix, following Singapore's independence from Malaysia.
Inaugural winner of the feature motorcycle race, was Chris Proffitt White, who back in 1961 was competing on board a Honda.
Photo by National Archives of Singapore
Since then up to 1973, many a famous racing name has competed around Thomson Road. This includes two times TT winner and four times world champion Hugh Anderson MBE, plus the only rider from Japan to have been victorious at the TT Races, Mitsuo Itoh.
In the 13 years in which roads competition took place, Thomson Road established itself as one of Asia's most famous roads venues.
Having started before bikes took to the Macau Grand Prix, which first happened in 1967, it was for a sustained period of time, the Asian equivalent of the Isle of Man TT.
Distinctive sectors of the circuit like four bends called Snakes and a v-bend called Devil's, proved amongst the most challenging aspects of a roads circuit, which rewarded a smooth riding style, determination, grit and most of all bravery.
Words by Stevie Rial
Hedemora, Sweden
Famous for hosting the inaugral Swedish Grand Prix, the Hedemora circuit is regarded by many as Sweden's most well known roads course.
7.242 kilometres long, it was a circuit which made you think words such as rural, tree lined and flowing.
Photo by Erik Widén
First holding race action in 1933, it was in 1958, when it enjoyed it's most prestigious moment, hosting the Swedish round of the Moto GP World Championship.
Winner of the 350 and 500 races at this meeting, was the legendary Geoff Duke, whilst additional stars to grace Hedemora included 14 times TT winner Mike Hailwood.
Competition at the popular venue, ended in 1999.
Since then revival meetings have been held, celebrating the great history of a roads venue, which holds a significant place within Sweden's motorsport heritage.
Words by Stevie Rial
Tampere Circuit, Finland
For almost forty years, the Tampere Circuit was the venue for one of Finland's most prestigious roads events, titled as Pyynikinajo.
2.242 miles long, the course had 11 turns, was heavily wooded and could only be described as an extremely pure roads circuit.
In 1962 and 1963 it hosted the Finnish round of the Moto GP World Championship, legends to be victorious in these years included Mike Hailwood, Alan Shepherd, Tommy Robb, Jim Redman MBE and Luigi Taveri.
Arguably what Pyynikinajo is most well known for, is the great Jarno Saarinen's exploits in the early 1970's, when he thrilled the big crowds with his pulsating performances.
Photo by Tapio Rautalammi
Having watched archive footage of Tampere via You Tube, to me it had a bit of everything, in my opinion it looked a very complete roads circuit, a real riders one, same as Dundrod, home of the Ulster Grand Prix.
Words by Stevie Rial
Boyne
Prior to the sole running of the Boyne 100 in 2006, it was back in 1965 when pure road racing first took place in Tullyallen, Southern Ireland.
Although only for two years, the narrow, tight and challenging 3.2 miles long course quickly became a favourite for multiple stalwart roads fans.
After the 1966 meeting, it would take 40 years till roads action took place again at Tullyallen. In 2006 thanks to the efforts of a bunch of event enthusiasts the meet was revived, but would now run under a new title, the Boyne 100.
Established stars to excel at the concluding round of the 2006 Irish road race championships, included the late but great Martin Finnegan sealing Open, Grand Final crowns.
Whilst at the time, up and coming roads exponent Conor Cummins raised an eye brow or two by winning the Supersport race.
Photo by Ken Butterfield
A quite unique 125 race saw Michael Dunlop lead home an all Dunlop top three, with brother William second and father Robert third.
Fastest lap of the meeting was scooped by 2004 Senior Manx Grand Prix winner Davy Morgan, who lapped at 1 minute 54.955 seconds.
Unfortunately despite hardy efforts of the event organisers, the Boyne 100 since 2006 has not returned to the Irish roads calendar.
It wouldn't surprise me though as with many meets, if in the near future there's a talked about possibility of it been revived for a third time.
Words by Stevie Rial