Round up of many a different fact, from TT 2016.
Following TT 2016, only two riders have lapped in excess of 133 mph, they are RST Superbike/Pokerstars Senior TT winner Michael Dunlop and Monster Energy Supersport/Royal London 360 Quantum Superstock winner Ian Hutchinson.
Michael Dunlop's new outright TT Races lap record, lapping at 133.962 mph, is just 0.034 mph, off the first 134 mph lap at the most famous road race in the world.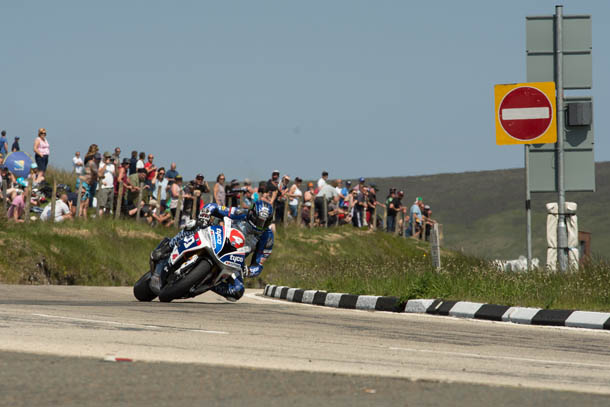 Photo by Mark Corlett
Ian Hutchinson's new superstock TT lap record, 133.098 mph, is a huge increase on the previous lap record 131.220 mph.
In both the RST Superbike and Pokerstars Senior races, Derek Sheils finished leading Suzuki mounted rider, sealing 16th and 13th place finishes on Cookstown BE Racing's GSX-R 1000 Suzuki.
Newest of the very exclusive 132 mph club, is Peter Hickman who lapped at 132.465 mph, on the final lap of the RST Superbike race, on his way to fourth place finish on the JG Speedfit ZX10R Kawasaki.
Riders to lap for first time in excess of 125 mph include Michael Sweeney, David Sellers, Dominic Herbertson and Derek Sheils.
First time TT podium finishers at TT 2016 where Martin Jessopp, Alan Founds/Aki Aalto and Peter Founds/Jevan Walmsley.
Aki Aalto's podium finish in the opening Sure sidecar race, is the best result to date by a competitor from Finland at the TT Races.
For the first time since 2011, the TT 2016 entry saw no factory Yamaha presence.
Three newcomers to the Mountain Course lapped in excess of 120 mph, Michael Booth, Jochem Van Den Hoek and Alex Polita.
There was only seven starters for the SES TT Zero race, the lowest amount of starters for a TT Race, since the 1907 twin cylinder TT, won by Rem Fowler.
Valvoline Racing by Padgetts Motorcycles lead the Honda challenge in both Monster Energy supersport races, Conor Cummins finished an excellent fourth in the opening supersport race, whilst Bruce Anstey fifth in the second 600 encounter, battled through the pain barrier.
For the third lightweight TT in a row, a Paton finished in the top six, Stefano Bonetti competing for CCM Motorsport, finished a fine fifth.
Jochem Van Den Hoek and Olaf Romijn who both made impressive TT debut's, where the first riders from the Netherlands to compete at the world's greatest road race, since Branko Srdanov made his TT debut in 2013.
Eight of the top twenty finishers in the second Monster Energy supersport encounter, where ZX6R Kawasaki mounted.
Mark Miller's 23rd place finish in the Royal London 360 Quantum Superstock TT, is the best by a Buell mounted rider at the TT Races, since the famous manufacturer first took to TT competition in 2014.
Out of the 53 finishers, in the Royal London 360 Quantum Superstock TT, only one of the finishers was competing on Yamaha machinery, Julien Toniutti 41st.
The only rider to finish on the podium in every race he competed in at TT 2016, was Ian Hutchinson, supersport/superstock winner, runner up in the RST Superbike and Pokerstars Senior TT races.
Words by Stevie Rial