Yamaha's New R1 An Exciting Element Of TT 2015
Yamaha's new YZF R1M superbike is set to add an exciting element to TT 2015.
With 11 times TT winner Michael Dunlop and reigning lightweight TT winner Dean Harrison both confirmed to compete on the new bike at TT 2015 there's every chance of a Yamaha victory in senior TT for first time since 2005 when John McGuinness was victorious for the AIM racing team.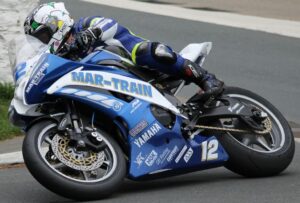 Photo by Road Racing News
Yamaha has a long prestigious history on the mountain course which in recent years has seen many top quality moments.
Which include Michael Dunlop's first TT triumph in 2009 when Michael competing on Street Sweep backed R6 Yamaha secured his first win of many at the most famous road race in the world.
Maverick's third TT victory saw him once again triumphant with the R6 Yamaha following a storming performance in supersport race 2 at TT 2012.
Another memorable moment for Yamaha at TT 2012 was Ian Hutchinson competing for the Swan Yamaha team, it marked Hutchy's return to competition on the mountain course having been forced to miss the previous years TT due to a severe leg injury.
The TT hero recorded sixth place finish in second supersport race, most recently Yamaha's last podium finish at the TT was provided by William Dunlop in opening supersport race at TT 2013 as William competing on CD racing/Milwaukee R6 Yamaha secured third place finish.
Photo by Road Racing News
With the recent announcement of Michael Dunlop joining Milwaukee Yamaha for TT 2015 all eyes will be on the manufacturer with its highly anticipated new superbike to see whether they can secure their first big bike TT victory for over ten years.