Xassos Urban Cup Set For It's 10th Anniversary
Another example of pure road racing's worldwide reach, is the Xassos Urban Cup, located in Fontes, Stª Marta de Penaguião, Portugal.
First held in 2008, the event is a three hour endurance race, which takes in up to 75 laps of a roads circuit, which in parts reminds you of La Baneza in Spain.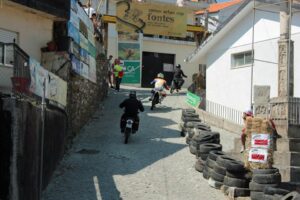 Photo via Xassos Urban Cup Facebook Page
Having watched footage on You Tube of the meeting, a few things standout to me, one been the sheer bumpiness in parts of the circuit, plus how it gets the best out of each rider, thanks to a mix of late breaking, going through extremely tight corners and elevation changes from going uphill, back to downhill.
All bikes that compete in the Xassos Urban Cup, are 50cc. There are two classes, that riders compete in, one called the pro category and the second titled Xassos.
Competitors compete within teams, in pursuit of eight awards, which include overall race victory.
The reigning pro category winners are the MB Racing Team, 2016 winner of the Xassos trophy was Team Queima Velas I.
In 2014, 70 riders competed, whilst last years meeting saw 48 riders complete the race, titled as the craziest race in the world.
Alongside Vila Real, the circuit in Fontes, now holds an already prominent place in Portugal's pure road racing history.
Photo courtesy of Animação Vila de Fontes
The tenth Xassos Urban Cup, is scheduled to take place on the 30th of July.
Words by Stevie Rial