Becoming the quickest newcomer duo in TT history, plus securing the Cyril Smith award for the highest increase in lap times across both Locate.im Sidecar races, Michael Jackson/Harry Payne had a quite prodigious first TT expedition.
Having missed out on the speed controlled lap on Saturday of practice week, due to their outfit still not been 100 percent ready, it was the opening timed practice session on Monday that saw them take to the Mountain Course for the first time.
The remainder of practice week saw them steadily chip away with their pace, which by Thursday evening saw them lap at close to the 105 mph mark.
Reflecting on the challenge of getting their new outfit ready for TT 2018, driver Jackson, passenger Payne respectively stated:
"We'd put in so much time and effort to get the bike built and race ready in just 11 days, it really is a testament to our team/sponsors and supporters."
"It had been tough on us all to get ready in time, but it made those first laps all that bit sweeter.
I'd never been on DMR and it was so much easier for me to move around on than the bike we've been contesting in the British championship."
Non finishers within the opening Locate.im Sidecar race due to a braking issue, the second three lap encounter saw them finish a fine 12th, along the way lapping at a brilliant 109.198 mph.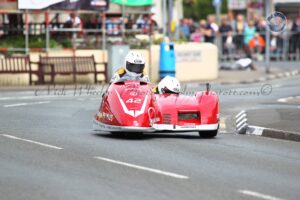 Photo by Nick Wheeler
The top 12 placing was achieved under pretty intense circumstances, with a late race problem almost preventing them from sealing a bronze replica finish.
Speaking about the drama filled conclusion to his maiden Mountain Course venture, Manx driver Jackson stated:
"I was tearing up when she dropped onto 3 cylinders, I knew I had to try my best to bring it home, I'm not sure how she kept going but we brought it home."
Passenger Payne added:
"Once we crept out of governors dip, I just kept my head down and hoped. The engine actually let go completely as we were coming up the return road!"
Words by Stevie Rial