TT debutant's Seamus Elliott and Josh Daley have both been impressing during TT 2016 practice week.
For Seamus Elliott, making his TT debut is an ambition he has held for multiple years. Having crashed at Hailwood Heights during Saturday evening's practice session, Seamus honestly thought, his TT was over.
Two nights later with the help of Devitt RC Express Racing and Quattro Plant Muc Off Kawasaki, The Peoples Bike Team backed rider, was back out on the Mountain Course.
He went onto lap in excess of 113 mph, finishing second quickest newcomer, last night's practice, saw him increase his pace at the most famous road race in the world, lapping at a more than creditable 113.677 mph.
Following in the footsteps of his road racing hero three time TT winner Adrian Archibald, Seamus has stated, that the Isle of Man TT is like nothing else.
For every rider making their TT debut, year one will always be a learning year, it's no different for the winner of the opening supersport race at last years Southern 100.
Seamus has also stated, that he would like to finish quickest newcomer, at TT 2016, but the most important aspect of these two weeks, is to enjoy the experience of competing at a meeting, where golden achievements, are never far away.
Youngest rider at TT 2016, Josh Daley, since starting racing when he was 12 in the Aprilia super teens class, stated that his whole racing career to date, has been building up to competing at the TT Races.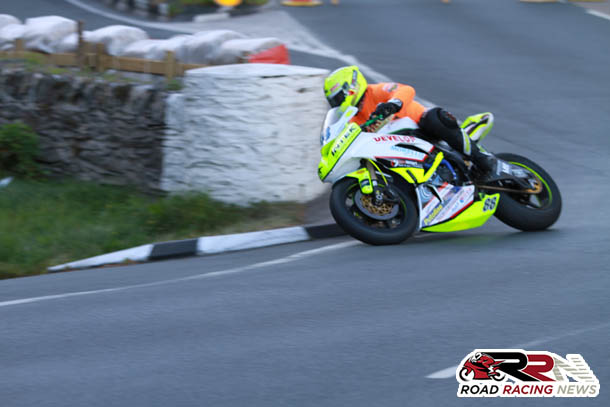 Since 2009 Josh has been constantly watching on board videos of the Mountain Course, in the winter of 2015/2016 he did countless laps of the famous road racing circuit, lap upon lap building up his knowledge of the course.
Regarding his TT heroes, he looks up to 23 times TT winner John McGuinness and the late but great nine time TT winner David Jefferies.
Practice week to date at TT 2016, has seen Josh set a quickest lap speed of 111.664 mph, on his own teams ZX6R Kawasaki.
With race week not far away, he's looking forward to competition in the Monster Energy supersport races.
Alongside the TT Races, he is aiming to next year make his Ulster Grand Prix debut and possibly compete for the first time at the Vauxhall International North West 200.
Just like Seamus Elliott, it's a lifetime ambition for Josh to compete at the Isle of Man TT, an enterprising remainder of practice week and the upcoming race week, are in prospect for two of TT 2016's most promising Mountain Course newcomers.
Words by Stevie Rial