With the recent news of a unique machine set to compete in the RST Superbike and Pokerstars Senior races, it has left many people questioning their pre race predictions.
The machine in question is the Valvoline Racing by Padgetts Motorcycles RC213V-S Honda, set to be piloted by Bruce Anstey.
The news of Bruce competing on a RC213V-S Honda, is sure to have caught the attention of all the major players in the paddock. We all know Bruce's pace, and that the bike he set's to pilot will have BHP in excess of 200, combined with anticipated great corner speed and top class handling.
Without a doubt the addition of a RC213V-S Honda with Bruce Anstey on board, adds another exciting factor, to an already world class line up for the marque races at TT 2016.
No.1 John McGuinness – Honda Racing
It's fair to say in the 2015 senior TT, John McGuinness stunned everyone, with a lap/race record breaking 23rd TT victory.
Competing for the eleventh successive year for the official Honda roads outfit, it's going to take another monumental effort from the TT legend in my opinion, to add to his stellar tally of 23 TT victories.
No.2 Bruce Anstey – Valvoline Racing by Padgetts Motorcycles
Yet another unique moment in Bruce Anstey's illustrious TT Races career, is set to take place at TT 2016, as he pilots a RC213V-S Honda.
Despite the lack of testing time on the production Moto GP spec machine, don't at all be surprised to see Bruce victorious in the RST Superbike and Pokerstars Senior races.
If the RC213V-S Honda, proves uncompetitive the ten times TT winner, will revert back to the Valvoline Racing by Padgetts Motorcycles CBR 1000 Honda Fireblade, which was recently clocked at 209 mph through the speed trap, at the North West 200.
No.3 James Hillier – Quattro Plant Muc Off Kawasaki
James Hillier, gets better and better every year around the Mountain Course.
The third fastest rider in TT history, is confident of challenging for victories, on the Quattro Plant Muc Off Kawasaki.
No.4 Ian Hutchinson – Tyco BMW
Ian Hutchinson has accomplished pretty much everything there is to achieve at the Isle of Man TT, apart from becoming the outright TT lap record holder.
This could be the year that sees Hutchy become the fastest rider in history, at the most famous road race in the world, as he bids to be victorious for the second time in the superbike and senior races, as he leads the Tyco BMW challenge.
No.5 Peter Hickman – JG Speedfit Kawasaki
In my opinion Peter Hickman has a great chance of finishing on the top step of the podium, in both the RST Superbike TT and Pokerstars Senior TT.
Despite it been only his third year of competition at the TT Races, Peter has the proven international road race winning credentials, to be victorious on GB Moto Racing's JG Speedfit backed ZX10R Kawasaki.
Which is set to be similar spec to the KRT (Kawasaki Racing Team) superbikes, seen in the world superbike championship.
No.6 Michael Dunlop – Hawk Racing
Michael Dunlop was the dominant force in the superbike class at the North West 200, winning the opening big bike race, along the way setting a mesmerising new lap record around the Triangle.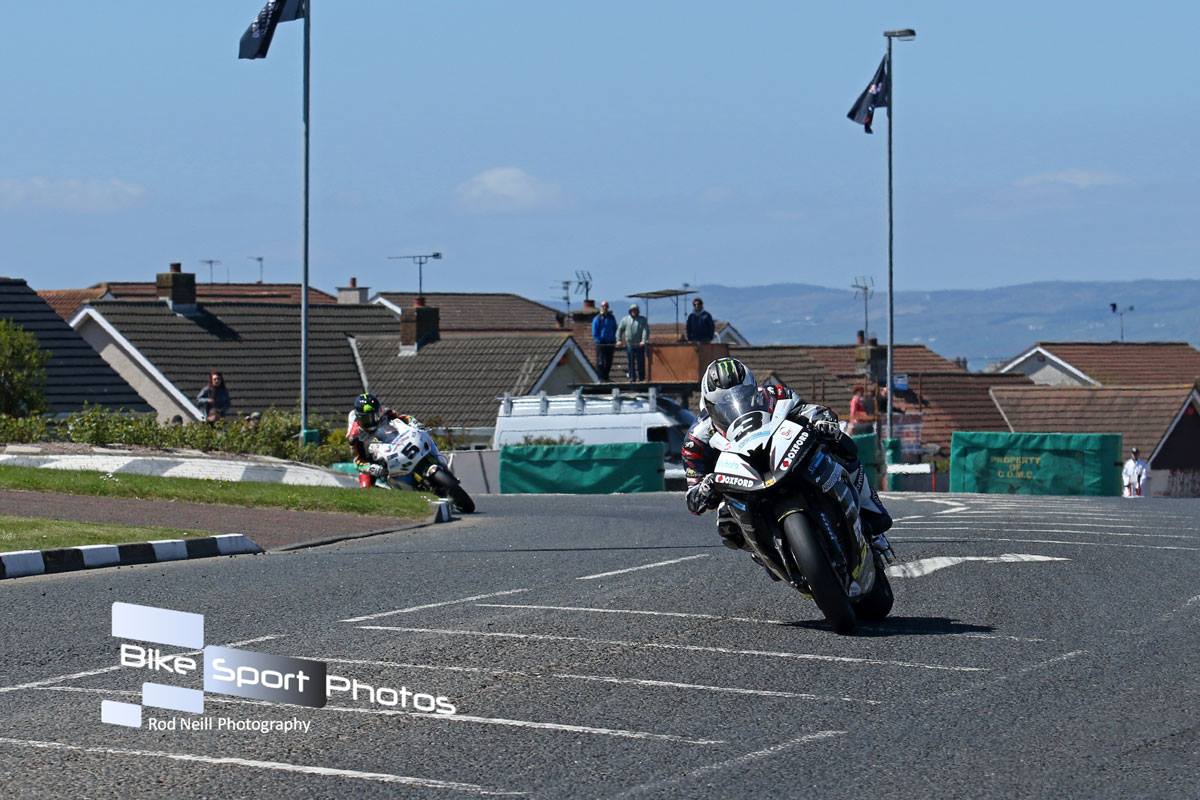 Photo by Rod Neill
Entering his third TT Races with Hawk Racing and on BMW Motorrad machinery, all the components are there for Michael to regain his superiority in the blue riband races.
No.7 Gary Johnson – Penz 13.com BMW
A dark horse for podium finishes or better, is two times TT winner Gary Johnson.
Now amongst the Penz 13.com BMW fold, Gary has the proven pace, to be the near the sharp end of the leader board.
No.8 William Dunlop – William Dunlop Racing/Ivan Curran
It's not been the easiest superbike/senior TT preparations for William Dunlop, who having recently split from CD Racing, now is set to pilot his own teams YZF R1M Yamaha backed by Ivan Curran.
Set to be Yamaha's leading runner, we all know William has the capabilities to secure series of world class results.
No.9 Michael Rutter – Bathams SMT Racing
Twenty five times international road race winner Michael Rutter, adds added depth to BMW Motorrad's presence.
Competing for Bathams SMT Racing, Michael showed at the North West 200, with a podium finish, that he cannot be discounted from finishing on the podium during TT 2016.
No.10 Conor Cummins – Honda Racing
For the third TT in a row, Conor Cummins lines up for the works Honda Racing outfit.
Having had by his standards a low key TT last year, he will be aiming to enjoy a much more productive two weeks of Mountain Course action.
No.11 Cameron Donald – Wilson Craig Racing
Former superbike TT winner, Cameron Donald returns to Honda machinery at TT 2016, as he re unites with Wilson Craig Racing.
Following testing 2014 and 2015 TT's with Norton, Cameron wasn't a realistic podium contender, will he return to his front running form this year? Don't be surprised.
No.12 Dean Harrison – Silicone Engineering Racing
Dean Harrison, Silicone Engineering Racing ZX10R Kawasaki, has fond memories of ZX10R Kawasaki machinery at TT Races.
It's a make of bike which has propelled him to his first 130 mph lap, plus second place finish in the 2014 superstock TT. The big question for Dean at TT 2016, is can he make the next step in pace to the 132 mph laps, to be in contention for podium finishes.
No.13 Lee Johnston – East Coast Racing
East Coast Racing's Lee Johnston, six times an international road race winner, could cause many a surprise or two.
But would it be a surprise to see Lee finish on the podium in the RST Superbike/Pokerstars Senior races? In my opinion it wouldn't at all be.
No.16 David Johnson – Norton Racing
Norton's TT 2016 challenge, is lead by Australia's fastest TT Races competitor David Johnson.
Photo by Jim Gibson
The SG5 Norton is anticipated to be much more competitive than the previous Norton's of recent years, a realistic result on the cards in my opinion for the famous British marque, is a top 12 finish.
No.17 Dan Stewart – Wilcock Consulting
2012 TT privateers champion Dan Stewart, is a definite contender for series of top six finishes.
Piloting Wilcock Consulting backed ZX10R Kawasaki, there's no doubt that Dan has the talent to break into the 130 mph club.
No.18 Martin Jessopp – Riders Motorcycles
Riders Motorcycles backed Martin Jessopp, sealed hat trick of podium finishes at the Vauxhall International North West 200, but was a bit off the pace in the superbike class.
Three times a Macau Grand Prix runner up, Martin has gone from strength to strength at the Isle of Man TT, since making his debut in 2014, don't be surprised to see him lap in excess of 130 mph.
No.19 Steve Mercer – Jackson Racing
Jackson Racing's Steve Mercer, is tipped by many to enjoy a highly productive two weeks of pure road racing competition.
CBR 1000 Honda Fireblade mounted Steve, an accomplished roads exponent, loves the TT and the Mountain Course, expect him to be close to top ten finishes.
No.20 Ivan Lintin – Devitt RC Express Racing
Finalising the top twenty starters, is reigning lightweight TT winner Ivan Lintin.
The Devitt RC Express Racing rider, looks set to be amongst the leading ZX10R Kawasaki mounted competitors, a dark horse for a top six finish.
One rider/team combination that pretty much all TT fans will keeping an eye on, will be ten times TT winner Ian Lougher piloting Suter's MMX 500 machine.
Holding the number 21 plate, Ian whilst perhaps not expected to be in contention for a top ten placing, is a pure road racing legend, hugely capable of giving Suter a world class result or two, in their maiden TT Races appearance.
Rising stars to watch out for include reigning privateers champion Dan Cooper, Sam West who lapped in excess of 126 mph at TT 2015, Ryan Kneen, James Cowton, Derek McGee, Mark Goodings, Dan Hegarty, Craig Neve and Alan Bonner.
Cookstown BE Racing's Derek Sheils, Jamie Coward, Stefano Bonetti, Bimota Racing Ben Wylie and Brandon Cretu, Brian McCormack, Rob Hodson, David Sellers, Danny Webb and Michael Russell are all capable of recording first class results.
Same notion applies to John Ingram, Paul Shoesmith, Mark Parrett, Anthony Redmond, Hudson Kennaugh, Top Gun Racing's AJ Venter, Frank Gallagher, Daley Mathison, Matthew Rees, Davy Morgan, Dave Hewson and Ian Pattinson.
Leading European pure road racers entered include Horst Saiger, Marco Pagani, Fabrice Miguet, Xavier Denis, Julien Toniutti, Michal Dokoupil and 2012 newcomers A Manx Grand Prix winner Kamil Holan.
TT debutants competing are Alex Polita Penz 13.com BMW, Performance Racing Achthoek's Jochem Van Den Hoek, Danny Tomlinson Racing's Michael Booth, The Peoples Bike Team backed Seamus Elliott.
Plus Cornwall's Forest Dunn, Portugal's Andre Pires and British championship regular Victor Cox, competing for Mick Charnock's DP Coldplaning/TC Racing outfit.
Round Up:
As has been the case in recent years, there's a group of around eight riders who start as the leading contenders for superbike and senior TT victories.
There's also now an emerging group of riders all confident of moving to the next level, as they bid for ground breaking moments around the Mountain Course.
For many the pre race favourites are Michael Dunlop and Ian Hutchinson. But the field is arguably the most high quality it's been in the last three years.
Expect, excitement, thrills and dazzling lap speeds, in what are set to be quite enthralling RST Superbike and Pokerstars Senior races.
Words by Stevie Rial