TT 2016 Preview – Part 3 – Sure Sidecar Races
A 61 strong entry has been received, for the 2016 Sure sidecar TT races.
Alongside the established front runners, many a rising star, up and coming roads competitors and vastly experienced duo's will be aiming to cause many a surprise or two.
No.1 Dave Molyneux/Dan Sayle – DMR/A&J Groundworks
Dave Molyneux proved at TT 2016, with a quite sensational lap record of 116.785 mph, that he's still one of the most formidable Mountain Course forces.
Teaming up with the 17 times TT winner in his DMR/A&J Groundworks backed outfit, is fellow TT legend, nine times TT winner Dan Sayle. The all star duo start for many favourites for back to back sidecar TT victories, they will be extremely hard to beat.
No.2 Ben Birchall/Tom Birchall – IEG Racing
Ben Birchall and Tom Birchall where not only the undoubted sidecar stars of TT 2016, but overall amongst the main stars of a thrilling two weeks of pure road racing competition.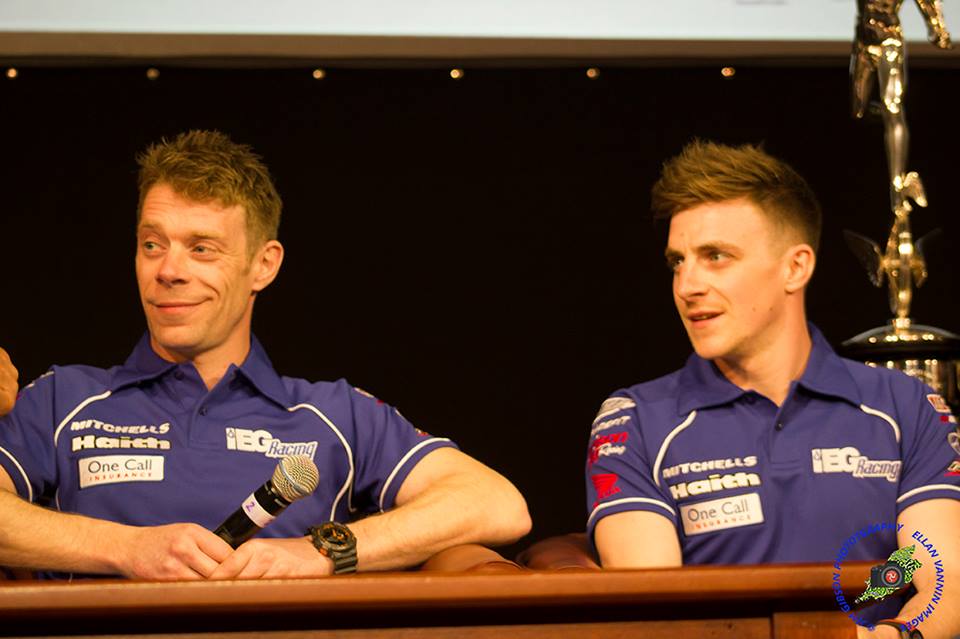 Photo by Jim Gibson
Running their own outfit with backing from IEG (International Energy Group), they will in my opinion start as the duo everyone has to beat, to be victorious in this years sidecar TT races.
No.3 John Holden/Andrew Winkle – Silicone Engineering Racing
Having been joined by Dan Sayle at TT 2016, Andrew Winkle re links up with John Holden, as they bid for more momentous TT moments.
Backed again by Silicone Engineering Racing, we all know the duo's race winning capabilities, it's just a question of all lights aligning for them to add to their current sole TT success.

No.5 Conrad Harrison/Dean Kilkenny – PRS Racing
2014 sidecar TT champion Conrad Harrison, has a new challenge at TT 2016, as Dean Kilkenny joins forces with the Bradford based driver.
In recent years Conrad has firmly established himself amongst the select group of drivers, capable of winning around the Mountain Course, he and Dean Kilkenny, will start amongst the pre race favourites.
No.6 Ian Bell/Carl Bell – Ian Bell Motorcycles
Former TT winner Ian Bell and his son Carl Bell, start in my opinion as definite podium contenders.
Winner of the sidecar races at the Spring Cup National Road Races at Oliver's Mount, the duo are definitely one's to watch, don't at all be surprised to see stand on the podium at least once during TT 2016.
No.7 Alan Founds/Aki Alto – Team Founds Racing
Alan Founds since making his TT debut in 2014, has gone from strength to strength around the Mountain Course.
Regarded by many including me as a future TT winner, he and passenger Aki Alto, cannot be discounted from been near the sharp end in both Sure sidecar TT races.
No.8 Gary Bryan/Jamie Winn – Bryan Racing/GBM Demolition
Three times a fourth place finisher, Gary Bryan is arguably amongst the best drivers, to have not podiumed as yet at the TT Races.
Joined once again by Jamie Winn in his own teams machine which carries title sponsorship from GBM Demolition, Gary has the undoubted pace and determination to achieve a long awaited TT podium finish.
No.9 Karl Bennett/Lee Cain – Bennett Racing
Amongst the Isle of Man's fastest rising stars on the roads, Karl Bennett and Lee Cain, have the backing of race sponsors Sure, as they aim for a podium finish.
For many this would be a surprise to see the Bennett Racing machine, up amongst the established front runners, but those in the know, know the capabilities of the Manx pairing.
No.10 Gary Knight/Daniel Evanson – Redline Superbikes/Dialled In Racing
Going into TT 2016, Gary Knight's best result to date at TT Races, is sixth place in the opening sidecar race at TT 2013.
Joined this year by Daniel Evanson in the Redline Superbikes with Dialled In Racing outfit, he has the potential to record series of stand out results.
No.11 Matt Dix/Shaun Parker – Dixie Racing
Matt Dix and Shaun Parker where amongst the most improved duo's at TT 2016, as they scored eighth and sixth place finishes.
Although they might not be podium contenders, don't discount them from at least challenging for top five finishes.
No.12 Wayne Lockey/Mark Sayers – Real Racing
Since teaming up together in 2014, Wayne Lockey/Mark Sayers have enjoyed a consistent run of high quality TT finishes.
Experienced, determined and ambitious, it would not at all surprise many, if the Real Racing outfit clinched at least one top five placing.
No.13 Darren Hope/Paul Bumfrey – Ablec/Bar Logo
Former three time winning sidecar TT passenger Darren Hope, is all set for his fourth driver TT appearance.
He and Paul Bumfrey backed by Ablec/Bar Logo, are another duo, hugely capable of claiming many a famous scalp.
No.15 Stephen Ramsden/Matty Ramsden – Ramsden Racing
Stephen Ramsden/Matty Ramsden have developed over the last year, into been without a doubt regular contenders for sidecar victories at Oliver's Mount.
Looking towards Mountain Course action, they will be aiming to kick on from where they left off in 2016 with eighth place finish in the opening Sure sidecar race.
No.16 Tony Baker/Fiona Baker Milligan – Cumbria Express
Father and Daughter duo Tony Baker/Fiona Baker Milligan are a regular collector of highly creditable results.
Expect more of the same this year in the Cumbria Express backed outfit, which is set to once again carry a familiar turquoise blue themed colour scheme.
No.17 Gordon Shand/Philip Hyde – Kevin Ashworth Machined Timber
TT 2016 marks 30 years since Gordon Shand made his TT Races debut.
Joined this year by Philip Hyde in the Kevin Ashworth Machined Timber backed outfit, they are another potential top six finisher.
No.18 Roy Hanks/Kevin Perry – Hanks Racing
The evergreen Roy Hanks embarks on his 50th appearance at the Isle of Man TT this year.
The winner of the opening sidecar race at the TT 1997, is joined in his own teams outfit for the fifth successive year by Kevin Perry.
No.19 John Saunders/Frank Claeys – Stapleton's Tyre Services
The last five years have seen John Saunders, develop into a highly accomplished driver, around the magical Mountain Course.
Currently with a personal best TT finish of ninth in the second sidecar race of TT 2014, he has the ability to secure a top six placing this time around, he's joined by Frank Claeys in the Stapleton's Tyre Services backed outfit.
No.20 Michael Grabmuller/Manfred Wechselberger – Delta Racing Team
More known at present for his world sidecar championship exploits, Michael Grabmuller, is gradually developing into a highly accomplished sidecar TT exponent.
Joined by fellow Austrian Manfred Wechselberger in the Delta Racing team outfit, they add a touch of international quality.
Additional duo's to watch out for include Tim Reeves/Patrick Farrance, Greg Lambert/Kenny Cole, Carl Cox Motorsport's Colin Buckley/Robbie Shorter, Mike Cookson/Alun Thomas, Mick Donovan/Dave Butler, Pete Alton/Keith Brotherton and Pete Founds/Jevan Walmsley.
Photo by Jim Gibson
Dwight Beare teaming up with lap record holding passenger Benjamin Binns, are dark horses for at least top six finishes.
International outfits to watch include Francois Leblond/Anne Garnish, Mike Roscher/Ben Hughes, Estelle Leblond/Freddy Lelubez, Claude Montagnier/Maxime Vasseur, Lionel Mansuy/Melanie Farnie and America's Peter Essaff/Jeff Gillard.
Further quality to the entry is added by Kenny Howles/Dave Mahon, Howard Baker/Mike Killingsworth, Brian Kelly/Jason O'Connor, Andy King/Paul Skinner, Dan Knight/Stephane Hubert, Terry O'Reilly/Aidan Browne and Dean Nicholls/Benjamin Avison.
Newcomers entered are Thierry Laforest/Francky Fouet, Simon Gilbert, Australia's Mick Alton/Chrissie Clancy, Dave Demott/Kevin Jones, Alastair Hawkins/Ben Mcbride and Lewis Blackstock/Patrick Rosney.
Round Up:
Sidecar TT racing has grown and grown in popularity, in recent years. Winning a TT is considered by many in sidecar fraternity as been a lot more prestigious, note worthy and momentous than winning a sidecar world championship.
The only disappointment of this years entry, is that it's slightly down on last years number of outfit's scheduled to compete.
One things for sure though, your guaranteed top quality battles for Sure sidecar TT victories at TT 2016. The big question is will the Birchall brothers continue their Mountain Course domination? we will all find out soon.
Words by Stevie Rial