With great conditions, bright sunny weather, the stage was set for a thrilling Royal London 360 Quantum Superstock TT.
Lap 1:
The pace setter up to Glen Helen on lap 1 was, Ian Hutchinson on the Tyco BMW leading by 2.494 seconds over Michael Dunlop.
The quickest two riders in TT history, had begun from where they left off in the opening Monster Energy supersport race, another great duel between the pure road racing legends, was very much on the cards.
As lap one went on Hutchinson started to crank it up at front, by Ramsey Hairpin he lead by over five seconds, as Dunlop on his own teams S1000RR BMW, was battling to keep in touch with the Tyco BMW rider.
Photo by Louis Porter
At Cronk Ny Mona, Hutchinson increased his lead to 9.178 seconds having been 7 seconds clear at the Bungalow.
James Hillier now into third having been sixth at Glen Helen, was on a charge on the Quattro Plant Muc Off ZX10R Kawasaki.
As lap one concluded, Ian Hutchinson now held a firm grip on the race, leading by almost 16 seconds over Michael Dunlop, following a dazzling new superstock TT lap record from a standing start, lapping at 133.098!
James Hillier third was not far in front of Silicone Engineering Racing's Dean Harrison, just 2.7 seconds behind his Kawasaki compatriot, as Gary Johnson and Lee Johnston rounded out the top six.
Lap 2:
There was drama as lap two began, as Michael Dunlop entered the pit lane, retiring with a damaged gear lever.
This promoted James Hillier to second, Dean Harrison to third, Lee Johnston slotted into fourth, moving in front of Michael Rutter and Gary Johnson.
With Dunlop out of the equation, Hutchinson kept up a high quality pace, to move over 32 seconds clear of new in second place James Hillier, at the end of lap two.
Dean Harrison in third place, was just 4.5 seconds in front of East Coast Racing's Lee Johnston, Michael Rutter, Gary Johnson and John McGuinness where all close together on aggregate time in fifth, sixth and seventh.
Lap 3:
John McGuinness on his own teams EMC2 CBR 1000 Honda Fireblade, was gradually putting himself into stand out result contention, moving into fourth at Glen Helen on lap three.
Out front Ian Hutchinson held a 36 second advantage over James Hillier. Dean Harrison in third place, was only 1.333 seconds behind Hillier, whilst Lee Johnston held fifth place with Gary Johnson maintaining sixth.
Hutchinson was doing everything he had to do out front, by Cronk Ny Mona with a 40 second advantage, we all could sense that Hutchy was on the verge of a 13th TT victory.
Leading by 40.360 seconds at the completion of the third lap, Ian Hutchinson was well and truly in full command, whilst a great battle for second was developing between James Hillier and Dean Harrison, only 2.310 seconds covered them.
Lee Johnston retired at Sulby Cross Roads, this promoted Gary Johnson in fifth place as Michael Rutter in sixth, was producing another top class display around the Mountain Course.
Lap 4:
With race victory pretty much in the bag, the final lap of the race, was a calm, cool and high class one from Ian Hutchinson.
Under no real pressure from nearest challengers Hillier and Harrison, he crossed the line at the end of the fourth and final lap, to clinch his 13th TT victory.
The victory, was a hugely significant one for TAS Racing who run the Tyco BMW outfit, it was Hector and Philip Neill's teams first TT win since 2008.
The battle for second was a truly gripping one, in the end it was Dean Harrison on the Silicone Engineering Racing Kawasaki who finished a fine second.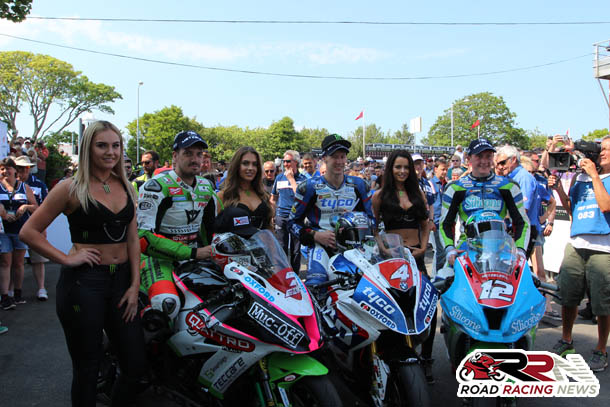 Dean was delighted with the result, Silicone Engineering Racing where overjoyed, at finishing leading Kawasaki runners.
James Hillier, third was happy enough, as he sealed another big bike TT podium finish.
Michael Rutter battled his way to a top draw fourth place finish, going into the race the Bathams SMT Racing rider, was only confident of a top six finish, so fourth position, will be a satisfying result for the four time TT winner.
Finalising the top six was Penz 13.com BMW's Gary Johnson and John McGuinness who appeared in the closing lap, to encounter issues.
Conor Cummins was a more than creditable seventh as William Dunlop, David Johnson and Jackson Racing's Steve Mercer wrapped up the top ten finishers.
Dan Hegarty 11th, Ivan Lintin 12th, Horst Saiger 13th, Jamie Coward 14th, Sam West 15th, a great ride from Sam given the obvious difficult circumstances for him and the Ice Valley Racing/4 Anjels team.
Craig Neve finished an excellent 16th, a top class performance from Craig on the Call Mac Scaffolding/Flexi Hydraulic ZX10R Kawasaki.
Hudson Kennaugh 24th, impressed in a race, which saw Ian Hutchinson create another moment of Mountain Course history.
A new superstock lap record, race record, TAS Racing's first TT win since 2008, what a day for the now 23 times international road race winner.
TT 2016 – Royal London 360 Quantum Superstock Results:
1 Ian Hutchinson
2 Dean Harrison
3 James Hillier
4 Michael Rutter
5 Gary Johnson
6 John McGuinness
7 Conor Cummins
8 William Dunlop
9 David Johnson
10 Steve Mercer
11 Dan Hegarty
12 Ivan Lintin
13 Horst Saiger
14 Jamie Coward
15 Sam West
16 Craig Neve
17 Michael Sweeney
18 Derek Sheils
19 Ryan Kneen
20 John Ingram
21 Kamil Holan
22 David Sellers
23 Mark Miller
24 Hudson Kennaugh
25 Jim Hodson
26 Stefano Bonetti
27 Danny Webb
28 Marco Pagani
29 Ian Pattinson
30 Matthew Rees
31 Michael Russell
32 Dominic Herbertson
33 Davy Morgan
34 Jochem Van Den Hoek
35 David Hewson
36 Anthony Redmond
37 Xavier Denis
38 Phil Crowe
39 Mike Booth
40 Alex Polita
41 Julien Toniutti
42 Alan Connor
43 George Spence
44 Richard McLoughlin
45 Eric Wilson
46 Fabrice Miguet
47 Andrew Soar
48 Dave Madsen Mygdal
49 Mark Goodings
50 Seamus Elliott
51 Ben Rea
52 Andre Pires
53 Forest Dunn
Words by Stevie Rial