Hudson Kennaugh is improving all the time on the Mountain Course, as he aims to in the future follow in the footsteps of Jon Ekerold, in becoming the first podium finisher from South Africa at the TT Races since 1982.
Since making his TT debut in 2010, Hudson has steadily increased his lap speeds, at the most famous road race in the world, his first three TT appearances, have seen him compete on BMW, Triumph, Kawasaki, Aprilia and Buell machinery.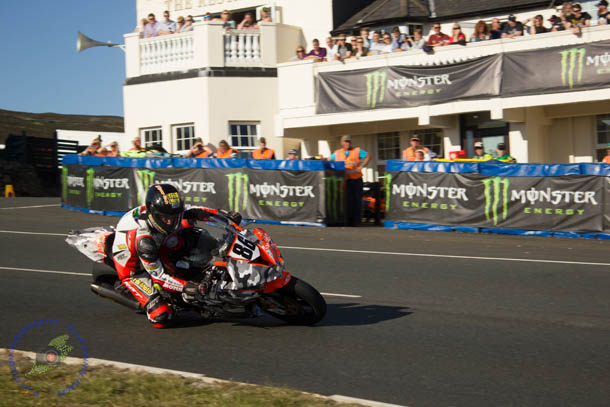 Photo by Jim Gibson
TT 2016 sees Hudson pilot RST/Spoor Tech backed S1000RR BMW, in the RST Superbike, Royal London 360 Quantum Superstock and Pokerstars Senior Races, the Monster Energy Supersport encounters, will see him 675 Daytona Triumph mounted.
The opening race of TT 2016, the RST Superbike race, proved to be a frustrating one for Hudson who went onto 49th. There was positives though, which included setting a new personal best lap speed from a standing start, lapping at 121.607 mph.
Then in practice later on, he lapped in excess of 124 mph for the first time, unofficially a huge personal best lap speed.
One of the main goals for Hudson at TT 2016, is to seal top twenty finishes, in the Monster Energy Supersport races.
Securing a podium finish at the world's greatest road race, would be in his own words, a dream, he believes it will be in the lightweight category, where it is most likely that he will accomplish this significant goal.
Stating that nothing attracts him to the roads quite like the Isle of Man TT, Hudson has stated that their is a possibility in years to come, that he could make his Oliver's Mount debut, at the Scarborough Gold Cup, on a 125, Moto 3 or 250.
What he lacks in pure road racing experience, he more than makes up for in his proven racing credentials, talent and pace, expect Hudson Kennaugh, to surprise many during next weeks race action at TT 2016.
Words by Stevie Rial