In ideal conditions around the Mountain Course, the opening Sure Sidecar TT race, would provide surprises, world class performances, a new lap record and drama a plenty.
Lap 1:
The opening lap of the race, began with the Birchall brothers holding an advantage in excess of 0.8 seconds over John Holden/Andrew Winkle, with Tim Reeves/Patrick Farrance not far behind in third.
At Ballaugh Bridge, the Birchall's lead was reduced to 0.7 by Holden/Winkle, by Ramsey Hairpin the race leaders upped their lead to 2.364 seconds, Tim Reeves/Patrick Farrance in third where been reeled in by Ian Bell/Carl Bell.
Father and son duo Ian and Carl over the mountain, where into third, before Reeves/Farrance fought back to reclaim third at Cronk Ny Mona.
By the end of lap one Ben Birchall/Tom Birchall lead by 8.190 seconds over John Holden/Andrew Winkle, Tim Reeves/Patrick Farrance held third position just in front of Ian Bell/Carl Bell.
Peter Founds/Jevan Walmsley and Alan Founds/Aki Aalto where both impressing in fifth and sixth, as they finalised the top six.
Lap 2:
Lap two saw another moment on TT history, as Ben Birchall/Tom Birchall set a new outright sidecar TT lap record, lapping at 116.798 mph.
A truly sensational lap from the Mansfield based duo, in their IEG (International Energy Group) backed outfit.
John Holden/Andrew Winkle lapping in excess of 115 mph, remained in second place, but where now by the end of lap two, over 24 seconds behind, their flying rivals.
Ian Bell/Carl Bell encountered technical issues at Barragarrow, Carl Cox Motorsport's Colin Buckley/Robbie Shorter retired as Peter Founds/Jevan Walmsley moved into fourth place.
Lap 3:
Drama, drama and more drama, was the nature of the final lap, of the opening Sure Sidecar TT race of TT 2016.
The Birchall brother's lead grew and grew at both Glen Helen and Ballaugh Bridge, but then it was announced they had retired at Sulby Cross Roads, terrible luck for Ben and Tom, who where incredibly close to recording their fourth TT victory.
More drama arrived when Tim Reeves/Patrick Farrance now down in fourth place, behind Peter Founds/Jevan Walmsley, retired at Glen Duff.
This elevated Alan Founds/Aki Aalto into a superb third place.
After all that had happened on this lap, John Holden/Andrew Winkle, knew anything could happen before the end of the race.
They encountered no problems, as they crossed the line at the end of lap three, to record their second TT Races victory.
The duo piloting the Silicone Engineering Racing/Barnes Racing Honda powered outfit, where absolutely with their second TT success, having claimed their first Mountain Course victory in 2011.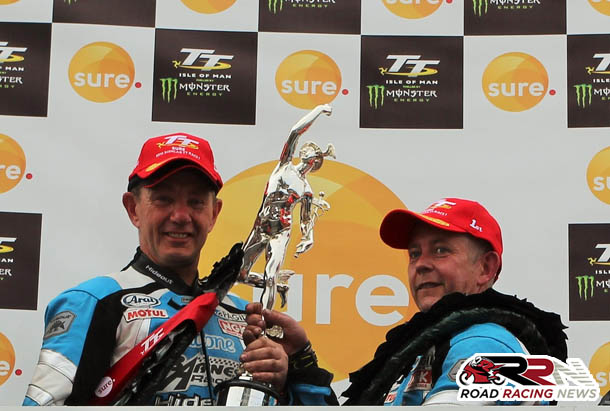 Peter Founds/Jevan Walmsley, a newcomer to the Mountain Course, where amazed and over the moon to finish in second place.
The same notion applied to Alan Founds/Aki Aalto, who finalised the podium finishers.
Great to see the Team Founds Racing's outfits, both finish on the podium.
Steve Ramsden/Matty Ramsden finished a great fourth, Matt Dix/Shaun Parker where fifth as Wayne Lockey/Mark Sayers concluded the podium finishers.
Rounding out the top ten finishers was Gary Bryan/Jamie Winn, Gary Knight/Daniel Evanson, Gordon Shand/Phil Hyde and Darren Hope/Paul Bumfrey.
As the saying in racing goes, to finish first you must finish. This was most definitely the case today as John Holden/Andrew Winkle became two time TT winners.
Sure Sidecar TT Race 1 Results:
1 John Holden/Andrew Winkle
2 Peter Founds/Jevan Walmsley
3 Alan Founds/Aki Aalto
4 Steve Ramsden/Matty Ramsden
5 Matt Dix/Shaun Parker
6 Wayne Lockey/Mark Sayers
7 Gary Bryan/Jamie Winn
8 Gary Knight/Daniel Evanson
9 Gordon Shand/Phil Hyde
10 Darren Hope/Paul Bumfrey
11 Mike Cookson/Alun Thomas
12 Mike Roscher/Ben Hughes
13 Mick Alton/Chrissie Clancy
14 Lewis Blackstock/Patrick Rosney
15 John Saunders/Frank Claeys
16 Howard Baker/Mike Killingsworth
17 Pete Alton/Keith Brotherton
18 Roy Hanks/Kevin Perry
19 Francois Leblond/Bruno Picquoin
Words by Stevie Rial