Top class two stroke action is in prospect at the MCE Insurance Ulster Grand Prix.
Although there is only a 14 rider entry for the ultra lightweight race, the low number of entrants is made up by the sheer quality of the riders competing on 125 machinery.
They include Irish road race 125/Moto 3 championship leader Adam McLean, established amongst the fastest rising stars on the roads, his debut at Dundrod will be watched closely by many.
Despite the fact that he's a Ulster GP newcomer, it would not surprise me and many if he secures at least a podium finish.
Sam Wilson, reigning ultra lightweight race winner, will start one of the firm pre race favourites, as will Joey's Bar Racing team mate Derek McGee.
Completing the Joey's Bar Racing trio is Team Manager Gary Dunlop, who makes his Dundrod debut as he carries the iconic number three plate.
Rising star Paul Jordan, Nigel Moore and Aprilia mounted Paul Robinson, are additional potential front runners, whilst adding an international element to the entry is Italy's Lorenzo Tiveron.
Sarah Boyes and Sam Johnson who is building up to his third year of Manx Grand Prix competition, are both capable of securing notable results.
Looking towards the lightweight race, 11 250's are set to take to Dundrod, they include former North West 200 winner Christian Elkin.
Christian is amongst the firm favourites to finish leading 250 mounted rider, in a race which combines the popular mounts with 400 machines.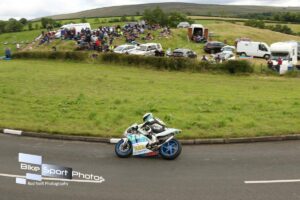 Photo by Rod Neill
Added anticipated leading 250 mounted riders competing include Logan Racing's Neil Kernohan, Paul Owen, Davy Morgan, Olie Linsdell and Wolfgang Schuster.
Callum Laidlaw set to compete in the new Lightweight Classic TT, is one to watch as he competes on like many of his fellow competitors on a RS250 Honda.
The vast majority of the 2016 lightweight Ulster GP entry consists of multiple 400's, front running 400 exponents expected include Michal Dokoupil, Paul Gartland and David Howard.
Plus don't discount newcomer Darryl Tweed from making quite an impression on his 400 Kawasaki mount, Darryl has been one of the stars of the 2016 roads season, a winner on his debut at the Southern 100, he's one to watch at Dundrod.
Whilst the 125, 250 and 400 action might not be what it was in years gone by, the popular classes still provide top class action, close fought racing and give great chances to up and coming roads riders to make a name for themselves.
Words by Stevie Rial