After thrilling encounters between them at TT 2016, a lot of the attention in the superbike races at the MCE Insurance Ulster Grand Prix will be on Michael Dunlop and Ian Hutchinson.
Their "duels in the sun" at this year's TT Races, captured the imagination of all pure road racing fans.
The Hawk Racing and Tyco BMW riders both go into action around Dundrod, in great form.
Whilst Hutchy has been right near the sharp end in British championship competition, Michael has recorded since TT 2016 eight wins on the roads, including solo championship success at the Southern 100 and race of legends victory at Armoy.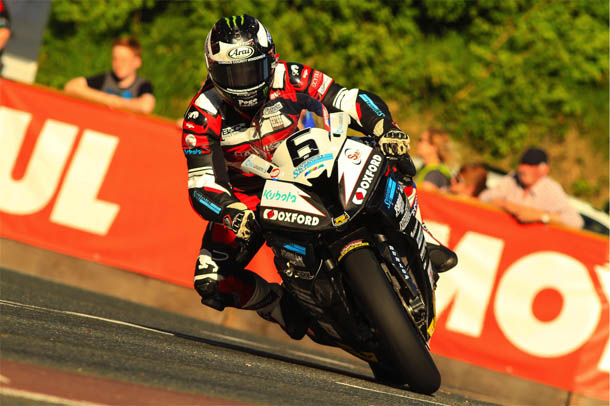 Photo by Louis Porter
Vast amounts of people are anticipating ultra close fought battles at the Ulster GP, between two riders who have defined a golden generation of pure road racing.
There is though multiple riders who cannot be discounted from pushing and beating, their illustrious counterparts.
Lap record holder Bruce Anstey on the exotic Valvoline Racing by Padgetts Motorcycles RC213V-S Honda, has the undoubted pedigree and sheer talent to record more big bike success at Dundrod.
It's difficult to say overall how competitive the RC213V-S Honda will be, we know essentially it's a production version of a Moto GP bike and power output is immense, so Bruce will prove a factor on it.
Whether it's going to be the machine to beat at the world's fastest road race, is difficult to say, one things for sure in Bruce piloting it, you can be pretty sure of race winning challenges.
Anticipated to lead the Kawasaki challenge is JG Speedfit Kawasaki's Peter Hickman.
Having secured his maiden international road race success in last year's second superbike race, Peter proved his undoubted potential at the world's fastest road race.
Fourth place finish in this year's RST Superbike TT, lapping at 132.465 mph to become the fourth fastest rider in TT history, is further proof of his pace and ability in the marque class.
In my opinion he will start one of the pre race favourites in the 2016 Ulster GP superbike races, same applies to Lee Johnston on the East Coast Racing S1000RR BMW.
Photo by Rod Neill
The six times international road race winner speaking ahead of the third international roads meeting of the year, is confident of repeating his 2015 feats.
"2015 was a breakthrough year for me, a podium at the TT and a hat trick of wins at Dundrod. It's hard to get two good years in a row though and I've had a bit of bad luck this year, particularly at the TT and the crash at Scarborough held me back too.
That's behind us now though, and I'm buzzing about getting to Dundrod to see what we can do.
I won the Superstock race last year by less than a tenth of a second, followed by another hard fought win in the opening Supersport race ahead of William Dunlop.
Those tight battles and mass start part of the appeal, that close racing is so good for the fans too, it seems to mean they automatically like you as a racer.
I don't choose for the races to be tight though, I'd rather win by 10 seconds and have no stress on the last lap but I think it's just that type of track with all the big slipstreaming going on and the good battles down the last two or three corners.
I'm under no illusions about what it'll take to get onto the podium this year. Look at Michael, Hutchy and Dean at the TT, they were on awesome form.
You'd nearly bet your house if the weather is good at Dundrod that the lap record will go again and it really could be anyone that does it. I'll be in the mix and trying my best.
If I could do what I did last year I'd be a happy man, to win another three at the Ulster would be absolutely unbelievable. I just need to be near the front and competitive, I want to win."
Lee's good friend Dean Harrison, has without a doubt been one of the stars of the 2016 pure road racing season.
Securing in total to date 20 victories, he has been in top class form on the Silicone Engineering Racing Kawasaki's.
Photo by Mark Corlett
Whilst he might not be considered by some a race winning contender in the superbike races, you simply cannot not discount him from been in the shake up at the front, given his proven pace, talent and determination.
Added riders all capable of standing on the podium include Conor Cummins (Valvoline Racing by Padgetts Motorcycles), David Johnson (Wilson Craig Racing), William Dunlop (WD Racing/Caffrey International) and Dan Kneen (Mar Train Racing Yamaha).
Irish road race superbike champion Derek Sheils, is one to watch on the Cookstown BE Racing GSX-R 1000 Suzuki as is Steve Mercer who replaces Ivan Lintin who is out with a finger injury in the Devitt RC Express Racing outfit.
Jamie Coward, Derek McGee and Brian McCormack all have the ability to record high quality results, as does Ben Wylie with the rapidly improving BB3 Bimota.
Fellow rising stars Dan Cooper, Ryan Kneen, Matthew Rees, Paul Jordan, Phil Crowe, Mark Goodings could all spring a surprise or two as could experienced competitors Davy Morgan, Rob Barber and Mark Parrett.
Dundrod newcomers competing include Dan Hegarty (RTR Motorcycles Racing), Sam West (Ice Valley/4 Anjels Racing) and Michael Booth (Danny Tomlinson Racing).
Additional riders to watch out for on their Ulster GP debut's include VRS Racing's Ben Rea, Forest Dunn, Dominic Herbertson and Adrian Clark.
In summing up the entry for the superbike races, at the MCE Insurance Ulster Grand Prix, it's a case of world class quality, rising stars, up and coming riders and many a notable first timer to Dundrod.
A lot of talk prior to competition at one of pure road racing's most popular, historic and prestigious events, has been about the 134 or even 135 mph barrier going.
Bruce Anstey's lap record of 133.977 mph has stood now for six years, will this be broke next week?
If the weather's ideal and road conditions are spot on, in my opinion up to at least eight riders could lap in excess of 134 mph.
For many the favourites to first set the 134 mph mark are Michael Dunlop and Ian Hutchinson.
After a senior TT press conference which will be remembered for years to come, everyone is wondering who will emerge on top between the two at present in my opinion, world's leading pure road racers.
Photo by Louis Porter
If it's goes to the form book either the Hawk Racing and Tyco BMW riders will prove the dominant forces, but the form book is something that regularly goes out of the window at Dundrod.
Expect excitement a plenty in what quite possibly could be superbike races for the ages, at the Ulster Grand Prix.
Words by Stevie Rial