Ivan Lintin will be leading the 2014 lightweight TT race away starting at number 1 on the Mckinstry racing ER6 Kawasaki. The reigning Ulster Grand Prix super twins winner is greatly looking forward to starting at number 1 and is aiming for a podium finish, 2013 lightweight TT winner and class lap record holder James Hillier is away at number two whilst Ryan Farquhar back competing at the Isle of Man TT is away at number three.
Guy Martin is entering the lightweight TT for the first time this year and goes at number four in front of Michael Rutter who finished in third place in lightweight TT back in 2012, going at number six is Michael Dunlop. Michael who is competing for Mcadoo racing on a new ER6 Kawasaki is aiming for six wins in a week at this years Isle of Man TT, if Michael achieves this he will become the first rider in TT history to have achieved this feat.
Gary Johnson is away at number seven competing for Tsingtao racing on a factory backed WK bikes super twin whilst Jamie Hamilton riding for Stewart Smith racing this year for the lightweight TT is setting off at number eight, at number nine is Keith Amor competing for KMR Kawasaki and after good performances in the super twin races during a round of the Irish superbike championship at Bishopcourt last week theres every chance of another TT podium finish for Keith.
Away at number 10 is Dan Cooper competing on Tsingtao racing's factory backed WK bikes super twin which looks set to be in the mix for a top result in this years lightweight TT. Manx Grand Prix super twins lap record holder James Cowton has a good start number of 11, James is competing for Stewart Smith racing. At number 12 is Dean Harrison, Dean who will competing on a brand new ER6 Kawasaki run by RC Express racing Kawasaki is set to have his first competitive outing on it at this years Ian Watson spring cup road races.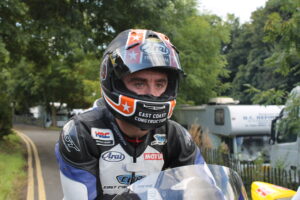 Lee Johnston riding for East Coast racing has start number 13, John Barton is away at number 14 whilst Ollie Linsdell competing for Paton is away at number 15. David Johnson, Dan Kneen, Gavin Hunt, Colin Stephenson and Ben Wylie round out the top 20 start numbers. Returning to action at this years Isle of Man TT is Roy Richardson, Roy looks set to compete on a 550 Aprilia super twin and has start number 21 for the 2014 lightweight TT.
Dave Moffitt who has start number 22 on the JHS racing super twin looks set to be one of the leading Suzuki mounted riders in the race, runner up in the 2013 super twins Manx Grand Prix Michael Sweeney has start number 23 whilst reigning super twins Manx Grand Prix winner Michael Russell has start number 45. Newcomers in the race include Danny Webb competing for KMR Kawasaki who has start number 66, Callum Laidlaw has number 73, Alan Bonner has start number 74 and Franck Petricola competing for Ice Valley racing by Motorsave ltd has start number 75.