One of the most exciting prospects going into this years supersport TT races is the return of a factory backed Triumph team for the first time in eleven years. Smiths Triumph are running Gary Johnson and Michael Rutter and after a successful first outing at North West 200 which included a podium finish and top six finishes both riders believe there is a big chance of competing at the front in both supersport TT races.
Gary Johnson was supersport TT race 2 winner in 2011 and the rider nicknamed aka Driver is happy with the Smiths Triumph after 7th and 3rd place finishes at North West 200.
Photo courtesy of Rod Neill, Bike sport photos
Bruce Anstey is always in contention for supersport wins at Isle of Man TT and this year is no different. Once again competing for Padgetts racing backed by Valvoline oil Bruce was runner up in both supersport races at TT 2013 which included the nine time TT winner becoming second fastest supersport rider in TT history.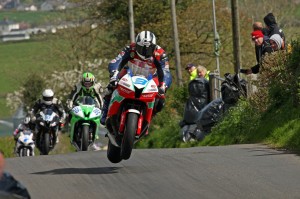 Photo courtesy of Rod Neill, Bike sport photos
Reigning double supersport TT winner Michael Dunlop has to start one of the favourites for victories this year when competing on Michael Dunlop racing CBR 600 Honda. A thrilling supersport 600 win at Cookstown 100 and 5th place finish in tricky conditions in supersport race 2 at North West 200 prove Michael is in pretty good form on 600 Honda going into TT 2014.
John McGuinness preparation for supersport TT races has been trickier than in previous years due to a wrist injury. Despite this John cannot be discounted from potentially running at the sharp end and battling for top results on Valvoline racing by Padgetts motorcycles CBR 600 Honda.
Photo courtesy of Rod Neill, Bike sport photos
William Dunlop has already proved this season that he's set to run at the sharp end at TT 2014 on Tyco Suzuki by TAS supersport bike. Victory at Tandragee 100 after a close battle with Keith Amor and consistent results at North West 200 mean the talented road racer will start one of the favourites for victory in the ultra competitive supersport TT races.
Guy Martin is still looking for first TT victory, both supersport races could provide a decent opportunity for Guy to achieve an ambition which he has being aiming to do since he first started in road racing.
Photo by Road Racing News
Recently Conor Cummins was runner up in second supersport race at North West 200 and the rider from Ramsey in the Isle of Man is happy with Jackson racing CBR 600 Honda going into this years Isle of Man TT.
Milwaukee Yamaha has a top line up for both supersport TT races with Ian Hutchinson teaming up with fastest TT newcomer of 2013 Josh Brookes. Both Ian and Josh had consistent North West 200's in supersport races and given the good record of R6 Yamaha at Isle of Man TT both cannot be discounted for top results.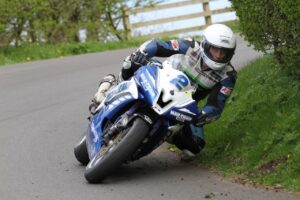 Photo courtesy of Louis Porter, Lap Concepts
Mar Train racing are back competing at the worlds greatest road race for the first time since 2010. The reigning British supersport champions are running runner up in 2013 lightweight TT Dean Harrison. Dean at Oliver's Mount during Ian Watson spring cup road races secured podium finish for the team and is greatly looking forward to competing on teams R6 Yamaha which will arguably be one of the best bikes in both supersport TT races.
Lee Johnston is also competing on a top supersport bike which is Michael Dunlop's TT winning CBR 600 Honda. East Coast racing and Lee are confident of good results at TT 2014 and given the undoubted pedigree of the bike and Lee's talent the potential is there for podium finishes.
Dan Stewart has one of the most consistent records in recent years at Isle of Man TT and the 2012 TT privateers champion is teaming up for second year in succession with SMT racing. Dan could cause a surprise or two in both supersport TT races as he aims for a personal best finish which is currently 6th place achieved in senior TT's of 2009 and 2010.
Steve Mercer is competing for Keith Flint's team traction control and the combination is set to produce good results at TT 2014 with both supersport races giving Steve competing on a GSX-R 600 Suzuki the chance of more good results to add his tally of top ten TT finishes.
Jamie Hamilton now riding for Wilson Craig racing is Honda mounted for this years supersport TT races whilst Dan Kneen is also competing on a top spec Honda and the 5th place finisher in supersport race 1 at TT 2010 is looking forward to competing for Cookstown/Burrows Engineering with the aim of recording good results and improved lap times on last year.
James Hillier,Ben Wylie, Gavin Hunt, Davy Morgan, Rob Barber, Ryan Kneen,Russ Mountford, Stephen Thompson, Michael Sweeney, Ian Mackman, Shaun Anderson, Ollie Lindsell, Connor Behan and Paul Owen could all surprise many people at TT 2014 in both supersport races as could the returning Keith Amor.
Photo courtesy of Rod Neill, Bike sport photos
Keith has already proved this season that despite being out of road racing for two seasons that his talent and speed is still there and the Site Sealants B&W racing is excited about competing at TT 2014 and given good results at Tandragee 100 and North West 200 podium finishes have to be possibility for the flying Scotsman.
Dan Cooper had a good North West 200 for Tsingtao racing competing on a ZX6 Kawasaki securing 9th and 8th place finishes in supersport races, Dan will be aiming to carry on this form at TT 2014 where the Ferret has a good record in supersport TT races which include top ten finishes.
Ivan Lintin is another rider who has the potential to secure top results when competing on Taylor Lindsey racing CBR 600 Honda. Robert Wilson is competing on a R6 Yamaha for TT 2014 with help from Seton tuning, Robert secured two top 15 finishes in both supersport races last year and the rising road racing star has the ability to this year achieve top ten finishes.
Derek Sheils is also Yamaha mounted competing on the R6 Yamaha which William Dunlop rode in 2013 to second supersport race victory at Ulster Grand Prix. Derek's a talented rider who has already clicked well with bike and the CD racing rider could well be in the mix for top results at TT 2014.
Photo by Road Racing News
James Cowton starred at North West 200 in super twin races but the third place finisher in 2013 Steve Henshaw international gold cup at Oliver's Mount also rode well in both supersport races securing top ten finishes. Competing for his own team at TT 2014 James is Honda mounted and is aiming to record personal best lap times along with securing creditable results.
Leading newcomers in 2014 supersport TT races are set to include Alan Bonner competing for the peoples bike team and Laurent Hoffmann reigning international road racing championship supersport champion who is competing for Paul Shoesmith's Ice Valley racing by Motorsave ltd team on a R6 Yamaha.
Supersport races at Isle of Man TT always produce close and exciting racing and this year will be no different. Plus could we see a Triumph win on the mountain course for the first time in eleven years and could there be new TT winners in both supersport races? exciting races are in front of us.