For 2014 the Isle of Man TT races have attracted arguably the best entry list seen in this decade so far for the superbike and senior TT races.
Picture courtesy of Rod Neill, Bike sport photos
After a superb feature superbike race victory at North West 200 Michael Dunlop has to start as one of favorites for victory when competing on factory backed S1000RR BMW superbike.
BMW have not won a senior TT in 75 years, could Michael bring the famous manufacturer another blue riband TT win, we will all know soon but one things for sure the combination of Michael and BMW is already working a treat.
Picture courtesy of Rod Neill, Bike sport photos
John McGuinness has being struggling recently with a wrist injury but the 20 time TT winner cannot be discounted from challenging for top results this year when competing for Honda racing.
Team mate to John this year Conor Cummins had a highly creditable third place finish at North West 200 in superbike race 1 and the two metre man is greatly looking forward to TT 2014.
Now a factory Honda rider the third fastest rider in TT history has every chance of being in contention for top results this year.
Bruce Anstey proved at TT 2013 that he still has the capabilities to win superbike and senior TT races after a stunning ride in last years senior finishing in third place and lapping at 131.530 mph to now be second fastest rider in TT history. Bruce is once again competing for Padgetts racing who have for this year great backing from Valvoline oil, the colour scheme of Bruce's superbike at TT 2014 is sure to be one of the aesthetically pleasing.
Tyco Suzuki by TAS have one of the strongest line ups for TT 2014 with ever popular Guy Martin teaming up with superbike race 1 winner at North West 200 William Dunlop.
Guy craves a first TT victory and this year could see one of his best chances for victory in senior TT the race which Guy really wants to win. William Dunlop having now won his first international superbike race is full of confidence and is happy with Tyco Suzuki by TAS superbike going into TT 2014.
Ian Hutchinson seven time TT winner is back competing on mountain course this year with the Milwaukee Yamaha team. The team's R1 Yamaha is a good all round package and Hutchy proved at 2013 Macau Grand Prix that despite all the injury problems over recent years that none of his natural talent, ability and speed has gone.
Team mate to Ian is the fastest TT newcomer in TT history Josh Brookes. Josh stunned in 2013 lapping at 127.7 mph and after a superb ride in feature superbike race at North West 200 expectations are high for the rider is without a doubt a rider to watch this year in superbike and senior TT races.
James Hillier starred in last years senior TT race and the Quattro Plant Muc off Kawasaki rider had a consistent North West 200 which included 9th place finish in feature superbike race. James is a experienced Kawasaki rider and the reigning lightweight TT winner is likely to provide the marques best chance of superbike TT victory in 2014.
Gary Johnson lead both big bike races last year at TT 2013 and the rider backed by JRC racing and Lincs lifting ltd is happy with the potential of the CBR 1000 Honda Fireblade superbike which Gary is competing on at TT 2014.
Michael Rutter had a superb North West 200 proving the potential of Bathams BMW superbike which is set to give Michael a great chance of potential podium finishes in both superbike and senior TT races.
Lee Johnston is on top form going into TT 2014 and double super twin North West 200 winner this year has a good chance of securing personal best race result and lap time competing for East Coast racing.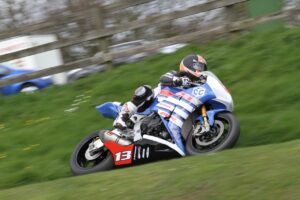 Picture courtesy of Louis Porter, Lap Concepts
Lee's one of the biggest rising stars in road racing as is Dan Kneen. Having won at Cookstown 100 and Tandragee 100 in superbike and grand final races the talented road racer is looking forward to TT 2014 competing for Cookstown/Burrows engineering on a high spec GSX-R 1000 Suzuki superbike.
Strong results in second superstock and feature superbike race at North West 200 have given Dean Harrison confidence in the potential of RC Express racing's ZX10 Kawasaki's going into this years Isle of Man TT.
Dean has lapped on the mountain course at over 128.4 mph and the rider from Bradford is upbeat on competing for the fourth time at the Isle of Man TT having made his TT debut back in 2011.
Keith Flint's Team traction control make their TT debut this year with seasoned campaigner Steve Mercer competing for them on GSX-R 1000 Suzuki in superbike and senior TT races.
Steve has lapped at over 126.5 mph and following on from a personal best 8th place finish in superstock TT in 2013 the rider nicknamed Merc is set to have a ultra competitive TT 2014.
Paul Shoesmith's Ice Valley by Motorsave ltd team have a top entry for superbike and senior races with Ben Wylie, Sandor Bitter, Laurent Hoffmann and Peter Hickman joining Paul in the team where every rider is competing on BMW's.
Peter Hickman's TT debut will be watched closely by many, having already produced impressive performances at North West 200 the rider who has competed in world superbikes is excited about making his Isle of Man TT debut.
Laurent Hoffmann also making his mountain course debut has a good amount of road racing experience which includes being reigning international road racing championship supersport champion.
One of the biggest stories leading into TT 2014 has being Cameron Donald teaming up with Norton racing.
Two time TT winner Cameron has had positive testing sessions with Norton recently, and with a much improved package on last year the manufacturer associated greatly with Isle of Man TT is optimistic of the potential of the SG3 Norton.
Steve Plater who is development test rider for the SG3 Norton recently said the bike is capable of a top ten finish, if this happens it would be a great achievement for Norton who are steadily getting back to where they belong at Isle of Man TT.
Jamie Hamilton showed good speed and race pace at North West 200 on Wilson Craig racing's CBR 1000 Honda Fireblade superbike. Jamie has spoken positively about the superbike and looks set to have a super competitive superbike and senior races where he will be aiming for personal best lap times and personal best race results.
Shaun Anderson, Horst Saiger, Dan Cooper, Rob Barber, Ivan Lintin, Michael Sweeney, Derek Sheils, James Cowton, Davy Morgan, Ian Mackman and Karl Harris could all spring a surprise or two at TT 2014 as could one of the leading TT newcomers this year Martin Jessopp.
Martin who will be making his TT debut on Riders motorcycles S1000RR BMW has being twice runner up at Macau Grand Prix and also has a good record at North West 200.
All the road racing experience Martin has will stand him in good stead when he makes his long awaited mountain course debut.
Former Moto GP competitior in 125 and moto 3 classes Danny Webb's TT debut is another exciting element in this years superbike and senior TT races. It's difficult to say how Danny will adapt when competing in his first ever pure road race but one things for sure he is not short of talent, ability and speed.
Plus Danny is competing for Ryan Farquhar's KMR Kawasaki on a superstock ZX10 Kawasaki so all the elements are there for a great TT debut.
Also making their Isle of Man TT debuts this year include seasoned road racer Callum Laidlaw, Alan Bonner who has lapped at over 127 mph at Ulster Grand Prix competing for the peoples bike team and newcomer from Canada Dan Kruger competing for Penz 13.com BMW.
Philip Crowe Thundersport superbike class front runner, 4th place finisher in International road racing championship in 2014 Vick De Cooremeter are both top riders who have good road racing experience and could well be at the sharp end of leading TT newcomers this year.
Picture courtesy of Rod Neill, Bike sport photos
In all the superbike and senior TT races for 2014 has attracted a wonderful entry list with a great mix of TT winners, riders looking for their first TT wins, rising stars, Manx Grand Prix winners, up and coming riders and exciting newcomers.