Cookstown BE Racing concluded their 2017 Irish roads campaign in style at the newly formed East Coast Racing Festival, as Derek Sheils wrapped up a ninth big bike success of the season.
As at multiple venues this year he was in a class of his own aboard the GSX-R 1000 Suzuki, which he lapped the Mountain Course at almost 129 mph on at TT 2017.
Additionally runner up in both Supersport races, Derek has more than showcased this year why he is now in my opinion rightfully regarded amongst the world's leading pure road racers.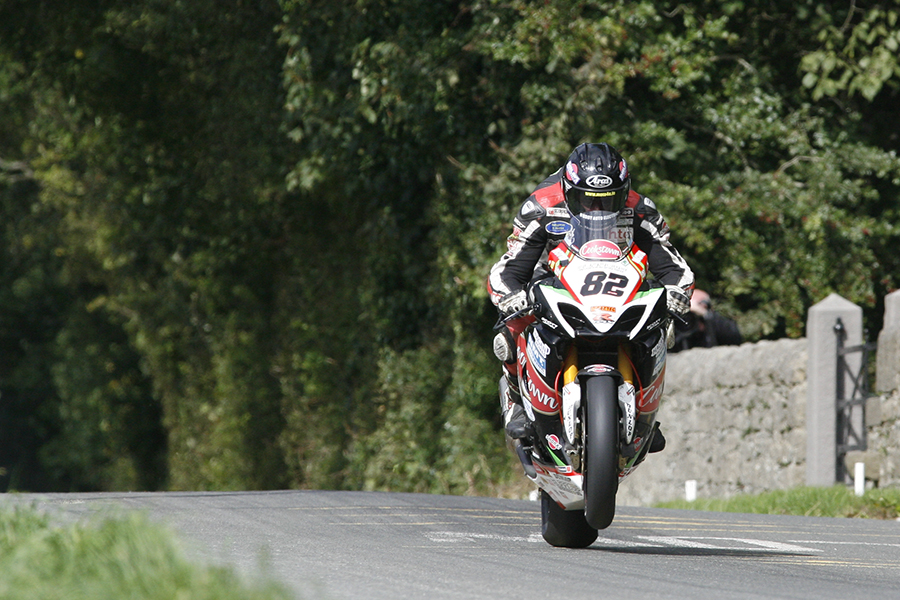 Photo by Baylon McCaughey
Reflecting on this weekends action, he said:
"It was good to bring the curtain down on the Irish roads campaign with yet another Superbike win. We won every Irish National Superbike race that we competed in this year bar one at Walderstown when I made a small error.
It's a credit to the whole Cookstown Burrows Engineering Racing team for giving me the machinery to do the job every weekend.
Unfortunately, missing the Armoy meeting really hurt our championship challenge and Derek McGee and his team pulled off the job and took the Irish title, fair play to them and well done.
I'd like to say a huge thanks to the team and to all my sponsors and supporters who helped make all the 2017 success possible. I'd also like to pay tribute to the whole 'orange army' who make racing possible especially the retiring Doc Fred.
I'd also like to remember everyone we have lost this year, in particular Alan Bonner, Florence Burns and a lady who helped me in my early career, Olive Coogan. My plans for next year will be released soon and hopefully it will be on wards and upwards."
It was Cookstown BE Racing times 2 on Saturday and Sunday, as rapid next generation roads star Davey Todd made his debut in the teams colours.
Near the sharp end of the practice leader board, the Open race saw him in early contention for a podium before been involved in a low speed incident.
Despite this, there's no doubt of the Brotton riders potential at national and international level on the roads.
Full of praise for his teams newest pilot, Cookstown BE Racing Team Owner, John Burrows stated:
"I feel that Davey Todd could be destined for great success and that's why I gave him a chance this weekend.
He was going really well in the Superbike race but unfortunately a little slip has cost him a podium finish.
It's disappointing that the Super Twins race did not take place as Davey was second fastest in practice and I'm sure he would have been in the hunt for the victory."
Photo by Rod Neill
Going onto reflect overall on another hugely successful meeting for his well respected outfit, he said:
"Derek Sheils once again today showed real class when he dominated that Superbike Championship race, winning by the proverbial county mile.
That was his ninth Superbike win of the year, following two at Cookstown, one at Tandragee, two at Skerries, one at Walderstown and two at Faugheen.
Unfortunately, our absence from Armoy has probably cost us the Superbike title but well done to Derek McGee who also had a great season and has come out on top.
There can be only one winner of the title so deserved congratulations to Derek McGee and his team.
I was proud to see two men racing in Cookstown Burrows Engineering Racing today and proud of the way my team has conducted itself all year. Thanks to them all as well as to the team's personal and trade sponsors.
I hope we are all together again in 2018 and with that in mind I will soon be announcing our plans for next year, before we compete at the Macau Grand Prix!
We will also be in action at Bishopscourt next weekend when my good friend Ian McCallister will continue his comeback on our Supersport CBR 600 RR."
Words by Stevie Rial