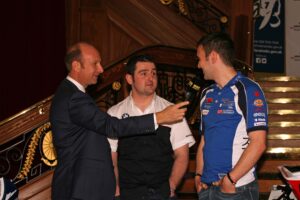 Photo courtesy of Rod Neill
There is a fantastic line up for this years Cookstown 100. Michael Dunlop is set to compete for the first time on BMW machinery at a road race circuit in the superbike race at Cookstown. However after a crash during qualifying at the opening round of British superbike championship there is by all accounts doubts that Michael will be competing due to a arm injury, hopefully the seven time TT winner will be in action for the opening Irish road race of the season competing on his teams Michael Dunlop racing superstock S1000RR BMW.
William Dunlop is set for his first road racing outing this season with Tyco Suzuki by TAS. Reigning Ulster Grand Prix supersport race 2 winner William has a good record at Cookstown 100 and will be looking to start his 2014 road racing season in style. Current Irish road race superbike champion Derek Shiels goes into this season confident of more top results competing once again for CD racing.
Derek finished third in both superbike and grand final races at Cookstown last year and will start as one of the favourites in both races this year when competing on the CD racing ZX10 Kawasaki superbike backed by MSS performance. The talented road racer is also set to be a force to be reckoned with in the supersport races on the CD racing R6 Yamaha which has proven pedigree with William Dunlop winning races on the bike at Ulster Grand Prix, Armoy road races and Skerries road races last season.
Jamie Hamilton has joined Wilson Craig racing for this year and has had good results at Bishopcourt and Kirkistown during recent rounds of the Irish superbike championship to prove the potential both he and the bikes have going into the Cookstown 100. Jamie is also competing in the super twin race on a ER6 Kawasaki and will without a doubt start as one of the favourites for victory.
Davy Morgan is competing at Cookstown 100 on a full stable of bikes in the superbike, supersport, super twin and grand final races. The superbike and grand final races are set to see Davy competing on a CBR 1000 Honda Fireblade superbike whilst the supersport races sees Davy Yamaha mounted and a top spec ER6 Kawasaki backed by CMS racing for the super twin races.
Two leading debutants at Cookstown this year are set to be Dan Kneen and James Cowton. Dan will be having his first road racing outing of the season for Cookstown/Burrows engineering and is greatly looking forward to competing on the teams GSX-R 1000 Suzuki superbike, CBR 600 Honda and ER6 Kawasaki.
James Cowton secured good results at Oliver's Mount during the Ian Watson spring cup road races which included 3rd place finishes in both super twin races and goes into Cookstown 100 confident of having a good debut when competing on the Cowton racing CBR 600 Honda and CBR 1000 Honda Fireblade backed by SJP moto.
Derek Mcgee and Michael Sweeney both had a fantastic season of road racing in 2013 and are two riders who could spring a surprise in superbike, supersport and grand final races. Both Derek and Michael are Kawasaki mounted for the superbike and grand final races whilst 2010 and 2013 junior Manx Grand Prix winner Michael Sweeney is competing for Cookstown/Burrows engineering in the 250 race on a RS250 Honda.
Ryan Farquhar's KMR Kawasaki teams presence at tho years Cookstown 100 is lead by up and coming road racer Connor Behan. Connor runner up in last years newcomers A Manx Grand Prix had a top first full season of road racing in 2013 and is confident of even better results this year when competing on the KMR Kawasaki supersport and super twin machines.
Stephen Thompson competing on the superstock Bathams BMW is an exciting entry into the superbike and grand final races whilst Brian Mccormack running his own team this season is eager to begin his 2014 road racing season campaign in a good way. Rising star Shaun Anderson looks set to be in the mix on the CN management backed GSX-R 1000 Suzuki and Doons stores backed GSX-R 600 Suzuki whilst Alan Bonner making his TT debut this year for the peoples bike team is looking forward to the Cookstown 100 competing on a CBR 1000 Honda Fireblade.
Seamus Elliott, Wayne Kirwan and Colin Stephenson could all be in the mix for good results in particular in the highly competitive supersport races. Seamus and Wayne are Yamaha mounted and both have experience of running at the front in the supersport 600 class whilst Colin Stephenson had a fine season of road racing in 2013 and has a good spec R6 Yamaha backed by DHT racing.
Nuno Caetano and Michal Dokoupil are both set to add a international feel to Cookstown 100 this year. Both highly accomplished road racers are all set for Cookstown as they continue their preparations for this years Isle of Man TT.
Two riders who impressed many last season where Shane Egan and Mark Hanna. Both Shane and Mark go into this season with top bikes for the supersport 600 class and super twin class, expect them both to be in the mix in super twin races and to produce eye catching performances in supersport and grand final races.
Nige Rea and son Ben Rea are both excited about this years Cookstown 100. Nige is competing on a GSX-R 600 Suzuki in supersport races whilst Ben is competing on a TZ250 Yamaha for the 250 race, it is also Ben's debut at the Cookstown 100.
In all many a fascinating race is in prospect at Cookstown this year with rising road racing stars, top international road races, up and coming road racers, emerging talents, Manx Grand Prix winners and many of the leading road racers in the world.