Ulster GP Winner, Aberdare Park King Cooper Announces Retirement From International Road Racing
Aberdare Park king Dan Cooper has elected to retire from competition at International roads venues, following a challenging TT 2019 campaign.
A TT debutant in 2010 with PRF Racing, Stroud's Cooper has since gone onto enjoy various tumultuous moments around the fabled, mythical Mountain Course.
2015 TT Privateers champion, his TT CV also includes a top five finish in the Bennetts Lightweight TT of 2017, a top ten finish within the opening Monster Energy Supersport encounter from 2013, overall three top six finishes and in total 6 top ten results.
Photo by Nick Wheeler
For many though his best moments in terms of TT course competition, have arose at the Classic TT Races, were he has claimed a brace of rostrum finishes, including finishing runner up in the 2014 Senior Classic TT.
2016 Ulster GP Super Twins winner, former British 125 champion Cooper roads voyages throughout the past decade have also yielded a podium finish at the North West 200, top three, top five finishes at Oliver's Mount, Scarborough, plus solid results at the world famous Macau Grand Prix.
Photo by Rod Neill
One circuit though in particular has proved fruitful and some for the Stroud racer, Aberdare Park.
Welsh Open winner in 2013, 2015, 2016, 2017 and 2018, he's been the man to beat in recent times at Wales soles roads course, proving virtually unbeatable at times aboard a variety of high spec, potent Supersport machinery.
It remains to be seen as to whether Cooper will return to 'The Park' in July, to try and make it six Welsh Open titles.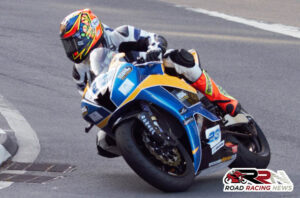 Hugely respected, a multi class specialist, who has raced wheel to wheel with a who's who of International Road Racing, the Englishman has enjoyed an excellent International Road Racing career.
All that's left to say, is all the best to Dan in his future racing endeavours, which include competing in the fiercely competitive BSB affiliated National Superstock 1000 Championship.
Words by Stevie Rial