Full round up of many an interesting stat from the Sure Sidecar races, of TT 2017.
The Birchall brothers Ben and Tom, now six times TT winners, have since 2015, won five of the last six Sidecar TT races.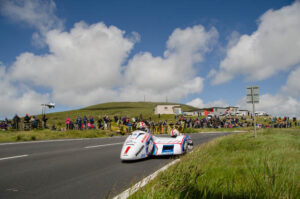 Photo by Mark Corlett
Dave Molyneux/Dan Sayle's third place finish in the opening Sure Sidecar encounter, means between them, the Manx TT legends now have 45 TT podium finishes.
Three of the top six finishers, within the second three wheeling encounter of TT 2017, where Suzuki powered, with Lewis Blackstock/Patrick Rosney in fourth, wrapping up a huge new personal best result.
Mike Roscher 13th and 19th in the Sure Sidecar races, was the only German competitor to grace the 98th TT Races.
Photo by Nick Wheeler
Tony Baker, took his tally of Mountain Course finishes to 27, following another successful TT campaign with his daughter, Fiona Baker Holden.
Following their record breaking/blistering performances, the Birchall's are now the joint sixth most successful Sidecar competitors in TT history.
Photo by Rod Neill
Conrad Harrison is now up to ten TT podium finishes, just 2 in front of son Dean's total!
Outfits to set new personal best lap speeds included Alan Founds/Jake Lowther 115.11, Peter Founds/Jevan Walmsley 114.078, Tim Reeves joined by impressive newcomer passenger Mark Wilkes 114.793 and Kevin Thornton/Dave Dean 101.763.
Plus Australian duo Mick Alton/Chrissie Clancy lapping close to the 109 mph mark, with lap speed of 108.785 mph.
A total of 38 outfits qualified, following a turbulent practice week, for the two Sure Sidecar races.
Just six of them secured silver replica's, a reflection of the soaring pace at the front of both races.
Words by Stevie Rial