We've seen in recent years the likes of Peter Hickman, Josh Brookes and Martin Jessopp make eye catching Isle of Man TT debut's.
TT 2016 sees eleven riders take to the world famous Mountain Course for the first time, they include a former European superstock champion, a Southern 100 winner and seasoned IRRC competitors.
Alex Polita: Penz 13.com BMW
2006 European superstock champion Alex Polita, is all set to make his pure road racing debut, at TT 2016.
Amongst the most high profile overseas newcomers of the last ten years, without a doubt he has the calibre, talent and determination to make an eye catching TT Races debut.
Photo by Jim Gibson
For his Mountain Course debut, he competes alongside two time TT winner Gary Johnson and Danny Webb, in the Penz 13.com BMW outfit in the RST Superbike, Royal London 360 Superstock and Pokerstars Senior races.
Michael Booth: Danny Tomlinson Racing/Stewart Smith Racing
Michael Booth, has for many years held the ambition of wanting to compete at the Isle of Man TT, this year sees "Boothy" accomplish this long held ambition.
Holding start number 90 for the RST Superbike, Royal London 360 Superstock and Pokerstars Senior races, Michael pilots Danny Tomlinson Racing's S1000RR BMW, as he bids for series of notable results.
Plus the lightweight TT is set to see him compete on one of the most plum rides in the paddock, competing on Stewart Smith Racing's ultra competitive ER6 Kawasaki.
Josh Daley: Josh Daley Racing
The youngest rider competing at TT 2016, Josh Daley is one to watch, on his own teams ZX6R Kawasaki.
A regular collector of highly creditable results in the British supersport championship, his pure road racing debut on the Mountain Course, will be watched closely by many.
Josh holds the number 94 plate, for the Monster Energy supersport races.
Darren James: Ruthless Racing/KMR Kawasaki
Canada's Darren James, starts for many people favourite to finish leading newcomer in the lightweight TT.
Recently Darren finished sixth in the second super twins race, at the Vauxhall International North West 200. As at the Giant Causeway based meeting Darren competes for Ryan Farquhar's KMR Kawasaki outfit.
Darren is also set to compete in the Monster Energy supersport races, for his own team Ruthless Racing.
Seamus Elliott: The Peoples Bike Team
Amongst the most improved riders in recent years on the roads, Seamus Elliott is hugely looking forward to making his TT Races debut.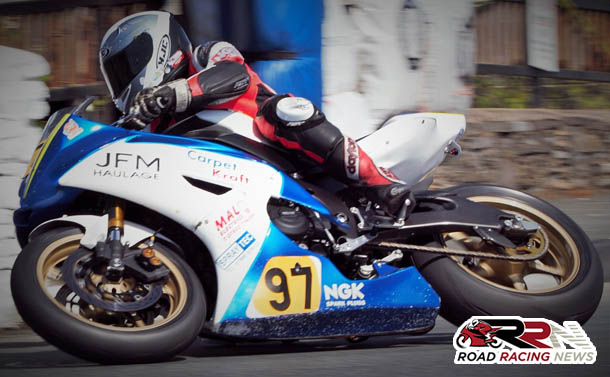 Winner of an enthralling opening supersport race at last years Southern 100, Seamus has the pure road racing craft, to in my opinion finish leading newcomer during TT 2016.
His TT debut sees him pilot The Peoples Bike Team backed ZX10R Kawasaki in the RST Superbike, Royal London 360 Superstock and Pokerstars Senior Races.
Jochem Van Den Hoek: Performance Racing Achterhoek
Amongst the Netherlands leading pure road racers, Jochem Van Den Hoek goes into TT 2016, in good form having recently wrapped up series of sixth place finishes in the IRRC superbike races at Oss.
Photo by Robby Repsol
Having previously competed at Oliver's Mount, the Southern 100, Chimay, Frohburg, Hengelo, Horice and the North West 200, Jochem is not short of roads experience, going into making his TT debut.
Jochem in my opinion, will cause a surprise or two during TT 2016, don't be surprised to see him secure at least a top twenty five finish in the RST Superbike, Royal London 360 Superstock and Pokerstars Senior races on the Performance Racing Achterhoek ZX10R Kawasaki.
Olaf Romijn: Hyperpro
Hyperpro backed Olaf Romijn, has for the last couple of years, been aiming to make his Mountain Course debut.
A seasoned roads competitor, Olaf is established amongst the Netherlands most highly accomplished pure road racers.
He's Kawasaki mounted for the Monster Energy supersport and lightweight races.
Victor Cox: DP Coldplaning/TC Racing
Following in the footsteps of many a famous name from the British championship paddock, TT 2016 sees Victor Cox compete for the first time between the hedges.
It's always difficult to tell how quickly a newcomer to pure road racing, will adapt to the iconic Mountain Course, one things for sure though he has the credentials to finish quickest newcomer.
Victor is set to compete on DP Coldplaning/TC Racing's CBR 1000 Honda Fireblade during TT 2016, Mick Charnock's team have helped many a current TT star, establish themselves at the world's most famous road race, the same notion applies to Victor Cox.
Andre Pires: CMP Portugal
Portugal's Andre Pires, 19th place finisher in the 2015 Macau Motorcycle Grand Prix, is the latest overseas roads star, confirmed in this years TT Races.
With fellow countryman Nuno Caetano retired now from road racing, Andre is Portugal's sole representative at the most famous road race in the world.
The only newcomer in the entry to be GSX-R 1000 Suzuki mounted, he's been in recent months building up his knowledge of the Mountain Course, prior to making his TT debut.
Alastair Fagan: JHS Racing
Seasoned thundersport and British championship competitor Alastair Fagan, makes his pure road racing debut at TT 2016.
The motorcycle road tester's first TT Races appearance, will focus around the lightweight class.
Alastair lines up for JHS Racing, piloting one of the teams highly touted SV650 Suzuki's alongside team mates, Dave Moffitt and 2009 senior Manx Grand Prix winner Michael Russell.
Forest Dunn Forest Dunn Racing
Rising star on the roads, Forest Dunn has the pace, ambition and determination, to enjoy a quite momentous first two weeks of TT competition.
The Vauxhall International North West 200 saw Forest clinch more than creditable eighteenth place finish, in the opening superstock race.
For the RST Superbike, Royal London 360 Superstock and Pokerstars Senior races, he's set to pilot his own teams MSS Performance tuned ZX10R Kawasaki.
Round Up:
One of this years group of TT newcomers, could well go onto become a TT winner, a TT hero and a TT legend.
Next Saturday's opening practice session at TT 2016, sees the Mountain Course debutant's gaining their first laps of the most iconic, historic and magical road racing circuit in the world.
Words by Stevie Rial