TT 2015 Preview – Part 3 – Supersport Races
Going into TT 2015 William Dunlop is regarded by many as the in form rider in supersport class.
Ivan Curran/CD Racing YZF R6 Yamaha is set to give William a great chance of recording supersport race wins.
He's already this season been victorious in supersport races at Cookstown 100 and Tandragee 100 plus most recently finished a fine fourth in second supersport race during the Vauxhall International North West 200.
Photo by Louis Porter
A three time podium finisher at TT Races William is bidding to follow in the foot steps of his dad Robert, uncle Joey and brother Michael in been a race winner at the most famous road race in the world.
Lee Johnston is amongst the leading exponents in supersport 600 class in road racing, the three times international road race winner is hugely looking forward to competing on East Coast Racing 675 Daytona Triumph.
General Lee has rapidly got quicker and quicker on the roads during the last three years and without a doubt he will start one of the pre race favourites in supersport races at TT 2015.
Photo by Marc Lawrence
Amongst multiple eye catching combinations to look out for includes eight times Steve Henshaw international gold cup winner Guy Martin competing on Smiths Racing's ultra fast 675 Daytona Triumph.
Combined the undoubted talent of Guy Martin and Smiths Racing's highly regarded Triumph make for a formidable combination which will be hard to beat during this year's TT Races.
Smiths Racing team mate David Johnson is a dark horse for podium finishes. TT 2015 will mark five years since Davo made his TT debut, he's now an established world class competitor across all races.
11 times TT winner Michael Dunlop proved his supersport TT winning credentials recently during the Vauxhall International North West 200.
Second place finish in opening supersport race was proof that the rider who is set to compete on his own teams YZF R6 Yamaha will once again be hugely hard to beat as he bids to add to his impressive tally of TT victories.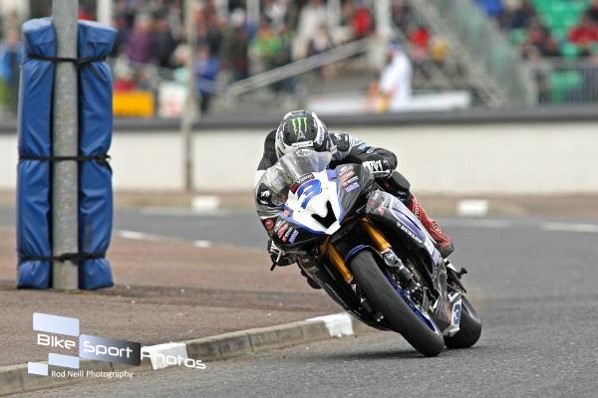 Photo by Rod Neill
Having tasted 600 race wins five times on the island maverick will be looking to make it six of the best and the magnificent seven race wins in both Monster Energy backed races.
Valvoline Racing by Padgetts Motorcycles Bruce Anstey is one of the proven supersport 600 specialists.
Nine times TT winner Bruce has in recent years on CBR 600 Honda machinery recorded series of second place finishes at TT 2013 and TT 2014.
He will be looking to go up a step to the top step of the podium as he competes on Valvoline Racing by Padgetts Motorcycles prepared CBR 600 Honda.
Making a welcome return to supersport races at TT 2015 is Cameron Donald.
Factory Norton rider Cameron is CBR 600 Honda mounted as he joins Bruce Anstey and Dan Kneen in the Valvoline Racing by Padgetts Motorcycles team.
Despite having not competed on a 600 at TT races for two years expect the two time TT winner to be in the running for strong results.
Dan Kneen has a golden opportunity to seal podium finishes with Valvoline Padgetts Motorcycles backed CBR 600 Honda. The Manxman has been one of the most consistent exponents of supersport 600 class in the 2010's.
Fifth place finish in opening supersport race at TT 2010 marked him as one of the TT's rising stars.
Now an international road race winner Dan is not now a rising star in road racing but now an established world class pure road racer capable of recording podium finishes across all races during TT 2015.
Jackson Racing's line up is a top class one as Conor Cummins is joined by 21 times Isle of Man TT winner John McGuinness.
Conor and John both showed their undoubted class in supersport races most recently at the North West 200.
Photo by Marc Lawrence
Despite both not been widely known for their 600 exploits they cannot be discounted from contending for podium finishes and race wins.
James Hillier will start as arguably Kawasaki's leading rider in supersport races at TT 2015.
The sixth fastest rider in TT history is all set to pilot Quattro Plant backed ZX6R Kawasaki as he bids for results of the highest quality.
Mar Train Racing have an all star line up in the form of 2014 lightweight TT winner Dean Harrison and reigning supersport TT race 1 winner Gary Johnson.
Dean Harrison is tipped by many to be in contention for supersport race wins as he bids to keep up his stellar form on the mountain course as seen at TT 2014.
Photo by Rod Neill
Top six finishes during the North West 200 showed the prodigiously talented rider from Bradford natural ability on the roads and there's no doubt he has the pace and speed to push for race wins.
Gary Johnson two TT successes to date have been on 600 machinery. Now piloting Mar Train Racing's YZF R6 Yamaha it wouldn't come as a surprise at all if Gary made it more wins in this highly competitive category of racing at TT Races.
He has the experience of been victorious in supersport races and without a doubt more TT wins could be on the cards for AKA Driver.
Ian Hutchinson and the Tsingtao Racing MV Agusta provide one of the feel good entries.
The combination of eight times TT winner Hutchy competing for the iconic marque MV Agusta is one that is sure to get all TT and road racing fans excited.
MV Agusta has a long rich history on the Isle of Man and their return to the TT will be watched closely by many as they target standout results with the in form Ian Hutchinson.
The flying Scotsman Keith Amor is another rider hugely capable of producing performances of the highest quality to record supersport TT race wins.
Five times TT podium finisher Keith has an outstanding record in road racing which includes Dundrod 150, Ulster Grand Prix, North West 200, Tandragee 100 and Macau Grand Prix 600 class race victory.
But it's a TT win that currently eludes Keith, but this could all change during TT 2015 as he competes on Rig Deluge backed CBR 600 Honda.
Ivan Lintin and the RC Express Racing ZX6R Kawasaki could well be a force to be reckoned with.
2014 TT privateers championship winner Ivan has already tasted victory this season on the top spec ZX6R Kawasaki in opening junior A race at the Spring Cup National Road Races at Oliver's Mount.
Three times international road race winner Ivan has all the components to be in contention for top class results as does Burrows Engineering Racing's Jamie Hamilton.
Jamie has impressed greatly this season following series of first class displays during Cookstown 100, Tandragee 100 and North West 200.
He's hugely capable of making a strong impression on the leader board in supersport races as is current Irish road race super twins champion Connor Behan.
TT 2015 marks Connor's third year of competition on the mountain course and his third time competing for Ryan Farquhar's KMR Kawasaki team on the most iconic of all road racing circuits.
Tipped to become a TT winner in the future he could cause many a surprise or two.
Whilst further quality to the entry list is added by two times junior Manx Grand Prix winner Michael Sweeney, Robert Wilson, Dan Cooper, Derek Sheils, Jamie Coward, Michael Rutter and Steve Mercer.
Michal Dokoupil impressed hugely in supersport races at TT 2014. The reigning Czech road racing super twins champion is all set for 600 race action on Motopoint Racing team R6 Yamaha.
Indi is one of the most popular riders in the paddock plus he's also one of the most improved riders at TT Races who has the ability to achieve world class finishes.
2014 Duke road race rankings championship winner James Cowton will be aiming for high quality results as he pilots his own teams CBR 600 Honda.
James is regarded by many as a TT winner in the making and supersport TT races are set to see him further cement his reputation.
Ben Rea's TT 2015 adventure sees him GSX-R 600 Suzuki mounted backed CMS Racing and Rea Racing.
Newcomers C Manx Grand Prix winner in 2013 Ben is amongst the long line of rising road racing stars capable of recording enterprising race finishes.
Andy Lawson, Andrew Soar, Sam West, Frank Gallagher, Kamil Holan, Paul Baleta, Bjorn Gunnarsson, Mark Goodings all have the course knowledge and pace to secure standout results as does James Neesom.
James 2014 Manx Grand Prix super twins winner is greatly looking forward to his first time competing at the Isle of Man TT.
Centurion windows backed ZX6R Kawasaki is set to give him an great opportunity to showcase his rapidly rising road racing talent.
Fourth place finisher in 2014 newcomers A Manx Grand Prix Richard McLoughlin has the pace and vast pure road racing experience to record fantastic results as he competes on his own teams CBR 600 Honda.
Silicone Engineering Racing's Russ Mountford, Charlesworth Motors backed Hudson Kennaugh, AJ Venter, Mark Goodings, Stefano Bonetti, Dan Hegarty, James Ford, Ryan Kneen, Adrian Harrison, Dominic Herbertson all have the potential to achieve leading results.
Newcomers entered include reigning Irish road race supersport champion Derek Mcgee anticipated to adapt quickly on Wilson Craig Racing's CBR 600 Honda and Denmark's Robbin Harms competing for Mick Charnock's DP Coldplaning/TC Racing team.
Supersport races never disappoint at the Isle of Man TT. We always see racing of the highest quality and at TT 2015 it is set to be no different.
Anyone of multiple riders are in the running for supersport 600 which include current TT winners, prospective TT winners, Manx Grand Prix stars, rising road racing stars, up and coming road racers and many many more.