23rd, 22nd within the Locate.im Sidecar races of TT 2018 alongside John Shipley, Andrew Haynes who was amongst the leading newcomers passengers wise of the 99th TT Races meeting, is the next competitor to take part in Road Racing News, Sidecar equivalent of the popular ten questions challenge.
The Aldridge racer's answers to the series of questions, are as follows:
Q1: Favourite Roads Meet?
"Easy! Isle of Man TT, Mountain Course. But Oliver's Mount and Southern 100 not far behind."
Q2: Favourite Racing Engine?
"Suzuki, but Honda is where we're going in the future."
Q3: Best roads moment thus far?
"Completing my first TT race. I was crying from Sign Post corner all the way up the return road and in Parc Ferme."
Q4: Out of the current roads meets, is their one event in particular where you would like to see Sidecars compete?
"Got to be the Ulster GP at Dundrod."
Q5: Most respected fellow passenger?
"I'm going to have to choose two. Lee Cain and Jake Lowther. Both have gone out of their way, quietly, to help and provide advice."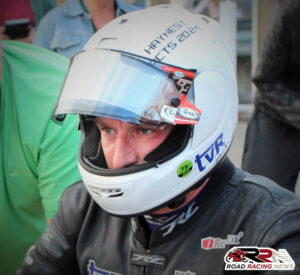 Q6: Three Wheeling Hero?
"Rather than saying Moly, I'm going to say another chassis builder and driver, Dave DeMott. I've raced against him as a driver and now he builds and designs his own outfits, that in their first year finish 4th at the TT. How clever is he!"
Q7: What's the best part about competing on the roads?
"Just as it is on track, for me as a passenger it's all about doing what I can to make the driver feel confident so they can push hard."
Q8: Three words to describe sidecar racing?
"Assault on senses."
Q9: In your opinion, who is the greatest Sidecar TT racer of all time?
"Has to be moly (Dave Molyneux)."
Q10: Pole position or fastest lap?
"Fastest lap for sure!"
Words by Stevie Rial