After a substantial delay due to tiger some weather conditions around the Mountain Course, the blue riband Pokerstars senior TT, got under way at 3:45 PM.
Lap 1:
The anticipated duel between Michael Dunlop and Ian Hutchinson, began at Glen Helen on lap 1, as Hawk Racing's Dunlop moved into race lead 1.805 seconds clear of Hutchinson, Dean Harrison, Lee Johnston, Gary Johnson and Peter Hickman where all closely matched in battling for third.
By Ballaugh Bridge, Dunlop increased the lead to 3.578 seconds, the TT Races lap record holder, fired up after what's happened this week.
Gary Johnson held third position 3.3 seconds behind Ian Hutchinson, Dean Harrison fourth was just 0.1 in front of Peter Hickman, East Coast Racing's Lee Johnston sixth, was in front of both the factory Honda's John McGuinness and Conor Cummins.
At the Bungalow, Hutchinson got the lead down to under three seconds, the battle between the two fastest riders in TT history, was heating up.
Through Cronk Ny Mona, Dunlop lead by three seconds, Peter Hickman now into third place, was holding off the attentions of Bruce Anstey, Gary Johnson and Dean Harrison.
As lap one concluded Michael Dunlop with a standing start lap of 133.256 mph, was 2.8 seconds in front of Ian Hutchinson, Peter Hickman was third 7.8 seconds behind Hutchy, the top six was finalised by Bruce Anstey, Gary Johnson and Silicone Engineering Racing's Dean Harrison.
Lap 2:
Lap two saw the battle between Dunlop and Hutchinson intensify, but it was Dunlop on the Hawk Racing S1000RR BMW, who was starting to gain a grip on the six lap race.
At the end of lap two, he held a 9.285 seconds lead over Ian Hutchinson, following a magnificent new lap record of 133.962 mph, finishing so close to a 134 mph lap, stunning stuff from Michael.
Photo by Louis Porter
Peter Hickman's retirement at Brandy well, elevated Bruce Anstey into third, John McGuinness moved into fourth place, he was followed by Dean Harrison, Silicone Engineering Racing ZX10R Kawasaki.
Lee Johnston was producing a highly accomplished performance on the East Coast Racing S1000RR BMW, same notion applied to lightweight TT winner Ivan Lintin, Devitt RC Express Racing ZX10R Kawasaki.
Lap 3:
Following the scheduled pit stop, Michael Dunlop moved further clear, out front, increasing his lead to over ten seconds by Ballaugh Bridge.
Ian Hutchinson second, was giving it everything on this Tyco BMW, which was running today a stock engine.
The pure road racing giants, by the end of lap three where separated by 11.2 seconds, John McGuinness now into third place following an ultra slick pit stop was 30 seconds back.
Bruce Anstey and Dean Harrison, fourth and fifth, where starting to get closer and closer together on the overall timing, 2014 lightweight TT winner Harrison, was on a charge.
Dan Hegarty and Jamie Coward's battle for TT privateers championship, looked set to go down to the final lap, whilst Honda Racing's Conor Cummins, now into sixth place was gradually bringing himself into five finishing contention.
Lap 4:
There were no changes in the top six placing's on lap four, as Michael Dunlop held by Cronk Ny Mona a pretty much the same lead as at the end of lap two, leading by 11.2 seconds.
As lap four came to a conclusion Dunlop lead Hutchinson by 10.611, McGuinness third was 34.5 back, Anstey fourth was been reeled in by an on top form Dean Harrison, Conor Cummins remained sixth.
The second pit stop of the race, pretty much ended Ian Hutchinson's challenge as he endured a longer pit stop than Michael Dunlop, losing at least two or three seconds on his fellow illustrious competitor.
John McGuinness in third place, gained at least over ten seconds on Hutchinson in second, following another great pit stop from the Honda Racing team.
Dean Harrison moved ahead of Bruce Anstey, to slot into fourth place, the rider holding second position in the TT 2016 Joey Dunlop championship, showcased again his proven Mountain Course quality.
Lap 5:
The penultimate lap, can always be one that brings about reliability problems, or little issues for the race leaders.
For Michael Dunlop there was no such problems, holding a 14.999 second lead at Ramsey Hairpin, the supremely popular rider, had the race firmly in control.
On completion of lap five, Michael lead by 14.594 seconds over Ian Hutchinson on the Tyco BMW, John McGuinness in third was 35.606 seconds back, but enjoying another momentous race on his old faithful Honda Racing superbike.
Dean Harrison, Bruce Anstey and Conor Cummins wrapped up the top six, Michael Rutter seventh on the Bathams SMT Racing S1000RR BMW and Lee Johnston East Coast Racing BMW, made it four BMW's in the top eight.
Lap 6:
So we went onto the final lap of the 2016 Pokerstars senior TT and final lap of the Mountain Course at TT 2016, with Michael Dunlop on the verge of another piece of TT history.
Getting the hammer down yet again on the Hawk Racing BMW, he got the race lead up in excess of 28 seconds by Cronk Ny Mona, having gained loads more time on Ian Hutchinson at Glen Helen, Ballaugh Bridge and Ramsey Hairpin.
Crossing the line at the sixth and final lap, Michael Dunlop secured 2016 Pokerstars senior TT victory.
It's his 13th TT victory, his second senior TT success and Hawk Racing's fourth big bike TT win in three years.
Ian Hutchinson finishing in second place, completed a top class two weeks of pure road racing action, in extremely positive style.
John McGuinness finalised the podium finishers, to make it 46 TT podiums, Dean Harrison was a great fourth to wrap up arguably his best TT Races to date.
Bruce Anstey and Conor Cummins completed the top six as Michael Rutter, Lee Johnston, James Hillier and Ivan Lintin wrapped up the top ten.
Dan Hegarty a great 11th, sealed the TT privateers championship, Martin Jessopp, Derek Sheils, Shaun Anderson and Horst Saiger all hugely impressed in finishing 12th, 13th, 14th and 15th.
The post race press conference for the Pokerstars senior TT, proved to be a quite dramatic one, with strong words from Ian Hutchinson, expressing a pretty forthright opinion on specific matters.
Michael Booth, leading newcomer finished 29th on the Danny Tomlinson Racing S1000RR BMW, whilst Ian Lougher brought the Suter home in 34th.
Let's be honest what happened in the press conference, was unsavoury, credit must go to Michael Dunlop for keeping his cool and not saying something he could regret, when it would have been easy to.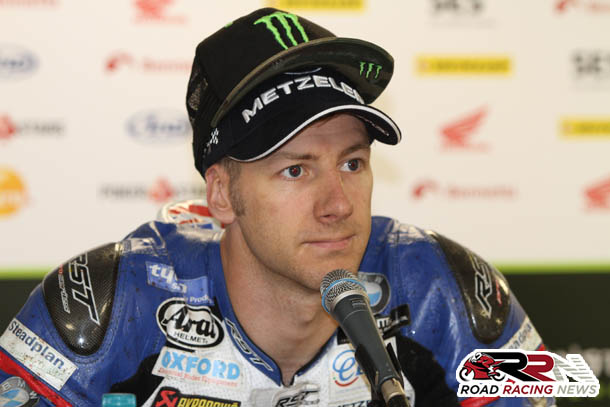 But I must also point out, that 14 times TT winner Ian Hutchinson was expressing his own opinion, where all entitled to our own opinion, the rider nicknamed the miracle man, is no different.
Back to what was a great race, Michael Dunlop proved yet again today, that the impossible is possible.
A near 134 mph lap, on his way to a 13th TT victory, at just 27 years of age, he's already in my opinion one of the best pure road racers that the world has ever seen.
In all it's been a spectacular TT 2016, great racing, great battles, rising stars making significant strides. Those that have gone doing what they love, will always be remembered and never ever forgotten.
The battles between Michael Dunlop and Ian Hutchinson, have been reminiscent of the battles between Carl Fogarty and Steve Hislop in the early 90's.
We saw today another great duel between, the two riders, who in my opinion have defined a golden generation between the hedges.
Final words on TT 2016, just four, roll on TT 2017!
TT 2016 – Pokerstars Senior TT results:
1 Michael Dunlop
2 Ian Hutchinson
3 John McGuinness
4 Dean Harrison
5 Bruce Anstey
6 Conor Cummins
7 Michael Rutter
8 Lee Johnston
9 James Hillier
10 Ivan Lintin
11 Dan Hegarty
12 Martin Jessopp
13 Derek Sheils
14 Shaun Anderson
15 Horst Saiger
16 Sam West
17 Stefano Bonetti
18 Dominic Herbertson
19 David Sellers
20 Michael Sweeney
21 John Ingram
22 Kamil Holan
23 Ben Wylie
24 Mark Parrett
25 Craig Neve
26 Danny Webb
27 Ian Pattinson
28 Davy Morgan
29 Michael Booth
30 David Hewson
31 Marco Pagani
32 Fabrice Miguet
33 Alex Polita
34 Ian Lougher
35 Eric Wilson
36 Jochem Van Den Hoek
37 Mark Goodings
38 Richard McLoughlin
39 George Spence
40 Brandon Cretu
41 Dave Madsen Mygdal
42 Xavier Denis
43 Seamus Elliott
Words by Stevie Rial