For over four decades, Rouen Les Essarts was regarded amongst Europe's most popular and prestigious roads venues.
Located near Rouen, the 5.543 kilometres long circuit, is established as one of France's most famous pure road racing circuit's.
High level motorsport competition at Rouen Les Essarts, first began in the early 1950's.
Perhaps more known for four wheeled action, on two occasions it hosted the French round, of the Moto GP world championship.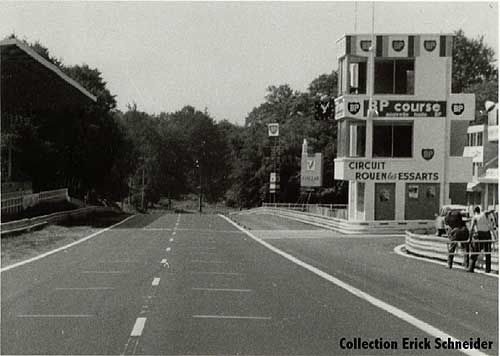 Photo by Erick Schneider
Bike racing legends, to be victorious on these separate occasions in 1953 and 1965, included Geoff Duke, Fergus Anderson, Ralph Bryans, Hugh Anderson MBE and eight times TT winner Phil Read MBE.
Sidecar heroes who graced the ultra fast roads of Rouen, included Eric Oliver, Switzerland's Florian Camathias and Bruno Holzer.
Despite the absence of Moto GP competition, world championship stars a plenty participated at Rouen Les Essarts, during the 1970's.
Just some of these stars, where Kork Ballington, eight times TT and former Macau Grand Prix winner Chas Mortimer, Takazuki Katayama, Tony Jefferies, Paul Smart and John Weeden,
Known for having a mixture of medium straights, testing hairpins, plus it's fast flowing nature, it could be considered as the French equivalent to the old Spa circuit in Belgium.
Titled by many as well, as the "Mini Spa", Rouen Les Essarts which closed down in 1994, is one of the truly great historic roads circuits, which has formed a significant place in France's great motorsport history.
Words by Stevie Rial