When you think of famous British biking names at the TT, brands that usually spring to mind include Triumph, Norton, AJS and Matchless.
Another iconic UK two wheel marque to enjoy various prodigious feats on the fabled, mythical Mountain Course are BSA.
Birmingham Small Arms Company Limited first entered the two wheeling scene in the early 1910's whilst their maiden TT Races tenure arose in 1913.
Since then they've gone onto enjoy 42 TT podium finishes with 15 of the podium's been race wins. Famous names to secure TT rostrum placings on BSA machinery include the following:
Chas Vincent/Eric Bliss, Terry Vinicombe, Ray Pickrell, Peter Brown/Mick Casey, B A Jackson, Brian Purslow, Tony Smith, Bob Heath and Junior Clubmans race winner from 1949, Harold Clark.
BSA's last TT Races presence was in 1984 courtesy of yesteryear, Formula 1 class competitors Alastair Frame, Beno Rodi, Don Ellis and Kenny Shepherd.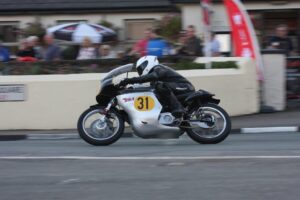 Photo by Nick Wheeler
Prior to the introduction of the Classic TT Races, the main avenue since the mid 80's for BSA machines in terms of Mountain Course affiliated competition was the Manx Grand Prix.
Notable MGP performances from BSA mounted racer's included Colin Breeze's fifth place finish within the 1990 Newcomers Senior race and Robert A Price's run to ninth within the Classic Senior encounter.
Classic TT wise main highlights have included current Senior TT Champion Dean Harrison, maiden Mountain Course success in the 2013 Formula Classic race plus Phil McGurk's top ten finish from the 2015 Senior race.
Words by Stevie Rial