Birchall Brothers Produce One Of The Best Sidecar TT Performances Of The 2010's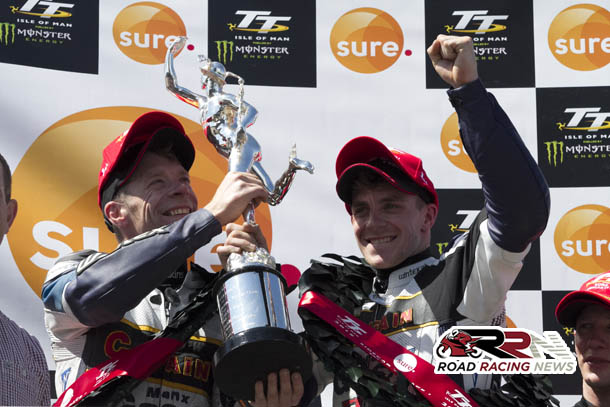 Opening Sure sidecar race of TT 2015 began in excellent conditions around the most famous road racing circuit in the world, the mountain course.
Lap one at Glen Helen saw John Holden/Dan Sayle go into race lead by only 0.458 over the Birchall brothers Ben and Tom whilst Dave Molyneux/Benjamin Binns held third place only 0.789 behind the race leaders.
By Ballaugh Holden/Sayle's advantage out front was up to 1.491 seconds over Molyneux/Binns who were 0.3 ahead of the Birchall's.
At Ramsey hairpin though it was all change amongst the leading trio as Dave Molyneux/Benjamin Binns went into race lead by 0.3 of a second over Ben Birchall and Tom Birchall with John Holden/Dan Sayle dropping back to third.
The Bungalow would see Molyneux/Binns still out in front but by a reduced advantage as the Birchall's where only 0.221 behind, Holden/Sayle where now 2.671 seconds off race lead.
By Cronk Ny Mona it was again all change for the race lead as Dave Molyneux/Benjamin Binns retired at Brandish, the Birchall brothers where now out in front by 3.703 seconds over Silicone Engineering Racing's John Holden/Andrew Winkle.
At the end of lap one Ben and Tom Birchall held a 5.178 advantage over John Holden/Dan Sayle whilst Conrad Harrison/Mike Aylott moved into third place, Ian Bell/Carl Bell impressed hugely on opening lap holding fourth position.
Lap two beckoned and it would prove to be a highly prodigious for Manx Gas backed Ben Birchall/Tom Birchall.
With an extended advantage of 8.022 seconds at Glen Helen it was clear that a second TT victory was very much in their sights.
Although their race lead was down to 6.427 seconds at Ballaugh they re-extended their race lead over John Holden/Dan Sayle to 9.123 seconds by Ramsey Hairpin.
Bungalow and Cronk Ny Mona saw the advantage out front for the Birchall's grow and grow.
By the end of lap two they held a 13.511 seconds advantage over Holden/Sayle after setting the second fastest sidecar lap in history around the mountain course following lap speed of 116.060 mph.
Conrad Harrison/Mike Aylott competing in Printing Roller Services Racing outfit maintained third place as Ian Bell/Carl Bell remained in fourth position.
Final lap of the race saw at Glen Helen the race leaders hold a slightly reduced advantage of 12.885 seconds.
By Ramsey Hairpin though they re-established their superiority moving the race lead up to a now comfortable 16.255 seconds gap over John Holden/Dan Sayle.
Through the Bungalow and Cronk Ny Mona Ben Birchall/Tom Birchall continued to up their advantage out front, a second TT victory beckoned for the world class duo.
They crossed the line at the end of lap three to record their second TT Races victory.
John Holden/Dan Sayle finished an excellent second following a high quality performance from the duo who between them have won nine races at the Isle of Man TT.
Conrad Harrison/Mike Aylott secured fine third place finish as the reigning sidecar TT championship winners showed their undoubted quality.
Ian Bell/Carl Bell where a terrific fourth as the father and son duo produced a fantastic all round performance.
Alan Founds/Tom Peters competing in team Founds racing outfit where very impressive in sealing fifth place finish as GBM Demolition backed Gary Bryan/Jamie Winn completed the top six.
Gary Knight/Jason Crowe, Matt Dix/Shaun Parker, Robert Handcock/Aki Aalto, Wayne Lockey/Mark Sayers finalised the top ten finishers.
Carl Cox Motorsport backed Colin Buckley/Robbie Shorter finished a highly respectable 17th as Estelle Leblond/Sebastien Lavorel finished a highly creditable 18th.
Overall 40 outfits finished what was a highly compelling opening Sure sidecar race at TT 2015.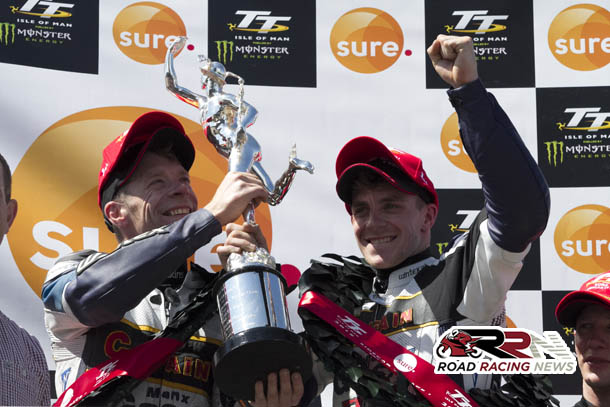 The Birchall brothers Ben and Tom produced arguably one of the best all round performances we've seen in a sidecar race at TT Races in the 2010's.
They will go into Sure sidecar TT race two extremely confident of adding to their TT wins tally which has grown to two today.