Vauxhall International North West 200 Preview – Part 2 – Superstock Races
Superstock races always provide close fought competition around the Triangle, it's set to be no different this year, at the Vauxhall International North West 200.
BMW:
The S1000RR BMW, is considered by many, the machine to be on at present in the superstock class, at the international road races, this is illustrated fully by the strength in depth of BMW Motorrad's presence in the entry.
Ian Hutchinson has been in great form in the National superstock championship, scoring two third place finishes, as he gelled quickly extremely with the Tyco BMW outfit.
Now embarking on the international roads season, Hutchy goes into the North West 200, hugely confident that Tyco BMW's stocker, can prove the dominant machine on the coastal roads.
His record in the superstock category around Dundrod and the Mountain Course in particular, is a stellar one, he will start one of the undisputed pre race favourites.
Photo by Stephen Davison
Same applies to Michael Dunlop and his MD Racing S1000RR BMW. Regarded by many including me as a pure road racing genius, your guaranteed excitement and thrills when he's in action between the hedges.
A three time superstock TT winner, Michael in 2014 at the NW200, was victorious in the second stock encounter.
We all know he's capable of cleaning up in both superstock races, but the opposition has arguably never been as strong.
Lee Johnston, East Coast Racing S1000RR BMW, was last year the most successful rider in terms of race wins, during the international road races.
A three time North West 200 winner, he's established himself over the past year, as one of the superstock classes leading lights.
Having endured a high speed incident at the Spring Cup National Road Races, at Oliver's Mount, Lee is battling to be fit for the opening international meet of the season.
Providing he's fit enough, he could well prove to be the rider, leading the BMW Motorrad challenge.
Gary Johnson, Penz 13.com BMW, has the determination, talent and ability to be in contention for race victories.
Twice a podium finisher at the Giant Causeway based meeting, "AKA Driver" is one to watch.
Alastair Seeley is on the cusp of becoming the most successful rider in North West 200 history. One of the superstock races, could well provide him with the highly coveted 16th victory around the Triangle.
Photo by Rod Neill
The Lee Hardy Racing, Briggs Equipment backed S1000RR BMW, could well the machine, to propel him to this quite momentous feat.
In the 2010's to date Alastair has wrapped up 13 NW200 victories, ten more than any other rider, in this decade so far, quite a statistic.
Added potential race winners piloting S1000RR BMW's include Michael Rutter Bathams SMT Racing, Martin Jessopp Riders Motorcycles BMW and David Johnson Ice Valley Racing by Motorsave ltd.
Additional talented riders lining up on BMW Motorrad machinery include seven time Duke Road Race Rankings champion Ryan Farquhar, IEG (International Energy Group) backed/KMR BMW, Dan Cooper, Didier Grams, Sam West and James Cowton.
Kawasaki:
Peter Hickman, goes into the North West 200, embarking upon only his second appearance, at the iconic meeting.
Despite this many including me, firmly believe he has every chance this year, of been victorious in particular in the superbike races, but also in the superstock encounters.
GB Moto Racing's stock ZX10R Kawasaki, will no doubt be ultra quick on the long straights, providing the handling's right plus good stability, Hicky will be extremely hard to beat.
William Dunlop is regarded by many as a pre race favourite for both supersport races, he cannot be discounted as well on the MSS Colchester Kawasaki.
Photo by Rod Neill
Having recently showed highly accomplished form on the high spec stocker, at both Tandragee and Cookstown, William goes into Triangle action, quietly confident that he has the bike, to propel him to the top step of the podium.
A dark horse for podium finishes, will be Silicone Engineering Racing's Dean Harrison, same applies to 2013 lightweight TT winner and third fastest rider in TT history, James Hillier, Quattro Plant Muc Off Kawasaki.
Devitt RC Express Racing's Ivan Lintin and Alan Bonner, both have the talent to record series of stand out results.
The iconic Kawasaki marques presence has added representation in the form of accomplished pure road racer's, Horst Saiger, two time junior Manx Grand Prix winner Michael Sweeney, Seamus Elliott, Gareth Keys, Jonathan Howarth, Matthew Rees and Davy Morgan.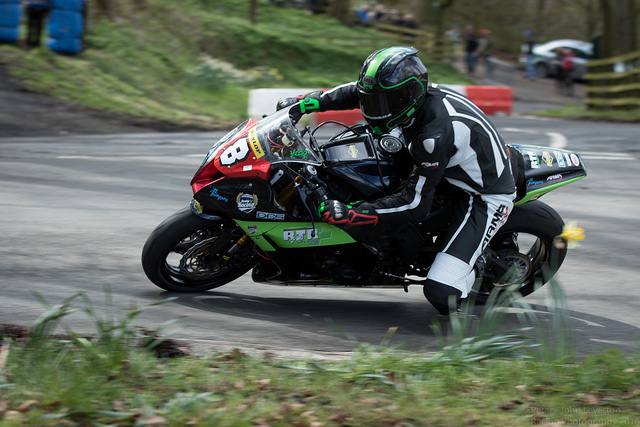 Photo by Peter Leverton
Newcomers ZX10R Kawasaki mounted include Josh Day and Dan Hegarty on his own teams RTR Motorcycles/Classic Joinery backed mount.
Yamaha/Honda:
ZX10R Kawasaki's and S1000RR BMW's are anticipated to dominate the superstock races, due to their high power output, top class chassis and the amount of world leading pure road racer's piloting them.
Cause of this the Yamaha/Honda presence is extremely depleted, in total their is only one YZF R1M Yamaha set to compete in the superstock races, which is Dan Kneen for Mar Train Racing.
Having recently taken the stock YZF R1M Yamaha to third place finish in the grand final, at the Cookstown 100, Dan is firmly optimistic that it can be competitive.
In my opinion due to how good the BMW and Kawasaki's are in superstock form, a realistic potential result on the cards for the 2014 Irish road race superbike champion, would be a top six finish.
Four years ago the CBR 1000 Honda Fireblade, was one of the machines of choice, now in 2016 only two are set to line up on the grid.
One of them will be Bruce Anstey, ten times North West 200 winner. Bruce has been for multiple years, a constant front runner in the superstock class.
Unfortunately due to the power deficit between the Honda and for example the S1000RR BMW, been around 20 break horse power down, it puts the pure road racing legend, at a big disadvantage, compared to his competitors.
Scheduled to lead the Wilson Craig Racing challenge, Cameron Donald, will in my opinion encounter similar problems.
Round Up:
A touch of variety is added to the entry by Bimota Racing duo Ben Wylie and Brandon Cretu, plus Ben Wilson and the EHA Racing RSV4 Aprilia.
Leading Suzuki runners include Wayne Kirwan and Paul Cranston, anticipated to lead the Suzuki challenge will be newcomer, Malachi Mitchell Thomas, who has dazzled this season during his maiden Irish road racing campaign with Cookstown BE Racing.
Photo by Rod Neill
The 57 strong entry list for the superstock races, at the Vauxhall International North West 200, is virtually guaranteed to provide close fought, enthralling, pulsating action.
Multiple riders are in contention for victories, it's going to be a case in my opinion, of who wants it the most.
Words by Stevie Rial