Consistent TT front runners Tim Reeves/Mark Wilkes are World Sidecar Champions for 2019, following this weekend's captivating, enthralling action at the iconic Portugal based Estoril Circuit.
Victorious within a close fought, keenly contested 10 lap sprint race, Sunday's feature 17 lap race would see Reeves/Wilkes do everything they had to do, to claim 2019 world title spoils.
For rising three wheeling talent Wilkes it's his first world title, whilst for legendary driver Reeves it's his eighth world crown!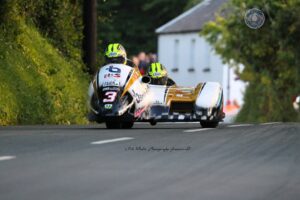 Alongside the Team Berlin Express Yamaha powered duo, additional TT royalty graced the podium in both of this weekend's races with the Birchall brothers Ben & Tom showcasing again their proven, world class quality.
Ultimately bronze medal winners within this year's world series, it's still been a quite momentous year for the Mansfield pairing who at TT 2019, took their tally of TT triumph's into double figures.
The Birchall's, Reeves/Wilkes who have between them 11 TT victories, exploits at World Championship events only help to bolster the prestige, lucrativeness, importance of Sidecar competition at the TT Races, which is certain to be again in 2020 of the absolute highest calibre.
Words by Stevie Rial