Michael Dunlop was under the existing TT lap record held by John McGuinness, as he unofficially set the fastest ever superbike lap of the Mountain Course.
The momentous lap speed secured was 132.754 mph on the Hawk Racing S1000RR BMW, it's fair to say the pure road racing genius, is back firmly at the peak of his powers.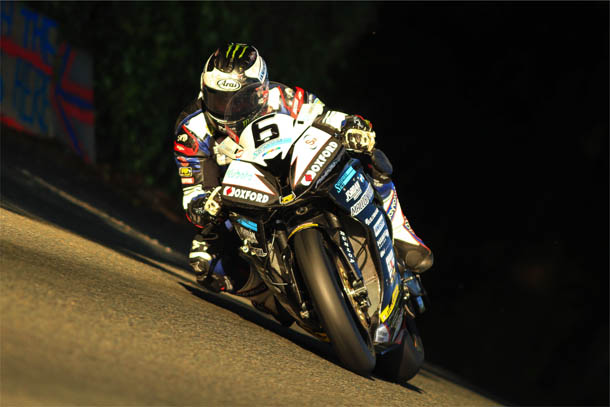 Photo by Louis Porter
Second quickest was the new unofficial outright Isle of Man TT lap record holder Ian Hutchinson, Ian on the Tyco BMW superbike, lapped at 131.521 mph, from a standing start.
Dean Harrison, Silicone Engineering Racing ZX10R Kawasaki, third quickest, finalised an excellent weeks work on the Mountain Course, by lapping at 129.996 mph, just a shade off the 130 mph mark.
Bathams SMT Racing's Michael Rutter finished fourth fastest, as he underlined his RST Superbike podium finishing credentials, with lap speed of 129.613 mph.
Honda Racing's Conor Cummins 129.499 mph and 23 times TT winner John McGuinness 129.206 mph was next up, they where followed by William Dunlop impressing on his own teams YZF R1M Yamaha, setting a more than creditable lap speed of 128.928 mph.
David Johnson 128.533 mph recorded another unofficial fastest ever lap by a Norton at the TT Races this evening, whilst Steve Mercer 128.364 mph and Gary Johnson Penz 13.com BMW, completed the top ten in practice.
Added note worthy lap speeds included Dan Hegarty 126.210 mph, Derek Sheils setting a new personal best lap speed of 125.636 mph and Dominic Herbertson 122.603 mph.
Where without a doubt in for a quite sensational RST Superbike TT tomorrow. It's looking likely that we will have a straight fight for victory between Michael Dunlop and Ian Hutchinson.
There's many more riders though that believe they can stand on the top step of the podium on Saturday, at least two 133 mph laps tomorrow? you never know!
TT 2016 Friday practice superbike results:
1 6 Michael Dunlop BMW/Hawk Racing 2 17:03.156 132.754
2 4 Ian Hutchinson BMW/Tyco BMW 1 17:12.744 131.521
3 12 Dean Harrison Kawasaki/Silicone Engineering 1 17:24.863 129.996
4 9 Michael Rutter BMW/Bathams SMT Racing 2 17:27.950 129.613
5 10 Conor Cummins Honda/Honda Racing 1 17:28.876 129.499
6 1 John McGuinness Honda/Honda Racing 1 17:31.250 129.206
7 8 William Dunlop Yamaha/IC Racing / Caffrey International 1 17:33.515 128.928
8 15 David Johnson Norton/Norton Motorcycles 1 17:36.753 128.533
9 19 Steve Mercer Honda/JACKSON RACING 1 17:38.148 128.364
10 7 Gary Johnson BMW/Team Penz13.com BMW Motorrad Motorsport 1 17:40.917 128.029
11 3 James Hillier Kawasaki/Quattro Plant Muc-Off Kawasaki 1 17:42.017 127.896
12 2 Bruce Anstey Honda/Valvoline Racing by Padgetts Motorcycles 1 17:47.394 127.252
13 13 Lee Johnston BMW/East Coast Construction / Burdens 1 17:49.613 126.988
14 25 Daniel Hegarty Kawasaki/RTR & JVC RACING 1 17:56.204 126.210
15 20 Ivan Lintin Kawasaki/Devitt RC Express Racing 1 17:59.032 125.879
16 50 Derek Sheils Suzuki/Burrows Engineering 2 18:01.120 125.636
17 18 Martin Jessopp BMW/Riders Motorcycles BMW 1 18:05.820 125.093
18 29 James Cowton BMW/Cowton racing by Radcliffes 1 18:06.388 125.027
19 44 Ben Wylie Bimota/Bimota 3 18:07.655 124.882
20 40 John Ingram BMW/Pipe Werx BMW 2 18:08.224 124.816
21 37 Michael Sweeney Kawasaki/MJR Racing 2 18:10.252 124.584
22 36 Jamie Coward Honda/RJP Racing / Jamie Coward Racing 1 18:10.835 124.517
23 27 Shaun Anderson Suzuki/Anderson Race Developments 1 18:12.150 124.368
24 26 Ryan Kneen Kawasaki/Charmer Builders Ltd 1 18:13.454 124.219
25 31 Horst Saiger Kawasaki/Saiger-Racing.com 1 18:15.513 123.986
26 32 Mark Miller EBR/Splitlath EBR 2 18:16.407 123.885
27 49 Derek McGee BMW/NW Racing 2 18:23.760 123.059
28 43 Christopher Dixon Honda/Padgetts Motorcycles 2 18:26.534 122.751
29 63 Dominic Herbertson BMW/WH racing 2 18:27.866 122.603
30 30 Stefano Bonetti Kawasaki/Rock and Road Racing 1 18:28.187 122.568
31 41 Kamil Holan BMW/IVR BMW Motorrad CSEU 2 18:28.220 122.564
32 58 Philip Crowe BMW/Handtrans / Fleetwood Grab / Sheffpack 1 18:28.787 122.501
33 47 Mark Parrett BMW/C & C Ltd IOM 2 18:29.166 122.460
34 81 Jim Hodson BMW/JGH Racing/CRUK 2 18:30.797 122.280
35 38 Paul Shoesmith BMW/Ice Valley Four Anjels 2 18:33.734 121.957
36 52 David Sellers Kawasaki/DSR Racing 1 18:34.146 121.912
37 33 Robert Barber Yamaha/The Validation Centre 2 18:34.360 121.889
38 86 Hudson Kennaugh BMW/RST / Spoor-Tech 1 18:35.304 121.786
39 85 Craig Neve Kawasaki/Callmac Flexi Hydraulic Racing 4 18:38.842 121.401
40 67 David Hewson BMW/Obsession Engineering 2 18:39.422 121.338
41 64 Danny Webb BMW/Team Penz13.com BMW Motorrad Motorsport. 1 18:39.597 121.319
42 54 Steve Heneghan BMW/Reactive Parts 2 18:39.649 121.313
43 21 Ian Lougher Suter/Suter Racing Technology 3 18:41.529 121.110
44 72 Daley Mathison Suzuki/Hol-Taj Suzuki 3 18:41.660 121.096
45 88 Jochem van den Hoek Kawasaki/Performance Racing Achterhoek 2 18:41.986 121.060
46 83 Marco Pagani BMW/Team Franciacorta Corse by RMS 1 18:43.915 120.853
47 51 Rob Hodson Suzuki/PRF Racing 1 18:46.271 120.600
48 82 Matthew Rees Kawasaki/Phil Morris Racing/GT Superbikes 3 18:48.881 120.321
49 77 Xavier Denis Kawasaki/Optimark Road Racing Team 2 18:49.281 120.278
50 55 Michael Russell Honda/RAF Careers 1 18:49.734 120.230
51 22 Alan Bonner Kawasaki/devitt rc express kawasaki 2 18:50.513 120.147
52 34 Davy Morgan Honda/Bumblebee Barn / Magic Bullet Motorsport 1 18:54.061 119.771
53 80 Julien Toniutti Yamaha/Optimark Road Racing Team 1 18:54.237 119.753
54 69 Brandon Cretu Bimota/Bimota 2 19:00.079 119.139
55 84 Richard McLoughlin Kawasaki/ABTECH PRECISION / BRESLIN AUTOBODY 4 19:02.013 118.937
56 89 Seamus Elliott Kawasaki/ThePeoplesBike.com 2 19:03.826 118.749
57 75 Anthony Redmond BMW/Green Ant Racing 1 19:04.732 118.655
58 56 AJ Venter Honda/Top Gun Racing 1 19:07.415 118.377
59 78 Alan Connor Suzuki/Huws/Connor Racing 2 19:07.711 118.347
60 53 Andrew Soar Suzuki/Pete Stacey 1 19:08.860 118.229
61 91 Alessandro Polita BMW/Penz 13 Racing 3 19:11.525 117.955
62 61 George Spence Honda/Dod Spence Racing 1 19:12.692 117.835
63 59 Eric Wilson BMW/PRB Econoloft Racing 2 19:13.283 117.775
64 90 Mike Booth Kawasaki/Danny Tomlinson Racing 2 19:23.289 116.762
65 76 Ben Rea Honda/VRS Racing 3 19:41.138 114.998
66 60 David Madsen-Mygdal Honda/Team Gimbert Racing 1 19:45.916 114.534
67 87 Forest Dunn Kawasaki/Forest Dunn Racing 3 19:48.374 114.297
68 93 Andre Pires Suzuki/AP Racing / Incortcar 2 19:53.404 113.816
69 24 Sam West BMW/Ice Valley / Four Anjels Racing 1 01:43:36.549 21.849
Words by Stevie Rial