It's been a top year of pure road racing for Derek McGee.
Having signed for Wilson Craig Racing in winter of 2014, expectations where high this year, for the rider regarded by many to be amongst the sport's fastest rising stars.
Derek's season began at the Cookstown 100, main highlight of the meeting was second place finish, in second supersport race as he held off strong challenge from Mar Train Racing's Dean Harrison.
Photo by Rod Neill
Next up was the Tandragee 100, which saw series of world class results achieved, which included super twins race victory on Shane Wogan backed ER6 Kawasaki.
Stand out moments from his North West 200 debut where, excellent fifth place finish in opening super twins race, plus back to back 12th place finishes in supersport races, on Wilson Craig Racing CBR 600 Honda.
Following impressive North West 200, next meeting on the horizon for Derek, was TT 2015.
His debut at the most famous road race in the world, would see him impress many, following series of highly accomplished display's.
29th place finish in RST superbike TT was backed up by 20th and 19th place finishes in Monster Energy supersport races, plus 27th place finish in Royal London 360 superstock TT.
Most momentous moment from TT 2015 for Derek, would be in lightweight TT, where he recorded 11th place finish, as he proved to everyone that he's a potential TT winner in the future.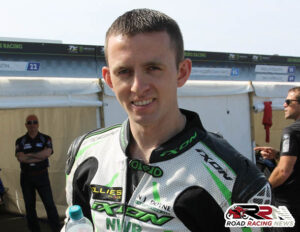 After strong Kells meeting, Derek's season encountered a tricky moment, when he split from Wilson Craig Racing.
Despite this at Skerries, piloting his own teams R6 Yamaha and ZX10R Kawasaki, more first class results where chalked up.
Which included super twins race victory and third place finish in grand final.
Another super twins victory was achieved at Walderstown, as Derek closed in on Irish road race super twins championship victory.
The world's fastest road race, Ulster Grand Prix, would see first international road race victory sealed in super twins encounter, following a memorable performance on Shane Wogan backed ER6 Kawasaki.
His season would end in style following two more super twin victories at Faugheen and Killalane, plus wrapping up Irish road race super twins championship.
Photo by Rod Neill
Derek McGee has shown this season, why many people regard him, as a rider, who is more than capable of becoming a multiple times international road race winner.
Looking to 2016, Derek is planning on competing for the second time at TT Races, as he bids to continue his rapid progress on the mountain course.
Alongside TT 2016, Derek is set to be in contention for Irish road race superbike championship victory, as he bids to make it a hat trick of Irish road race championship titles, having sealed supersport success in 2014, and this years super twins glory.