Fourth within the Newcomers A Manx GP of 2013, four times a top 40 finisher at the TT Races, Richard McLoughlin who's lapped the illustrious Mountain Course at over the 119 mph mark, is the next racer to take part in Road Racing News ten questions challenge.
Richard's answers to the popular series of questions, are as follows:
Q1: Favourite National Roads Meeting?
"My favourite national road race would be Tandragee because of it's length and the different types of sections it has."
Q2: Favourite Racing Bike?
"My favourite race bike that I've ridden has to be my ZX10 Kawasaki, and favourite I've not ridden would have to be the older big cc 2 strokes."
Q3: What's the best part of competing on the roads?
"The best part of riding the roads for me is the speed and there is not as many riders looking for the same piece of tarmac at the first corner, unlike at short circuits.
Also there seems to be a bit more respect for each other on track as most have family and jobs to worry about on Monday morning."
Q4: TT, North West 200 or Ulster Grand Prix?
"The TT is the most special race on earth if you ask me, but the Ulster GP is also a great circuit (Dundrod) to ride."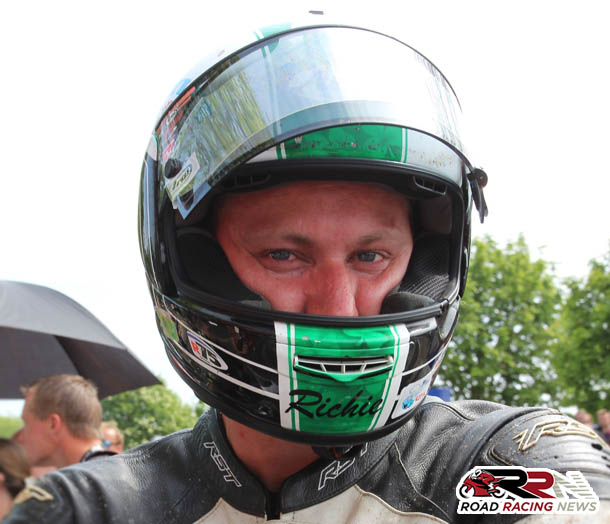 Q5: Most Respected Rival?
"Most respected rival is a hard question as I respected everybody on track and off it, so I can't say any 1 person in particular."
Q6: Best roads moment thus far?
"Sitting on the Glencrutchery road about to head down Bray Hill for the newcomers race at the Manx GP in 2013, finished 4th but was so happy."
Q7: Is their one place or country in the world, where you would like to see a roads meeting held?
"I think every country should have road races, it's a great sport and although I've left it for now I would never advise anybody not to do it."
Q8: Who's your road racing hero?
"Has to be Joey (Dunlop)."
Q9: Supersport or Superbike?
"Superbike just for the power as I've never ridden a top spec Supersport bike."
Q10: Pole position or fastest lap?
"Not that I've had much of either, but I would be happier with fastest lap."
Words by Stevie Rial