Crowned last year Irish road race 400 champion for the first time, the roads stalwart that is Paul Gartland, is the next rider to take part in Road Racing News, ten questions challenge.
Fifth in the Newcomers A Manx Grand Prix of 2007, his answers to the popular series of questions, are as follows.
Q1: Favourite National Roads Meeting?
"Mid Antrim or Bush."
Q2: Favourite Racing Bike?
"K5 GSXR 1000."

Q3: What's the best part of competing on the roads?
"The buzz, riding a closed road in full attack mode. Especially the back roads, the more jumps, humps the better. There is nothing else that comes close to that feeling. And it's legal!"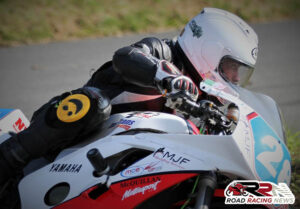 Q4: TT, North West 200 or Ulster Grand Prix?
"I know I am a fan of the smaller tight bumpy stuff but once you learn and get a flow around Dundrod (Ulster Grand Prix), it's an awesome track and the club are great. They look after the wee one man band racer right up to the likes of TAS the same. No silly one make fuel deals there!"

Q5: Most Respected Rival?
"I respect all my fellow riders. The slowest guy is trying ever bit as hard as the fastest man. Lap times may be world's apart but the effort is the same. Maybe even more for the guy who is last."
Q6: Best roads moment thus far?
"God there has been so many awesome times and memories, but probably finishing 5th in the Manx GP newcomers race.
I had been supposed to race it the year before and got a start number of 3 or 4 but didn't go, cancelled my entry as it was a last minute thing not to go, and then the next year I was given a start number of 53.
I think I was 5th on corrected time but also the 5th bike home. Conditions were bad, and I like the wet and it was traffic the whole way.
That was nice pulling in after the race into the holding area and counting the bikes and thinking, my god I passed 40 plus people."

Q7: Is their one place or country in the world, where you would like to see a roads meeting held?
"Jersey maybe, great roads, tax free, or nearly. Good weather and easy to get to."
Q8: Who's your road racing hero?
"Simple Paul Cranston! Never crashes. Rides as hard as an 18 year old old with no school the next day, and is grass roots."
Q9: Supersport or Superbike?
"Superbike, love the big bikes. Lap times are nearly the same but riding a 200 BHP machine on a back road, well, that's why we keep going back for more!"

Q10: Pole position or fastest lap?
"Fastest lap for me. Should be the other way around but I prefer seeing who was the fastest of the fast, when he/she had a clean run at it."
Words by Stevie Rial