Gelling quickly with his TT 2018 steeds, Senior Manx GP champion Michael Evans, starred on Saturday and Sunday at the Jurby Airfield circuit, securing 12 wins from 12 starts, as he got his 2018 race season off to an absolute perfect start.
Dominant in the big bike races, the Manx GP lap record holder, was in fine form aboard the Wilcock Consulting BMW, which he will pilot in the Royal London 360 Quantum Superstock race at TT 2018.
The Douglas based racer, who also impressed at the first round of the Thundersport GB series at Donington Park, additionally produced faultless performances within the Super Twin encounters, showcasing the potential of his Bennetts Lightweight TT steed, the Martin Bullock Manxsport ER6 Kawasaki.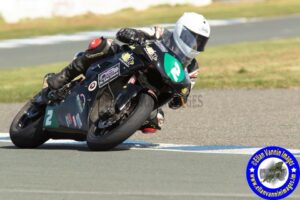 Photo by Jim Gibson
Reflecting via Facebook, about what was a pretty much perfect weekend of racing for him, at Jurby, the three times Manx GP race winner, stated:
"Successful weekend up at Jurby. I got pole both days on the Martin Bullock Manx Sport twin and the Wilcock Consulting BMW, and won all 12 of my races.
I also broke the Super Twin lap record on both days, and was just off the lap record on the big bike too getting into the 1:06's.
The bikes are feeling good for the TT after a few changes this weekend, and I've got my signatures sorted. Looking forward to Oulton Park next weekend on the BMW. Thanks to everyone who helped out."
Words by Stevie Rial