Leading German road racer Christian Schmitz 2021 IRRC campaign will have a team green feel to it, as he joins forces with the newly formed Geenen Racing to pilot a range of ZX Kawasaki machinery.
Third in the 2019 IRRC Supersport Championship, along the way scoring podium finishes at Imatranajo, Horice, Terlicko and Frohburg, this September saw him claim a rostrum finish at just the second Czech roads meeting of 2020, Dymokury.
In contrast to previous seasons, Schmitz's IRRC tenure next year will see him for the first time double up by taking in Supersport, Superbike Championship rounds.
Continuing to enjoy strong support from long term backers Laserscanning Europe, an enthused Schmitz who is also set to make his Manx Grand Prix debut stated about the new challenge with Max Geenen's, Geenen Racing outfit:
"I am happy to announce, that my new partner from this year on is Motorradtechnik Geenen in Germany, who is starting with his own racing Team 'Geenen Racing' from 2019 onwards.
Further my long time partner Laserscanning Europe will be by my side and will support me for the next year. As a young Team I want to bring good results, to help reach the maximum effort together as a Team.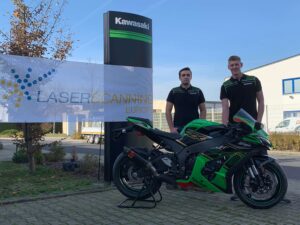 Photo courtesy of Jan Otto
With Max Geenen as the Team Manager, we have a young CEO with his own experiences on the race track. That´s why the team is totally focussed on maximum success.
With great technicians and a great education of the racing team together with my teammate Joey Den Besten who is also arrived in road racing, I am working together with a young and modern team."
Schmitz went onto add:
"My education in the last few years was very good and I had a lot of podium places in 2019. To be competitive we will have a lot of tests at the beginning of 2021 for creating a perfect setup and feeling for the bike.
For that, we have planned our first trips to racetracks in Spain at the beginning of next year and I hope that I will have a good feeling on the bike.
Our main aims for 2021 are to have a lot of riding-time on the new bike, to be competitive and to be able to reach a podium very quick in 2021.
For sure will be the fun and safety every time our first aims. Especially for the Manx GP I will train very hard and will hopefully have a great maiden appearance in this race."
Words by Stevie Rial, quotes courtesy of Jan Otto