The Wirral 100 MC got underway at Anglesey at the weekend in fine style, not to mention fine sunshine! No really!
A well subscribed early season race meeting, to the backdrop of the Snowdonia's snow-capped mountains, was just what the doctor ordered after a long winter break.
With a strong contingent of road racers anxious to get some vital miles in with Tandragee and the Spring cup on the horizon, the scene was set for a frantic few days testing and racing.
Amongst the competitors was Dan Kneen, who finished a strong second in the Powerbike class, getting valuable track time in on his BMW ahead of the roads season. Kneen also finished third in the Pre injection class on Mistral Racing's ZXR 750 Kawasaki.
Beating Kneen to first in the Powerbikes was former national superstock 1000 man, and circuit specialist, Johnny Blackshaw. Third was Irishman Alastair Kirk, who had earlier beaten Kneen to top spot in a hotly contested heat between the pair.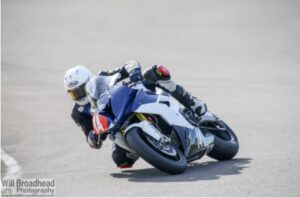 Photo by Will Broadhead
A set of strong and satisfying results for Kneen, as he looks ahead to the start of his 2017 international roads campaign with Penz 13.com BMW and Danny Tomlinson Racing.
With 50 entries, the Paul Bland Motorsport Formula 600 class was always going to boast a strong field. With the grid littered with talent including rising roads star Mike Norbury, the touch paper was lit for some ultra competitive racing, as we have all come to expect from Supersport.
Come the final and the top step was looking like a sure thing for relatively new name Chris Eden, who had earlier taken victory in the heats. Chickens though, should never be counted when it comes to racing and one missed gear later and the spoils went to Jamie Devine, closely followed by 2009 Newcomers C Manx GP winner Adrian Kershaw. A composite all rounder, Kershaw also put his 400cc Kawasaki on the top step in both 500cc all-comers races.
Photo by Will Broadhead
Glenn Harrison, another Manx based roads competitor, also showed well in the 600 class with a fifth place finish. Competing on his GSX-R 600 Suzuki, for Chris Preston Racing and Quayside Garage, he was the best of the rest behind the breakaway front four.
One man who was disappointed with his running in the 600 class was Manxman Jamie Williams. After finishing last season on a high with strong results on his CBR 600 Honda, he was hoping for better than 12th place in the final. However, despite not being quite where he wanted to be with the bike, 12th was still a strong showing in such a big field.
Photo by Will Broadhead
Disappointment was quickly put to one side though with success in the Supertwins class for Douglas man Williams, aboard the McKinstry Kawasaki. A recent signing for Billy McKinstry's well regarded outfit, Jamie was able to convert two starts to two podiums, with third in both races.
Despite hoping for more in the final race of the day, the senior open, it was not to be as the race was scrubbed due to a large oil spill in the preceding contest. Despite this anti climax to the meeting, overall riders went home happy and safe.
With legs stretched and valuable miles on the bikes clocked many of the competitors will now be looking towards both Tandragee at the start of the Irish roads season and Oliver's Mount, for the Spring Cup, with renewed enthusiasm.
Words by Will Broadhead