Its been a positive year of pure road racing for Conor Cummins. For 2014 the former Ulster Grand Prix feature superbike race winner joined John McGuinness in the Honda racing team.
Conor's first competitive outing for the team was at the Vauxhall international North West 200. Following productive practice sessions he headed into opening superbike race confident of been able to push for a top three placing.
Throughout superbike race 1 around the triangle the two metre man was up near the front proving how quickly he had adapted to the Honda racing superbike. In the end during a thoroughly entertaining race Conor secured third place finish, it was his first podium finish with the official Honda team plus his first North West 200 top three finish since 2010.
Photo by Rod Neill
Supersport race 2 would prove to be one of Conor's best performances at the iconic road race. Second position was achieved narrowly missing out on race victory following a superb all round ride on Jackson racing CBR 600 Honda.
Feature race saw sixth position secured following a solid and consistent performance on Honda racing superbike, following his impressive performances at the North West 200 the 2007 Duke road race rankings champion went into TT 2014 confident that he was in with a great chance of pushing for podium finishes.
After chipping away through practice week the Dainese superbike TT was on the horizon and many people was wondering could Conor record his first podium finish on a superbike since the 2009 senior TT when he finished in second position on Mcadoo racing ZX10 Kawasaki.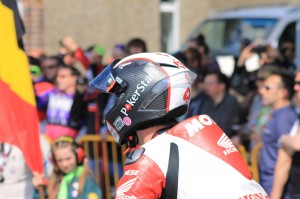 Photo by Road Racing News
Having battled his way through to third position by end of lap 1 Conor maintained a good consistent pace as he achieved third position finishing under four seconds behind second place finisher Guy Martin.
Photo by Road Racing News
Reliability issues prevented Conor from battling for top three finishes in both Monster Energy supersport races, despite the bad luck in supersport races the Ramsey rocket went into Pokerstars senior TT confident that he had a decent chance of fighting for his first TT victory.
Photo by Road Racing News
Although he missed out on senior TT victory second place finish finishing only 14 seconds behind race winner Michael Dunlop was still a brilliant all round performance. Not many people thought when Conor had his huge accident back in 2010 in the senior TT that he would ever secure superbike podium finishes again around the mountain course.
Through sheer grit and determination he has battled his way back to full fitness and at TT 2014 proved that he is back to his best around the most famous road racing circuit in the world.
Following his impressive results at TT 2014 Conor returned to road racing action at the Southern 100. Known as the friendly races the fastest Manx rider in history on the mountain course enjoys competing around Billown where over the years he has secured many high quality results.
Competing on the Jackson racing CBR 600 Honda that so nearly propelled him to his first North West 200 win the 600/1000 race saw him finish overall in 10th position but first in class as leading supersport 600 rider.
This was Conor's first win with the Jackson racing team who have a long illustrious history in pure road racing. Unfortunately in opening supersport 600 race Conor crashed out opening lap which left him with a niggling shoulder injury, consequently cause of this accident it prevented the third fastest rider in TT history from competing at the Dundrod 150, Ulster Grand Prix and classic TT races.
Photo by Road Racing News
Still in all its been a positive year of pure road racing for a rider who has been through a lot in the last five years. Conor's tally of podium finishes on the mountain course is now up to six, there's no doubt that in the future and at TT 2015 he has the talent, ability, ambition, determination and drive to achieve an ambition he has had for many years to become a Isle of Man TT winner.