No matter what the weather is, the negativity of some and a few high profile non starters, it takes nothing away from the excitement of thousands in the build up to the 2018 MCE Insurance Ulster Grand Prix.
Alongside anticipated front runners Peter Hickman, Dean Harrison, Conor Cummins and Lee Johnston, event organisers received a huge boost this week, with the confirmation that Tyco BMW will be competing, having secured the services of David Johnson to pilot the outfits exotic HP4 Race BMW.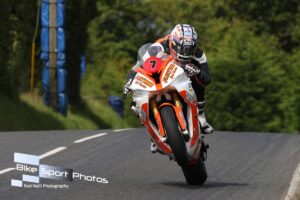 Photo by Rod Neill
Reflecting recently on his high profile new steed for Dundrod, the laid back Australian stated:
"The Ulster is one of my favourite tracks so it's great to have this opportunity with Tyco.
The team knows what they're doing and are proven winners around here, and with the HP4 R I'll also have the machinery to challenge with for sure. The bikes will be amazing so it's all down to me.
I've been on BMW's all year and was riding them at Dundrod in 2017 too, so I'm feeling good and should be up to speed right away.
It's always hard to know until you get there, but for me the big goal is to get on the podium and be in the fight for wins with Hicky, Dean and guys right at the front. If we come away with that I'll be happy."
Adelaide's Johnson part of the 110 plus strong event entry will have multiple chances to claim an Ulster GP title, next week, with four races scheduled to take place on Thursday afternoon, ahead of Saturday's race day which will comprise of seven races including the blue riband MMB Surfacing Superbike race.
Competition this coming week gets underway on Wednesday, with the opening qualifying sessions, as a who's who of International road racing reacclimate themselves with the famous, ultra fast Dundrod course.
Words by Stevie Rial