In 1955, a new road race emerged in Japan, based around the Mount Asama volcano, the meeting is widely regarded as one of Japan's first major motorsport events.
Originally titled the Asama Highland Race, the event went onto become known as the All Japan Motorcycle Endurance Road Race.
19.2 kilometres long, the roads around Mount Asama, provided challenges a plenty for riders. In effect cause of the where the event was hold, it meant competitors had to master not just bumpy roads, but also off road terrain.
Major manufacturers to have firm presences at the roads venue located north of Tokyo, included Honda, Yamaha, Suzuki.
The original event in 1955, saw Honda victorious in the 350 and 500 races, the meet would also prove a fruitful one for Suzuki, who wrapped up series of excellent results courtesy of Hideo Suzuki and Toshio Kamiya.
Yamaha dominated the 125 race, with their riders taking the first three spots on the podium.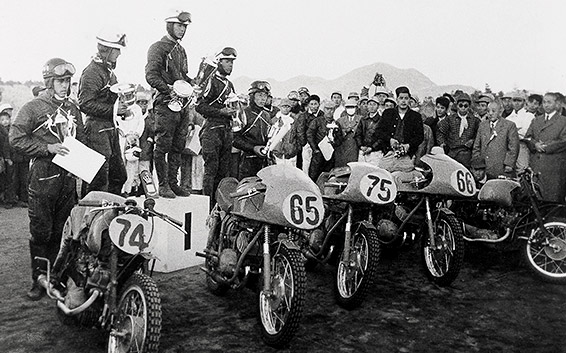 Photo via Yamaha Motor Global
Additional famous names from Japan to compete included Michio Ichino, TT winner Mitsuo Itoh and Tetsu Ikuzawa.
1955 was the only year to see pure road racing action at Mount Asama.
It's legacy though, 62 years later, is still extremely strong. Prior to reading this article, many may have not thought, that real roads competition, had ever took place in Japan.
This shows once again, the sheer worldwide nature of pure road racing and the historical part it has played in how motorcycle racing, looks at present in multiple countries.
Words by Stevie Rial