East Coast racing enjoyed a successful start to the 2014 road racing season at Ian Watson spring cup road races. Lee Johnston on only his second meeting at Oliver's Mount produced fine performances in both superbike A race and Ian Watson spring cup feature race. Superbike race A saw the rider known to many as general Lee finish in a good third place having lead the race for two and a half laps.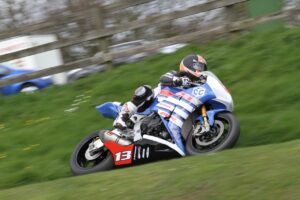 Picture courtesy of Louis Porter, Lap Concepts
Ian Watson spring cup feature saw another top ride from him finishing in 4th place. Throughout the Ian Watson spring cup road races Lee Johnston proved that he will be a force to reckoned with this year at the North West 200, Ulster Grand Prix and Isle of Man TT. East Coast racing's superstock bike for this season a CBR 1000 Honda Fireblade has being supplied by Miles Kingsport whilst the supersport bike this season is Michael Dunlop's supersport TT race winning CBR 600 Honda from last year.
This bike has lapped in the supersport TT races at over 128 mph and is the lap recording bike in the supersport class, theres no doubt that Lee has every chance of a top result in both supersport TT races given that Lee will be one of the best bikes in the races. The super twin races this season will see East Coast racing run a ER6 Kawasaki, Lee Johnston in the 2013 lightweight TT race finished 9th a current personal best TT finish and will be confident of a better result this year in the highly competitive race.
East Coast racing have a top record in road racing which includes supersport TT race 2 victory with Gary Johnson in 2011, TT privateers championship victory with Lee Johnston in 2013, podium finishes at North West 200 and Ulster Grand Prix and being top ten finishers at the Macau Grand Prix.
Plus the East Yorkshire based team are now established front runners at Oliver's Mount with top three finishes achieved at 2013 Scarborough gold cup and this years Ian Watson spring cup road races. An exciting year of racing is in prospect for East Coast racing in team owner Phil Reeds own words for this season "best bikes we've had" and for one of the leading rising stars in road racing Lee Johnston.