Photo by Road Racing News
Callum Laidlaw achieved arguably the highlight of his road racing career at this year's Isle of Man TT. Skoot made his TT debut competing on CBR 1000 Honda Fireblade in superbike, superstock and senior races whilst for lightweight TT the top ten finisher in 2013 Steve Henshaw international gold cup was CF moto mounted.
Following a productive practice week Callum went into the Dainese superbike TT aiming to complete the race as he built up his knowledge and speed of the mountain course.
Photo by Road Racing News
Although he was forced to retire from the race due reliability issues he was continuing to get quicker and quicker around the most famous road race circuit in the world.
Photo by Road Racing News
Superstock TT would see Skoot clinch 55th place finish, whilst lightweight TT saw 33rd position achieved following an excellent all round performance from the CF moto mounted rider.
During TT 2014 Callum lapped in the 115 mph bracket as he accomplished an ambition he has always wanted to realise competing on the mountain course. The popular road racer following TT 2014 announced his retirement from pure road racing, during his career he has proved that he is competitive at every pure road race which he has competed at.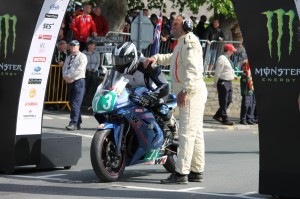 Photo by Road Racing News