Photo by Road Racing News
Kiaran Hankin has enjoyed a successful year of racing on the mountain course in 2014. Kiaran runner up in feature race at the 2009 cock of the north road races at Oliver's Mount produced a solid and consistent performance in Dainese superbike TT finishing in 31st position.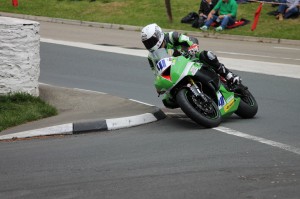 Photo by Road Racing News
Opening Monster energy supersport race saw another 31st position secured whilst second supersport race would see 37th place finish achieved after a tenacious performance from the ZX6 Kawasaki mounted rider.
Kiaran rounded off TT 2014 in consistent fashion with 35th place finish in Pokerstars senior TT, overall the talented rider was happy with his results at the record breaking TT 2014.
At the classic TT races the Oliver's Mount specialist was RC30 Honda mounted for formula 1 classic TT. Kiaran went onto finish in seventh position following one of his best performances to date on the most famous road racing circuit in the world.