With just over five weeks till New Zealand's premier roads meeting, the entry for the Wanganui based Cemetery Circuit Races, is taking shape.
Alongside the undoubted world class factor added to the Superbike field by 13 times TT winner Michael Dunlop, lap record holder Horst Saiger is confirmed to return on ZX10R Kawasaki machinery.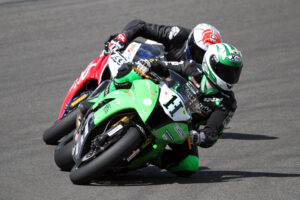 Photo by Terry Stevenson
Tony Rees, Sloan Frost and feature race winner earlier this year at Paeroa Scott Moir, are all set to be in the mix for results of the highest quality.
An interesting entry comes in the form of England's S1000RR BMW mounted James Flitcroft, who is set to make his roads debut.
At this moment in time, the current amount of riders planning to compete in the Superbike encounters on the Cemetery Circuit, stands at 28.
Leading lights entered for the Sidecar races include two time TT winner John Holden, making his Wanganui debut. John is linking up with Robbie Shorter in a Honda powered outfit, for his maiden outing on the Cemetery circuit.
It's fair to say in this decade thus far, the anticipation for roads action for Wanganui, has never been so great.
With a vast amount of entrants consisting of world class roads exponents, local heroes, rising stars and Wanganui specialists, the stage is set for great racing.