Vauxhall International North West 200 Preview – Part 2 – Supersport Races
There is always competitive action in the supersport races at the North West 200 and this year there is a great all round entry list for one of the most popular classes of racing at North West 200. Having won for four years on the run the opening supersport race Alastair Seeley has to start as one of the leading contenders for race victories. The Mar Train racing Yamaha rider has proved already the speed of the teams R6 Yamaha in the British supersport championship where Alastair is currently third overall.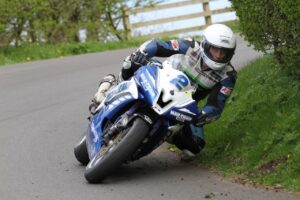 Photo courtesy of Louis Porter, Lap Concepts
Lightweight TT runner up in 2013 Dean Harrison is Alastair's team mate at Mar Train racing for both supersport races and the rider from Bradford is excited about competing on the teams top spec R6 Yamaha at this years North West 200. Milwaukee Yamaha have a dynamic presence for supersport races with Ian Hutchinson being joined by Josh Brookes who is competing for the first time on a supersport 600 bike on a road race circuit.
Between them Ian and Josh will be hard to beat but such is the depth in field for at this years Vauxhall international North West 200 for the supersport races that there's arguably up to 20 riders who could win on Thursday night on the triangle or on the Saturday. One rider who is ready to chalk up his first North West 200 win is Conor Cummins. The Ramsey rocket is competing this year for Jackson racing on a CBR 600 Honda previously raced by Jason O'Halloran, the potential is there for top results for Conor and after good tests during winter on the bike confidence is high for the third fastest rider in TT history.
One team who is always near the front in supersport races is Padgetts racing, for this year the team has backing from Valvoline oil which has given the CBR 600 Honda's that John McGuinness and Bruce Anstey a striking new color scheme. Combined John and Bruce have won 15 times at North West 200 and this year who's to argue that more wins at the iconic road race are possible for the two road racing legends.
East Coast racing and Lee Johnston are confident of running near the front in the supersport races. Lee is competing for the team run by Phil Reed on Michael Dunlop's CBR 600 Honda from last year which won second supersport race at North West 200 and broke the supersport lap record at Isle of Man TT. Lee achieved a podium finish last year in second supersport race and always goes well in the ultra competitive class of racing.
Michael Dunlop was in superb form during the two supersport races at North West 200 in 2013 and the seven time TT winner will start one of the favourites for race victories this year when competing on his own teams brand new CBR 600 Honda supersport bike.
Tyco Suzuki by TAS have a good record in supersport races at the North West 200 and Guy Martin and William Dunlop have already this season shown good form in supersport class with wins at Ian Watson spring cup road races and Tandragee 100. Both Guy and William are determined to record race wins this year as is James Hillier.
James and the Quattro Plant Kawasaki team are set to be Kawasaki's leading entry at 2014 North West 200, despite being more known for his results in superbike and super twin races don't discount James from challenging for race wins in the supersport class.
Smiths Triumph are making their North West 200 debut this year and the former British supersport champions have a strong line up which consists of Gary Johnson and Michael Rutter. Both Gary and Michael have won at Isle of Man TT in supersport 600 class and combined with the undoubted potential of the teams 675 Triumph we could see Triumph back on top at the North West 200 this year.
Wilson Craig racing are running Jamie Hamilton whilst Site Sealants B&W racing have a exciting line up with David Haire teaming up with the returning Keith Amor. Keith last competed at North West 200 back in 2010 when he won the superstock race and was runner up in supersport race 2.
Photo courtesy of Rod Neill
Former works Honda rider Keith is reunited with Honda machinery for the supersport 600 races and is confident of securing good results in both races. Cookstown/Burrows Engineering and Dan Kneen have had a dream start to the season with wins at Cookstown 100 and Tandragee 100, junior Manx Grand Prix winner back in 2008 Dan always goes well in the supersport 600 races and for the North West 200 Dan is competing on a world supersport spec CBR 600 Honda.
Newcomers competing in supersport races include Laurent Hoffmann who is the reigning international road racing championship supersport champion. Laurent is competing for Paul Shoesmith's Ice Valley racing by Motorsave ltd team on a R6 Yamaha.
Many a rising star in road racing is competing in the 2014 North West 200 supersport races. This includes James Cowton who is Honda mounted competing for his own team, Michael Sweeney reigning junior Manx Grand Prix winner, Derek Sheils fifth place finisher in last years superstock race competing for CD racing on R6 Yamaha and Derek Mcgee who has rode superbly this season also Yamaha mounted for both supersport races.
Also entered are Ben Wylie competing for Ice Valley racing by Motorsave ltd, Dan Cooper on Tsingtao racing ZX6 Kawasaki, Steve Mercer on Team Traction Control's GSX-R 600 Suzuki and Ivan Lintin who is one to watch in both supersport races when competing on Taylor Lindsey backed CBR 600 Honda.
The supersport class always provides road racing fans with great racing, this years races at North West 200 could well provide us with some of the best racing seen in recent years at the iconic road race, roll on the races!