Adam McLean, on Friday evening received the Vernon Cooper trophy, for the title of been the leading TT newcomer of TT 2017.
It was a honour, more than well deserved, for the MSS/Hotties backed racer, who throughout the last few weeks has caught the eye of many, with his already depth touch around the notoriously difficult to learn, Mountain Course.
Starring throughout practice week, he underlined his promise on the famous Manx roads, with an excellent 18th in the opening Monster Energy Supersport encounter.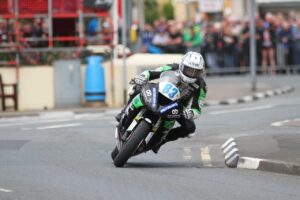 Photo by Nick Wheeler
On course for a top ten finish, in the Bennetts Lightweight race, problems struck the Hanna Performance/MJ Palmer Kawasaki on lap 3, curtailing his race.
Despite not finishing the four lap race, road racing aficionados a plenty could tell he had taken to TT competition, like a duck to water.
With no Supersport race 2, Adam ended TT 2017, with a fastest lap speed of 120.644 mph, making him the fastest newcomer of the 98th TT Races.
Summing his first TT adventure, the rising roads star, stated via his Facebook page:
"So that's my first Isle of Man TT over, what an experience!
Tough couple of weeks with the weather and lack of practice but still really happy with what we achieved, Finishing Eighteenth in the Supersport race with a 120.6 mph lap.
Gutted to have had to retire from ninth position in the Super Twin race because of a small mechanical issue. I also received an award for the best/fastest newcomer.
Massive thanks to the team and sponsors for making it all possible and also everyone that's helped me in any way while I've been on the island.
MSS Performance, Hanna Performance, A+B Instillations, Metzeler Tyres, MJ Palmer, Carl Roberts Diesel Engineering, Northern Escalator Instillations, Pulse Fitness, Rex Physio, Cullingsworth Commercials, Rod Lee Racing, Loco Energy Drink.
Daly Groundworks, Specialised Coatings, Death or Glory Tattoo Parlour, Willis Marshall, KPC Equestrian, The Market Inn Draperstown, Road Racing Core, Slims Cafe Draperstown, Boyd Bitmac Services, Paradise Tattoos Halifax, Premier Car Detailing, Nelson Mechanical Services, JJ Quinn Electrical, Topaz Airport Road Service Station.
Wilkinsons Agri Services, GB Racing Covers, 151's, Earnie Coates Motorcycles, and my Mum!"
Words by Stevie Rial