11 times TT winner Michael Dunlop upped the ante during tonight's superbike practice session at TT 2016, setting a quite stunning pace, in lapping at 131.574 mph.
The Hawk Racing BMW rider, regarded by many as the pre race favourite for the RST Superbike and Pokerstars Senior races, has thrown down a marker tonight.
It's been said by me a few times before, but once again we've seen this Wednesday night, a genius at work.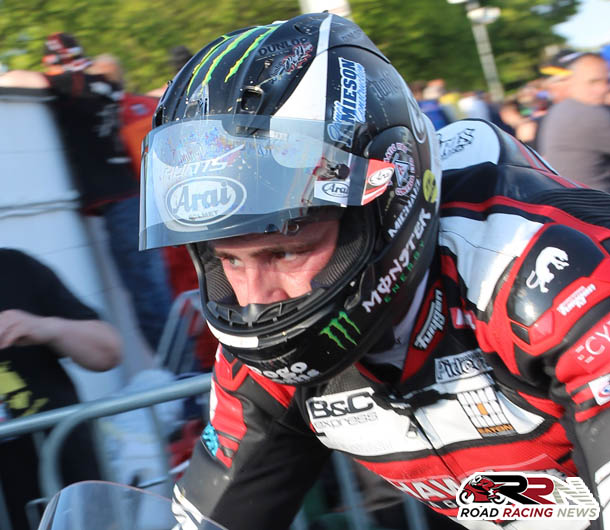 Ian Hutchinson for a while tonight's pace setter, lapped at 130.691 mph, to finish second quickest on the Tyco BMW superbike.
Honda Racing's John McGuinness, was the third rider this evening to lap in excess of 130 mph, following lap speed of 130.497 mph from the 23 times TT winner.
Honda Racing team mate Conor Cummins 129.764 was next up on the leader board, the Manxman was followed by Dean Harrison impressing hugely once again on the Silicone Engineering Racing ZX10R Kawasaki 129.673 mph.
The top six in practice was finalised by Michael Rutter, Bathams SMT Racing S1000RR BMW.
Bruce Anstey's pace on the Valvoline Racing by Padgetts Motorcycles RC213V-S Honda, continues to improve, lapping at 128.833 mph as does Jackson Racing's Steve Mercer, setting another new personal best lap speed, this time at 128.672 mph.
James Hillier 128.238 mph and East Coast Racing's Lee Johnston 128.092 mph, where both on the pace, as was Peter Hickman 127.883 mph, Ivan Lintin 126.748 mph, William Dunlop 126.633 mph and Ben Wylie, Bimota mounted, 124.277 mph.
Additional stand out performances included Ryan Kneen 124.489 mph, Michael Sweeney 124.171 mph, Chris Dixon 123.607 mph and Brian McCormack TAG Racing/VTL Honda lapping at an impressive 125.152 mph.
TT 2016 – Wednesday Practice – Superbike Results:
1 6 Michael Dunlop BMW/Hawk Racing 3 17:12.331 131.574
2 4 Ian Hutchinson BMW/Tyco BMW 2 17:19.310 130.691
3 1 John McGuinness Honda/Honda Racing 2 17:20.854 130.497
4 10 Conor Cummins Honda/Honda Racing 2 17:26.727 129.764
5 12 Dean Harrison Kawasaki/Silicone Engineering 2 17:26.910 129.740
6 9 Michael Rutter BMW/Bathams SMT Racing 1 17:31.599 129.163
7 2 Bruce Anstey Honda/Valvoline Racing by Padgetts Motorcycles 1 17:34.292 128.833
8 19 Steve Mercer Honda/Jackson Racing 2 17:35.611 128.672
9 3 James Hillier Kawasaki/Quattro Plant Muc-Off Kawasaki 2 17:39.185 128.238
10 13 Lee Johnston BMW/East Coast Construction / Burdens 1 17:40.391 128.092
11 5 Peter Hickman Kawasaki/GBmoto Racing Kawasaki 1 17:42.127 127.883
12 20 Ivan Lintin Kawasaki/Devitt RC Express Racing 1 17:51.635 126.748
13 8 William Dunlop Yamaha/IC Racing / Caffrey International 2 17:52.612 126.633
14 42 Brian McCormack Honda/VTL / Kavanaghchristmastrees.ie 3 17:59.963 125.771
15 25 Daniel Hegarty Kawasaki/RTR & JVC RACING 3 18:02.010 125.533
16 7 Gary Johnson BMW/Team Penz13.com BMW Motorrad Motorsport 1 18:06.037 125.068
17 31 Horst Saiger Kawasaki/Saiger-Racing.com 2 18:07.645 124.883
18 26 Ryan Kneen Kawasaki/Charmer Builders Ltd 2 18:08.732 124.758
19 24 Sam West BMW/Ice Valley / Four Anjels Racing 2 18:08.758 124.755
20 50 Derek Sheils Suzuki/Burrows Engineering 2 18:10.491 124.557
21 44 Ben Wylie Bimota/Bimota 4 18:11.333 124.461
22 22 Alan Bonner Kawasaki/devitt rc express kawasaki 3 18:12.532 124.324
23 37 Michael Sweeney Kawasaki/MJR Racing 2 18:13.879 124.171
24 43 Christopher Dixon Honda/Padgetts Motorcycles 2 18:18.874 123.607
25 29 James Cowton BMW/Cowton racing by Radcliffes 1 18:24.911 122.931
26 36 Jamie Coward Honda/RJP Racing / Jamie Coward Racing 2 18:31.249 122.230
27 83 Marco Pagani BMW/Team Franciacorta Corse by RMS 2 18:32.192 122.126
28 30 Stefano Bonetti Kawasaki/Rock and Road Racing 1 18:33.937 121.935
29 39 Ian Pattinson BMW/Weardale Racing Ltd 2 18:34.251 121.901
30 47 Mark Parrett BMW/C & C Ltd IOM 2 18:34.810 121.840
31 55 Michael Russell Honda/RAF Careers 3 18:35.161 121.801
32 72 Daley Mathison Suzuki/Hol-Taj Suzuki 2 18:35.165 121.801
33 27 Shaun Anderson Suzuki/Anderson Race Developments 2 18:36.694 121.634
34 81 Jim Hodson BMW/JGH Racing/CRUK 2 18:38.898 121.394
35 40 John Ingram BMW/Pipe Werx BMW 4 18:40.188 121.255
36 17 Dan Stewart Kawasaki/Wilcock Consulting 1 18:41.534 121.109
37 63 Dominic Herbertson BMW/WH racing 2 18:42.082 121.050
38 41 Kamil Holan BMW/IVR BMW Motorrad CSEU 2 18:42.604 120.994
39 49 Derek McGee BMW/NW Racing 2 18:42.879 120.964
40 32 Mark Miller EBR/Splitlath EBR 1 18:43.387 120.909
41 11 Cameron Donald Honda/Wilson Craig Racing 1 18:44.248 120.817
42 64 Danny Webb BMW/Team Penz13.com BMW Motorrad Motorsport. 2 18:45.461 120.687
43 34 Davy Morgan Honda/Bumblebee Barn / Magic Bullet Motorsport 2 18:49.232 120.284
44 67 David Hewson BMW/Obsession Engineering 2 18:50.134 120.188
45 52 David Sellers Kawasaki/DSR Racing 2 18:51.567 120.035
46 51 Rob Hodson Suzuki/PRF Racing 1 18:52.310 119.957
47 21 Ian Lougher Suter/Suter Racing Technology 2 18:53.185 119.864
48 86 Hudson Kennaugh BMW/RST / Spoor-Tech 4 18:57.008 119.461
49 57 Fabrice Miguet Kawasaki/ SRM61 3 18:57.060 119.455
50 38 Paul Shoesmith BMW/Ice Valley Four Anjels 1 18:57.220 119.439
51 53 Andrew Soar Suzuki/Pete Stacey 2 18:57.619 119.397
52 68 Stephen McKnight Honda/Self 3 18:58.752 119.278
53 54 Steve Heneghan BMW/Reactive Parts 3 19:00.721 119.072
54 56 AJ Venter Honda/Top Gun Racing 1 19:05.389 118.587
55 59 Eric Wilson BMW/PRB Econoloft Racing 2 19:08.079 118.309
56 85 Craig Neve Kawasaki/Callmac Flexi Hydraulic Racing 1 19:08.782 118.237
57 77 Xavier Denis Kawasaki/Optimark Road Racing Team 2 19:11.035 118.005
58 75 Anthony Redmond BMW/Green Ant Racing 2 19:11.085 118.000
59 84 Richard McLoughlin Kawasaki/ABTECH PRECISION / BRESLIN AUTOBODY 2 19:12.380 117.867
60 69 Brandon Cretu Bimota/Bimota 3 19:13.258 117.778
61 80 Julien Toniutti Yamaha/Optimark Road Racing Team 1 19:14.197 117.682
62 60 David Madsen-Mygdal Honda/Team Gimbert Racing 3 19:14.451 117.656
63 70 Mark Goodings Kawasaki/Team York Suzuki / PMH Promotions 2 19:18.885 117.206
64 33 Robert Barber Yamaha/The Validation Centre 1 19:18.920 117.202
65 82 Matthew Rees Kawasaki/Phil Morris Racing/GT Superbikes 4 19:19.014 117.193
66 78 Alan Connor Suzuki/Huws/Connor Racing 3 19:23.867 116.704
67 88 Jochem van den Hoek Kawasaki/Performance Racing Achterhoek 4 19:25.917 116.499
68 61 George Spence Honda/Dod Spence Racing 3 19:26.673 116.423
69 87 Forest Dunn Kawasaki/Forest Dunn Racing 4 19:52.413 113.910
70 91 Alessandro Polita BMW/Penz 13 Racing 3 19:52.999 113.854
71 90 Mike Booth Kawasaki/Danny Tomlinson Racing 4 19:54.471 113.714
72 89 Seamus Elliott Kawasaki/ThePeoplesBike.com 2 19:54.864 113.677
73 93 Andre Pires Suzuki/AP Racing / Incortcar 4 20:15.402 111.756
74 76 Ben Rea Honda/VRS Racing 1 20:30.616 110.374
Words by Stevie Rial