Back in 2016 Tom Weeden took the spoils in one of the most enthralling Senior Manx GP races of modern times. At the time just over two years ago, my race report was as follows:
Tom Weeden produced a quite memorable last lap, to win an enthralling 2016 Senior Manx Grand Prix.
Having trailed long time race leader Andy Dudgeon by just over nine seconds going onto the fourth and final lap, he began to reduce the Manxman's lead by Ballaugh Bridge, moving to within 6.744 of the Junior race winner.
By Ramsey the gap was down to under 3.6 seconds, then at the Bungalow the 675 Daytona Triumph mounted rider, slotted into race lead, by just over 0.1 of a second.
Soon the lead was up to over 0.8 at Cronk Ny Mona, the stage was set for a grandstand finish.
Dudgeon on the Slick Bass backed GSX-R 600 Suzuki crossed the line lapping in excess of 120 mph, to complete his race, but had he done enough to emerge victorious.
The answer was no as Tom Weeden passed the finish line, to win by just 0.674 of a second, setting a huge new personal best lap speed of 121.109 mph.
Speaking after the race Tom said, that it's a dream come true to win at the Manx GP, plus that he gave it absolutely everything as he battled his way to a popular Senior race win.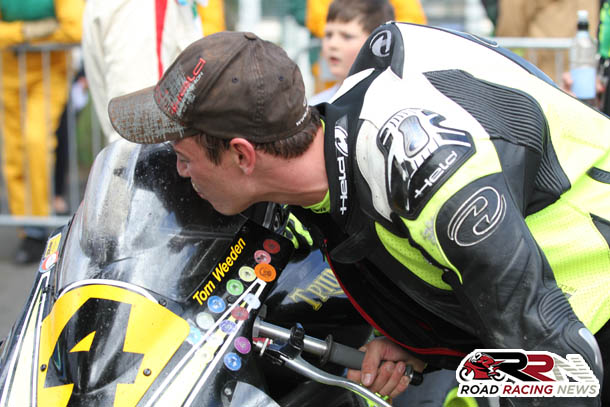 Completing the podium finishers behind Andy Dudgeon in second place, was Joe Akroyd who backed up his third position in the Junior race, with another high quality display on the Oilee Racing GSX-R 600 Suzuki.
Richard Wilson finished an excellent fourth, whilst fifth place went the way of Michael Moulai piloting the Team Collins & Russell ZX6R Kawasaki.
Royce Rowe finalised the top six finishers, the up and coming Mountain Course exponent from Australia, was very impressive on the Les Rowe & Associates backed GSX-R 600 Suzuki.
Darren Cooper ended his 2016 Manx GP campaign in style, finishing seventh, along the way lapping for the first time in excess of 118 mph.
Additional first class performances included Tom Robinson 11th, Sean Connolly 12th, leading newcomer Julian Trummer in 13th place and fellow debutant Jamie Williams who finished a highly respectable 17th.
Words by Stevie Rial