Since making his pure Road Racing debut at the 2013 Manx Grand Prix, Ben Rea has established himself as part of the new breed of riders who have the talent, ability and determination to become race winners at the Isle of Man TT.
Ben's first year of action on the mountain course would see him victorious in Newcomers C race and following a high quality performance throughout. Ben says going into his first year of competition at the Manx Grand Prix, "Leading up to my Newcomers year, I did a lot of research to make sure I had no disadvantage once at the event. Even though we didn't tell anyone and kept under the radar we knew that we had a good chance of achieving the win. With the amount of homework I did, I found that on my first few laps it had paid off.
I knew exactly where I was going, what to do and how which showed during practice week with laps times getting faster and faster eventually hitting 104mph on the RVF400!"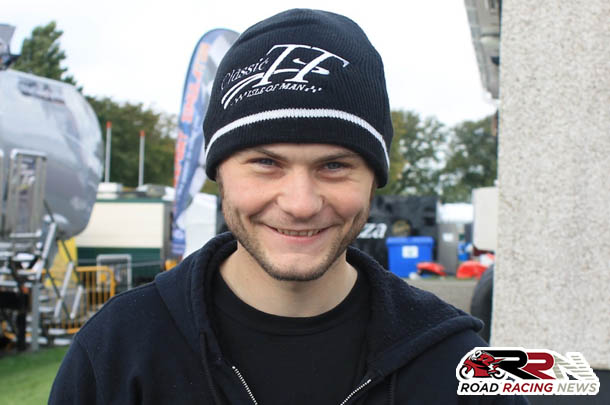 The 2014 Manx Grand Prix saw Ben continue his rapid progress on the mountain course as he battled throughout for a podium finish in the Super twins race. Ben gives his account of the race, "Yes, I was happy enough with a top five finish but if I am completely honest, I wanted a podium finish deep down! I had a goal of 110mph before setting off to the event, which I achieved on the first lap of the race.
I'm sure if we had the possibility of a couple more laps through practice week, I would have been on the podium no problem because I know I am far from peaking around the mountain course! It was nice to be involved in such a close race, at times I was 3rd, then 4th, 5th and back to 3rd eventually only being 10seconds off the top three."
Main plans for 2015 season for Ben are set to include making his Oliver's Mount debut at the Spring Cup National road races, followed by second year of competition at the Cookstown 100. Ben explains, "We plan on starting the year at Oliver's Mount. I have not raced there myself so we will just use this as a shakedown test and learn the course for future dates. We will then head to Cookstown, which I am looking forward to after having a successful debut there last year, on the 650. After that to the TT and then the Classic TT, where a new sponsor of ours, Phil Edmondson is building me a new Suzuki XR69 to compete in the Formula 1 class. We are hoping to get a few other meetings in-between, funds depending. We are currently on the lookout for some sponsorship with a few packages available throughout the season to help us get out to more events."
For 2015, Ben is planning to compete for the first time at the Isle of Man TT Races. With top quality machinery for lightweight and Supersport, he gives us details about his thoughts and goals for the new racing season, "Fingers crossed we will get the entry accepted for the TT, as I feel with more laps, better weather and faster riders, I will progress much quicker. I am starting to think of a few little goals I want to achieve, which I keep tight to my chest so there is no pressure from anyone. Even though we have had good results at the Manx GP over the last two years, we are still slipping under the radar, which we feel is a good thing at the, moment.
Once again, I will be riding the CMS/Tony Morris/SB Tuning Kawasaki ER6 in the super twin class and which we feel will be my best chance of a good result at the TT. I know what I want to do so we will see! I will also be riding the Rea Racing/Slick Performance Suzuki GSXR600 in the Supersport races, which I haven't got a set goal yet, but I have a few ideas. My main goal anytime I set off for a practice lap or race is to improve and carry the momentum forwards. If I keep doing that, then I won't go much wrong in the future. At the age of 22, I have plenty of time left to reach my goals!"
Ben's Dad, Nigel Rea, regular competitor at the Manx Grand Prix has been a great influence to Ben ever since he started racing and recounts the TT desire, "We haven't come from a massive racing family, Dad only started after his mate asked him. Dad always had the dream to race on the mountain course and things carried on from there and we have never looked back. Obviously I got the itch from helping Dad over the years and then my chance came in 2011. Deep down, racing on the mountain course is what I have always wanted, to do, I suppose I can blame Dad for that."
When asked of a word to describe the mountain course Ben states, "I can't think of one that will give the mountain course justice. I would be lying if I told you a word because I cannot think of one that will give the mountain course justice but I can say I have not found anything in the world to match it!"
The 2015 lightweight TT is set to be one of the most closely fought races for Ben Rea and it is arguably set to be the stand out race for the 2013 Newcomers C Manx Grand Prix winner.
Our thanks and appreciation go to Ben, from all at Road Racing News for giving us such an excellent, informative interview. We wish this young rider every success in the future.