Oliver's Mount Top 8: Trevor Nation
1986 TT Production Class A winner, 1990 Senior TT runner-up, a member of the illustrious factory JPS Norton squad, the racing legend that is Trevor Nation is the next racer to take part in Road Racing News, growing in popularity Oliver's Mount Top 8 series.
A former lap record holder at North Yorkshire's 'Mini TT', his answers to the Scarborough themed set of questions are as follows:
Q1: First memory of Oliver's Mount?
"My first prominent memory would be name dropping, Barry Sheene used to come and ask me what the track was like around the back because I rode in more classes than he did, we were out first thing in the morning, so that's my most prominent memory."
Q2: Favourite part about racing at the mount?
"Coming down all the Jumps, obviously there's a chicane at the bottom now but you used to come down all the Jumps and then through the start-finish, particularly on the RG500 (Suzuki) it was a right squeeze to get it through the bottom and stop it for the hairpin, really exciting."
Q3: Favourite section of Scarborough course?
"The Jumps"
Q4: Best moment thus far at Scarborough?
"Best moment was again probably name dropping but Barry Sheene comes into this again because he had the lap record there and I saw my Mrs jumping up and down and I knew I broke it."
Q5: All time Scarborough racing hero?
"I can't pick anybody out, there's been some fabulous racers."
Q6: Is there one machine in particular that you would like to race at Scarborough?
"I'm sure the rotary Norton would be good, I never raced it around there and I'm sure that it would be lovely to parade that round and I'm sure the public would love that.
I was fortunate enough to go there a couple of years ago and I've got my old Superstock bike and did a few burnouts and stuff there, so we had a bit of fun then but we've got to take the Norton there one day."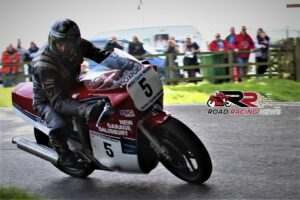 Q7: One word to describe Oliver's Mount?
"Awesome"
Q8: Most respected racing rival at Scarborough?
"It's gotta be Barry Sheene."
Words by Stevie Rial